The U.S. Fund for UNICEF's corporate partners offer unique ways to support UNICEF's work to help children survive and thrive.  See the current partner offers below.  
ALEX AND ANI: Spring  & Summer 2016 Collections 
Bright Future and World Peace Special Edition Bracelets
Founder, CEO, and Chief Creative Officer of ALEX AND ANI, Carolyn Rafaelian, has designed two bracelets so that people can proudly show their personal commitment to building a better world for children:
The 

Bright Future

 bangle ($28), featuring a mother and child, in Shiny Silver or Shiny Gold finish;

The Kindred Cord World Peace ($21), featuring a gold, silver or rose gold peace symbol.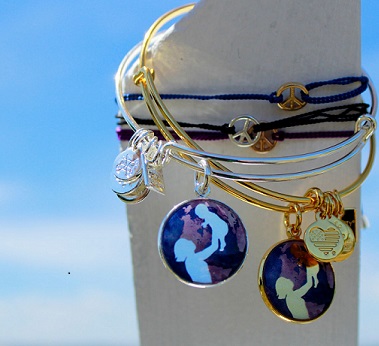 From August 15, 2016 until February 28, 2018, ALEX AND ANI will donate 20% of the purchase price* towards UNICEF's work. The bracelets are available at ALEX AND ANI stores in the U.S., authorized retailers and www.alexandani.com 
Furthermore, online shoppers can boost the donation made to U.S. Fund for UNICEF by following this link to ALEX AND ANI's website: http://bit.ly/2cqu0jy. By participating, ALEX AND ANI will donate 10% of the total purchase price, excluding CHARITY BY DESIGN, Affinity Licensed Products, sale and clearance products, to UNICEF's work until December 31, 2016.
*Purchase price includes sales to ALEX AND ANI retail and web customers, and authorized retailers. No portion of the purchase price is tax deductible. UNICEF does not endorse any brand, company or service.
American Airlines: A Little Loose Change Makes a Big Difference

While traveling around the world, you can use your spare currency to make a difference in the lives of children in need. Through UNICEF's Change for Good program on American Airlines, travelers can make donations of foreign and domestic currency on select American Airlines international flights. Every euro, pound, peso, yen, dollar, etc., donated will help UNICEF provide a healthier, happier future for children around the world. American Airlines will participate in Trick-or-Treat for UNICEF campaign for the seventh consecutive year from October 17-31. During that time, American's customers will have the opportunity to make donations in Trick-or-Treat for UNICEF boxes on select international flights.
Change for Good is an innovative partnership between UNICEF and the international airline industry. American Airlines has been the participating airline in the U.S. since 1994, making Change for Good one of American's largest, and longest-running charitable programs.
Delta SkyMiles®

Over the past decade, Delta® SkyMiles® members have helped U.S. Fund for UNICEF to save hundreds of thousands of dollars by donating their unused miles through the SkyWish program. This means that more of the money we raise goes to where it is needed the most – to UNICEF's life-saving work for children.
In 2015 alone, the savings made were equivalent to the cost of providing 2,500 malnourished children with lifesaving nutrition for 5 days. Those miles lying around in your account have the potential to make such a huge impact. To donate miles visit delta.com/skywish and select 'UNICEF'.
Disney & Target Support UNICEF Kid Power
UNICEF Kid Power allows kids to get active and save lives. With the world's first wearable-for-good™, available at Target in blue, orange and two special "Star Wars: Force for Change" editions in black and white, kids go on missions to learn about new cultures and earn points. Points unlock funding from partners, parents and fans, and funds are used by UNICEF to deliver lifesaving packets of therapeutic food to severely malnourished children around the world. UNICEF Kid Power is made possible through the generous support of Disney, "Star Wars: Force for Change" and Target.
Louis Vuitton's Silver Lockit
Louis Vuitton makes a promise to help children in emergencies and in vulnerable situations around the world. A specially designed product – a Silver Lockit pendant and bracelet– which symbolizes protection and which seals one's commitment, will be available in Louis Vuitton stores and online throughout 2016. For each item sold (RRP $500) Louis Vuitton will donate $200 to UNICEF's work.
Funds raised will make a huge difference to the lives of children in need. For example, just $200 could allow UNICEF to provide:
6 First Aid kits with practical equipment for treating cuts and minor burns to protect children against infections; or
25 fleece blankets to keep babies and children warm and snug in emergency situations; or
45 life-saving mosquito nets to help protect children and their families from malaria.
Find out more about the LOUIS VUITTON for UNICEF partnership.