L'Oréal USA - Giorgio Armani Fragrances & UNICEF USA's Partnership to Save and Protect Children
Welcome to UNICEF USA!
Stay informed on UNICEF's work saving and protecting children around the world
Partnership Overview
Since, 2010, Giorgio Armani Fragrances has partnered with UNICEF USA to help provide safe, clean water to the most vulnerable children around the world. Together with its employees and customers, the company has raised $5 million to support UNICEF's water, sanitation and hygiene programs in countries like Central African Republic, Guatemala, Haiti, Togo, Vietnam, Cameroon, Mauritania, Burkina Faso and Tanzania.
Acqua for Life Campaign
Each March, Giorgio Armani Fragrances' Acqua for Life raises critical funds for UNICEF's WASH Programs. In 2019, Giorgio Armani Fragrances donated $5 to UNICEF USA for every Acqua di Giò or Acqua di Gioia fragrance purchased in March, raising more than $500,000.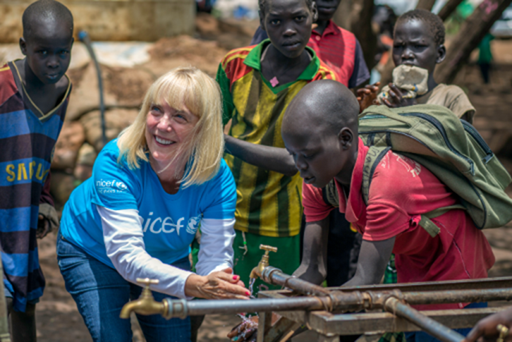 Carol Hamilton, Group President of L'Oréal Luxe (pictured above) joined UNICEF USA's New York Regional Board in 2014, and now serves as a national board member.
Are you interested in sponsoring a child? Learn how you can save and protect every child with UNICEF.
Fast Fact
For $58, UNICEF can provide a family with an emergency water and hygiene kit.
2.2 billion people do not have safe drinking water at home.
Around 670 million people defecate in the open — on the side of the road, in fields or in bushes.
Every day, more than 800 children die from diseases caused by unsafe water or inadequate sanitation.
UNICEF works in more than 100 countries to improve access to safe water and sanitation facilities.
Thanks to UNICEF and partners, 1.8 billion people have gained access to safe water since 2000.