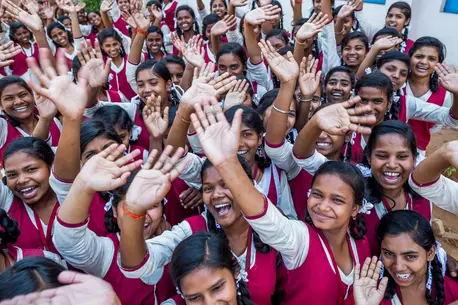 Gucci and UNICEF USA's Partnership to Save and Protect Children
Partner since 2005

Total contributions to UNICEF's work to date top $20 million.
Supporting COVID-19 response since the early days of the pandemic
Gucci's support for UNICEF's pandemic relief efforts began during the early days of the response, assisting with the procurement and distribution of personal protection equipment and other critical supplies.
In December 2020, Gucci joined UNICEF USA in support of UNICEF's plan to ensure equitable COVID-19 vaccine distribution with a $500,000 donation plus $100,000 in matching funds. In December 2021, Gucci followed up with an additional donation of $232,000 to help get 200,000 more doses into the arms of people in need.
"[I]f vaccines aren't available to all, the pandemic will never truly end," Gucci President and CEO Marco Bizzarri said. "This is why we created an internal initiative in which the entire company – all 20,000 of us at Gucci, united as one – will donate 200,000 COVID-19 vaccine kits to UNICEF, strengthening our support in ensuring that vaccines are equitably procured and distributed to the most vulnerable communities around the world."
Helping disadvantaged children access quality education and safe water
In addition to supporting UNICEF's pandemic response, Gucci has also supported an array of UNICEF education initiatives in Africa, including programs in Burkina Faso, Malawi and Mozambique, among other countries, to ensure that the most disadvantaged children, including girls, orphans and those living in extreme poverty, can access quality education. 
In June 2015, on the 10th anniversary of its UNICEF partnership, Gucci released a short docu-film, Growing Tall. Narrated by children, teachers and parents in a rural community in Mozambique, the film highlights progress made in education over a decade, and illustrates the power of education to transform lives, particularly for girls and women.
Gucci also supports UNICEF's efforts to improve access to safe water, sanitation and hygiene in Burundi, through Beyoncé Knowles-Carter's the BeyGoodForBurundi initiative.
A global campaign to advance the empowerment of women and girls 
Founded by Gucci, CHIME FOR CHANGE is a global campaign to raise funds and awareness for girls and women around the world focusing on the areas of education, health and justice.
With the support generated through this campaign, UNICEF has been able to provide scholarships to girls, immunizations for women to help eliminate maternal and neonatal tetanus, psychosocial support services to Syrian refugees and more.
Learn more about how UNICEF and companies work together to create better futures for children.
Top photo: Adolescent girls in Jharkhand, India, react during a life skills education session, part of a UNICEF menstrual health and hygiene initiative — a pillar of UNICEF's mission to empower girls and ensure their continued access to education. © UNICEF/UN0214846/Vishwanathan