Change for Good is an innovative partnership between UNICEF and the international airline industry. Established in 1987, it is one of UNICEF's best-known and longest-running partnerships. Currently twelve international airlines support the Change for Good program. Thanks to the generous support of customers and participating airlines, the global Change for Good program has generated more than $150 million, which has contributed to UNICEF's efforts to helping save and improve the lives of millions of children around the world.
In the United States, American Airlines has been the participating airline of the program since 1994. Travelers on selected international American Airlines flights can donate unused U.S. and foreign currencies onboard the aircraft to help UNICEF in its mission to reduce the number of preventable childhood deaths from 16,000 per day to zero. 
HOW YOU CAN GET INVOLVED
Send Us Your Unused Foreign Currency Today
If you are unable to donate your foreign currency on an American Airlines international flight, you can still support Change for Good by sending your gift to the following address:
U.S. Fund for UNICEF
ATTN: Change for Good Program
125 Maiden Lane
New York, NY 10038
As donations of foreign coins are processed in bulk by a third party vendor, please note that the acknowledgment you receive for your donation will not specify the amount of your gift.
Donate Your AAdvantage Miles
American Airlines AAdvantage members can donate their AAdvantage miles (1,000-mile minimum) to support American's Kids in Need program which supports children's charities including the U.S. Fund for UNICEF.
Volunteer as a "Champion for Children": Special Opportunity for American Airlines Employees
American Airlines and the U.S. Fund for UNICEF are working together to save and improve children's lives by creating an opportunity for American's employees to get involved in UNICEF's Change for Good program. "Champions for Children" is a volunteer program designed to empower flight attendants and other American Airlines employees to take action for children as they perform everyday work duties.
Change for Good on American Airlines is proudly supported by the Association of Professional Flight Attendants (APFA). Change for Good on American Airlines could not exist without the incredible volunteer support of Champions for Children.
Registered Champions for Children can access a special website created exclusively for them. (Please note that the Champions for Children program is only open to American Airlines employees.) To learn more or to become a Champion for Children, you may visit "Employee Programs" on Jetnet, the American Airlines corporate intranet.
RECENT CHANGE FOR GOOD NEWS
Trick-or-Treat for UNICEF on American Airlines
For the eight consecutive year, American Airlines will support Trick-or-Treat for UNICEF through UNICEF's Change for Good program on American Airlines. From October 17-31, American Airlines employee flight attendant volunteers known as Champions for Children will make a Trick-or-Treat for UNICEF-themed announcement and collect donations of foreign and domestic currency from customers in the classic orange Trick-or-Treat boxes on select international flights to support Change for Good. In addition, American Airlines will host a family-friendly event for employees on October 28th to contribute to their overall fundraising efforts to support Trick-or-Treat for UNICEF at their headquarters in Dallas-Fort Worth.

2016 UNICEF Field Visit to Haiti
Each year, Champions for Children have the opportunity to vote on a UNICEF project to support with a portion of funds collected through Change for Good. In 2015, Champions for Chlidren voted to direct funding to support a UNICEF project in Haiti provide proper nutrition for Haiti's most vulnerable children. In June 2016, four flight attendant Champions for Children participated in a UNICEF field visit to Haiti where they saw this program first-hand and witnessed Change for Good collections in action.
Check out a blog post written by Tedd Froleich, a Champion who attended the trip.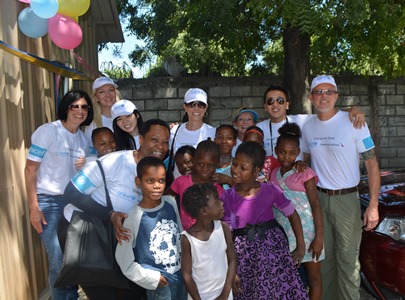 Champions of the Year for 2015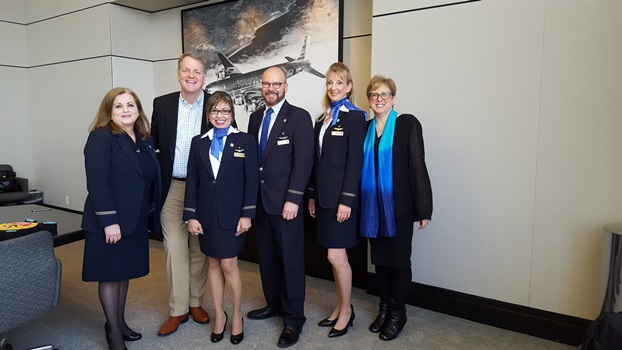 Congratulations to our 2015 Champions of the Year
On April 15th, 2016, the U.S. Fund for UNICEF and American Airlines honored four outstanding flight attendant volunteers – Andrea Hackim, Carmen Daniels, Frank Eschmann, and Anne Barnes – for their commitment to UNICEF's Change for Good program. These Champions for Children have gone above and beyond the call of duty and were nominated by their peers for their passion, leadership, and dedication to children around the world. They were honored by U.S. Fund for UNICEF President & CEO, Caryl M. Stern, and American Airlines Chairman and CEO, Doug Parker, at a recognition luncheon hosted at American Airlines headquarters in Fort Worth, Texas. Later that evening, these four Champions had the opportunity to attend UNICEF's Children's First Gala in Dallas, Texas. American Airlines has also donated miles toward staff travel and to support this event for four years.
To hear more from our Champions, click here to read a story written by Carmen Daniels (featured third from the left) on why she enjoys being a Champion for Children.