Partnership Summary
Disney and UNICEF first collaborated at the 1964 World's Fair when Disney unveiled the "it's a small world" attraction, a tribute to UNICEF and children around the world. The collaboration continues today, with Disney and UNICEF working together to create a brighter tomorrow for millions of children around the world.
Star Wars: Force for Change
Star Wars: Force for Change, a charitable initiative from Disney and Lucasfilm, empowers people to make a positive impact on the world around them.
In 2014, Star Wars: Force for Change engaged millions of fans and raised over $4.2 million for UNICEF's Innovation Labs and Programs. Disney also committed $1 million to support the launch of Star Wars: Force for Change. Because of Star Wars: Force for Change, tens of thousands of youth around the world will now have the tools and skills to become agents of social change and leaders in their own communities – developing solutions that save and improve children's lives.  
In April 2015, Disney and Lucasfilm announced the collaboration between Star Wars: Force for Change and UNICEF Kid Power. UNICEF Kid Power gives kids the power to save lives. By getting active with the UNICEF Kid Power band, kids earn points which unlock food packets for malnourished children around the world. Disney has committed another $1 million to support Star Wars: Force for Change and the efforts of young global citizens to create a brighter tomorrow.
Learn more about Star Wars: Force for Change.
Caravana do Esporte Program in Brazil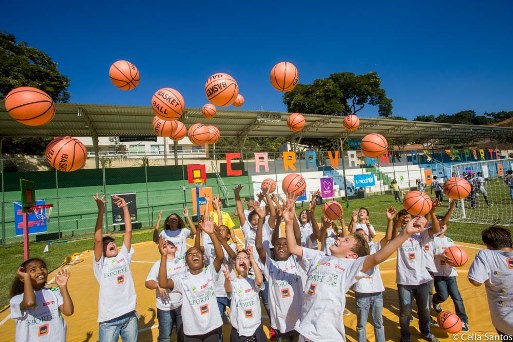 ©UNICEF Brazil, C Santos
Beginning in 2014 and continuing through 2017, Disney, ESPN Brazil, UNICEF Brazil, and Instituto Esporte & Educação (IEE) are collaborating on Caravana do Esporte (Sports Caravan), a program that brings together teachers, athletes, institutions and sports organizations to serve the needs of children and adolescents through sports and education. Disney committed over $1.9 million dollars over three years to support this collaboration in 15 new communities across Brazil.
Since 2005, Caravana do Esporte has directly served over 261,000 children and adolescents, and trained over 18,000 teachers from public schools across the country. Caravana invites kids aged 7 to 14 to participate in a half-day sports clinic taught by former professional athletes who represent a variety of sports. While the kids are in the field, public school teachers – Caravana's local champions – attend physical education training classes. Through the Caravana do Esporte program, Disney and ESPN Brazil are working with UNICEF to build local partnerships and bring education and sports to Brazil's children.
UNICEF P.L.A.Y. (Play & Learning Activities for Youth) Pilot: Championing the Power of Interactive Play for Child Development
© UNICEF Bangladesh
Disney and UNICEF are collaborating on a pilot program that seeks to promote children's happiness, health, and well-being by introducing mobile play units called Imagination Playgrounds™ in Haiti and Bangladesh. In these countries, UNICEF trained educators, service providers, and families themselves to integrate play and recreation in ways that build children's self-esteem, encourage them to share and express their feelings, and prepare them to learn. Since 2011, the UNICEF P.L.A.Y. pilot has reached more than 27,000 children through the placement of 30 Imagination Playgrounds™ in primary schools, child-friendly spaces, and orphanages in Haiti and Bangladesh.
Additional Collaboration
Disney and UNICEF also collaborate worldwide on a collection of other activities, including employee charitable giving, and Disney's Friends for Change, a program that encourages kids and families to help people and the planet.