Join Star Wars & UNICEF Innovation to be a "Force for Change"
Today, Disney, Lucasfilm, Bad Robot, Omaze.com, and UNICEF are kicking off the "Star Wars: Force for Change" campaign whereby fans can enter to win a visit to the Star Wars set in London, meet cast members, and for the opportunity to be filmed as a Star Wars character in a scene in the upcoming Star Wars: Episode VII movie!
As if winning a chance to be on the next Star Wars film wasn't enough – we are extremely excited to announce that funds raised through the campaign will benefit UNICEF's innovative programs for children around the world. This was made possible due to UNICEF's longstanding partnership with Disney, who has also generously committed $1 million for the launch ofStar Wars: Force for Change to benefit UNICEF.
How can I be a Force for Change?
Visit Omaze.com/StarWars  for more information about how to win a chance to be in the next Star Wars movie and support UNICEF's innovative programs for children. Participants may enter online at Omaze.com/StarWars or via a free mail-in entry. Each entry is $10, you have until July 18th to enter and you can enter as many times as you'd like. The lucky winner will be announced by July 31th, just in time to pack and get ready for the filming in London between August-September, 2014.
How is UNICEF Innovation being global Force for Change?
At the heart of all its work, UNICEF seeks to create and scale transformative solutions for children. You have to get creative and think big in order to do amazing things like getting life-saving vaccines to the world's most forgotten corners, treating severely malnourished children during the worst famines, bringing the joys of learning to the most remote locations and keeping children safe during emergencies and times of crisis.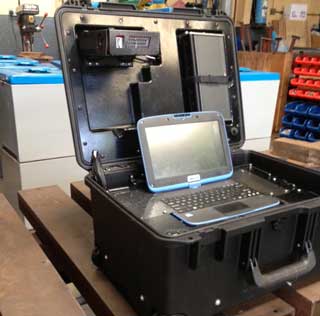 A UNICEF MobiStation
© UNICEF, 2014
UNICEF Innovation, an award-winning team within UNICEF, is an interdisciplinary team of individuals working 135 country offices and 14 Innovation Labs around the world - bringing together some of the brightest minds within the private sector, academia, and the public sector to develop new, exciting innovations for children, such as:
MobiStation

: a portable, solar-powered learning kit being used in Burundi and Uganda, helping to ensure that children there can have access to relevant, quality learning.

RapidFTR (Family Tracing and Reunification): a mobile phone application that helps reunite children with their families after an emergency.  The innovative app was recently used during the wake of the devastating Typhoon Haiyan in the Philippines.
Project Mwana: A mobile phone text messaging solution being used in Zambia, helping families in rural areas receive critical, infant medical test results from clinics, in half the time.
For more information about UNICEF Innovation, visit unicef.org/innovation