Ukraine
A Child'S Eye View of War in Bucha, Ukraine
Dressed in snowpants and a turtleneck, 7-year-old Davyd looks as if he has just come in from playing outside. But when he speaks, his vocabulary reveals the dark reality of a childhood interrupted by war: "burnt cars ... checkpoints ... shooting." 
After heavy shelling began in Bucha, Ukraine, Davyd and his family spent a week hiding in the basement of their house. Davyd quickly learned to distinguish between the terrifying sounds of life under siege. "Once he mentioned that it was probably an air fighter flying overhead," his mother, Yevgeniya, says. "When it was the shells flying by, he ran to the basement. He always knew when to hide." 
Eventually the electricity went out, then the gas and the internet connection. The family decided it was time to evacuate. On March 10, they borrowed five liters of gas from a neighbor and set out for Kyiv, 35 miles away.
"When we were driving, we saw a lot of burnt cars." — Davyd, 7
"When we were driving, we saw a lot of burnt cars," says Davyd. "Some cars were shot at with children inside ... When a plane was flying low, I felt something bad in my stomach. I threw up."
"My son knew that we were attacked," says Yevgeniya, 37. "It was stress, very serious stress. He was vomiting and feeling pain. My son was moaning for half a day, I think."
The scariest part of the hours leading up to their evacuation, she says, was when they heard gunshots. "We were really afraid. We were frightened that they would come to our house and take us out. That's what we heard from others." 
"Some cars were shot at with children inside."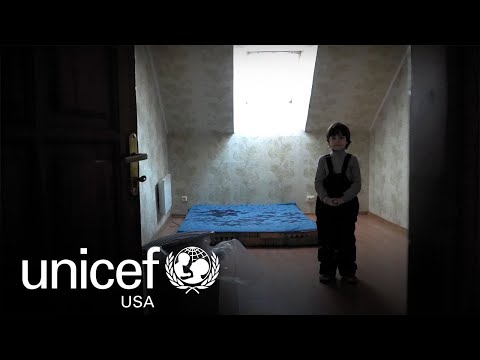 In Kyiv, the family found temporary shelter inside a church. But even there, they had to hide in the basement because of the constant threat of bombardment.
As war escalates in Ukraine, children are witnessing things no child should see, and experiencing trauma that could last a lifetime. 
UNICEF is working to scale up lifesaving support for Ukraine's children, delivering medicines and medical supplies, safe water and hygiene kits, emergency cash transfers, humanitarian assistance for refugees and more. Since Feb. 24, over 47,000 children coping with the realities of life under fire in Ukraine have been reached with recreational activities and psychosocial support.
Support UNICEF's response to the war in Ukraine. Vulnerable children need help urgently. Please donate. 
© UNICEF/UN0617994/BOYKO