Ukraine
A Volunteer Translator Helps Fellow Refugees From Ukraine
Like millions of people from Ukraine, Anastasia and her daughter were forced to flee their home after the war began on Feb. 24.
Arriving at the home of a host family in Siret, Romania, Anastasia "stayed there in a room for two days," she says, "just being very stressed, crying, checking the news every five minutes." Then she learned that her uncle, a civilian, had been killed, plunging her further into despair.
She needed to find a way out of her shock and grief, for her own sake and her daughter's — but how? Her host family offered her the opportunity to become a volunteer translator at the Blue Dot refugee support center set up by UNICEF, UNHCR and local authorities and partners in Siret, where families who have just crossed the border from Ukraine can go to find information and services for their children.
"I thought, what a great idea. I can help someone," says Anastasia, who is fluent in Ukrainian, Russian and English. "I can help people from my country. And I can be distracted from the bad thoughts. I can be busy doing something and it's great, because staying at home doesn't help much."
"I meet mothers and children every day. I feel like they need to share their stories with me."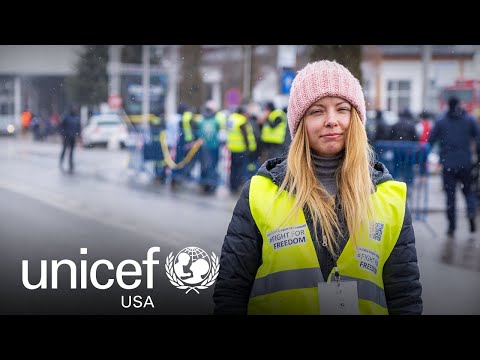 She spends her days at the Blue Dot center, where there are toys for children to play with, and a place for exhausted mothers to rest. "They start crying and telling me their personal stories," she says. "It's quite difficult at the end of the day, because you feel it every time with them. Because I understand them completely." 
"The decisions I am making, or I will have to make, they refer to my child and her future, so I have to be very determined on the one hand, and not panicking on the other hand, to make the right decisions. So I try to keep calm."
Anastasia's daughter tells her mother she is proud she is making a difference for other refugee families whose lives have been turned upside-down by the war. "She knows that I am helping here, and she says, 'Mommy, I want to be just like you.' And it's like the best thing a mother can hear, I think." 
UNICEF Blue Dot centers support refugee children and families in need
Since Feb. 24, 2022, more than 3.7 million people — including 1.8 million children — from Ukraine have become refugees, according to UNHCR. 
UNICEF is opening 26 Blue Dot support centers along key transit routes for families arriving in Romania and other host countries. Set up and operated in collaboration with local and national partners, the one-stop hubs provide information about available accommodation and transportation, a safe space for children to play, and registration for online learning, psychosocial support, counseling and protection services, among other vital forms of support. 
Your contribution will help UNICEF continue to reach the children of Ukraine and their families with lifesaving assistance. Please donate.
© UNICEF. Video edited by Tong Su for UNICEF USA.