Children of Aleppo Are Trapped in a "Living Nightmare"
Kieran Dwyer, UNICEF spokesperson in Syria, reports on the tragedy unfolding for Syrian children in Aleppo.
"In eastern Aleppo, these terrible attacks and bombings are killing and injuring many children. UNICEF can confirm that since last Friday alone, at least 96 children have been killed in attacks, and more than 220 injured – many gravely injured," says Kieran Dwyer, UNICEF spokesperson in Syria who is in daily contact, from the capital Damascus, with UNICEF colleagues and partners in Aleppo, including medical staff who are trying their best in unimaginable circumstances to save the lives of children.
After more than five years of war in Syria, this week has seen a huge escalation in attacks and violence in eastern Aleppo, and the consequences for children are shocking:

"There are more than 100,000 children in eastern Aleppo. When attacks hit this densely populated part of the city, children are always likely victims. Children and their families are hiding in basements, but these are now very dangerous as massive explosive weapons are being used. There is nowhere safe for a child in eastern Aleppo."
There is nowhere safe for a child in eastern Aleppo.

"Children are lying untreated on the floors of hospitals because there are not enough doctors or medical supplies. A doctor, one of our partners, told us last night that in his clinic they are so overwhelmed by the numbers of injured children being brought in each day that they are being put in the impossible position of having to leave the most seriously injured children to die, untreated.
"That is not a decision that any health worker should ever have to make. It's not just because there is a shortage of doctors, but also because they lack medicines and equipment. Hospitals themselves have come under attack in eastern Aleppo."

"The situation continues to get worse. Our health partners have confirmed today that two hospitals were struck by attacks overnight. Both are now unable to function, meaning thousands more children cannot get the urgent medical care that they need."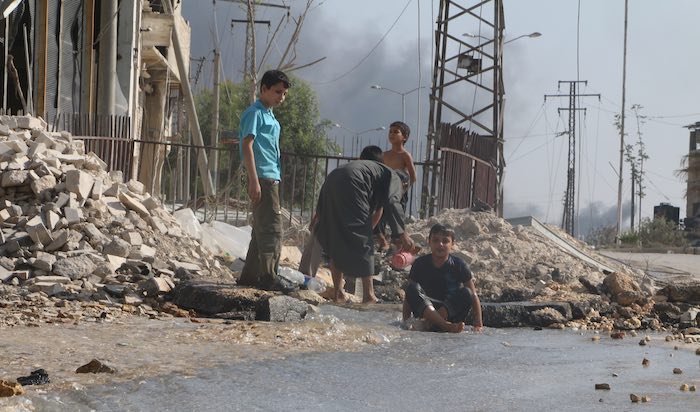 Children now desperately need lifesaving help.
"A few weeks ago, there was a brief ceasefire. Kids could even play outside again. We saw children playing on swings again. They were able to just be children again. Now that is over and they have to fear for their lives every day and night in the knowledge that even if they are injured, there is no guarantee that they will be saved. For the sake of all the children and all the families in Aleppo, it's critical that these attacks stop. This horrendous violence against children must stop."
Please support UNICEF's work to aid Syrian children.