A Teacher Uses Kid Power to Show Students They Can Change the World
How UNICEF Kid Power inspired teacher Kasey Bird and her third-grade students to help feed kids around the world — and right in their own community.
Though Kasey Bird comes from a family of teachers (both her dad and her brother teach), she didn't always think that she would become one herself. But in college, as she began to reflect on what a hugely positive impact certain teachers had on her life, she had a revelation. "I wanted to be that person for kids: someone to help build their skills but — even more importantly — make sure they know that there are people who believe in them, and will support them in anything that they're willing to work towards."
Now in her 10th year of teaching in Klamath Falls, Oregon, Kasey continues to look for new ways of helping her kids learn how strong they can be — and how they can use their own strength to help others. That's why Kasey was so thrilled when, while searching the internet in fall 2016, she stumbled across information about the UNICEF Kid Power program.
"When I saw the Kid Power Bands I thought, wow, they promote healthy activity, nutrition and giving back — we've got to do this!"
As kids run, jump and play, their movements are measured by their Kid Power Bands. The more they move, the more points they earn to unlock funding from partners, parents and fans, which UNICEF uses to deliver lifesaving packets of Ready-to-Use Therapeutic Food (RUTF) to severely malnourished children around the world.
UNICEF, the largest global procurer of RUTF, uses this "miracle food" to help the estimated 16 million kids who are suffering from acute and severe acute malnutrition worldwide each year.
Since Kid Power launched in 2014, the 450,000 kids, educators and parents on the team have collectively unlocked more than 10 million packets of RUTF — enough to treat and save the lives of over 70,000 severely malnourished children.
Eager for her third-grade students at Joseph Conger Elementary School to do their part, Kasey immediately applied to the UNICEF Kid Power schools philanthropically-funded program. To her great delight, she was accepted, and a box with Kid Power Bands, as well as other teaching tools, arrived soon after.
Anyone can purchase a UNICEF Kid Power Band, but the teacher-led school program comes with Kid Power Bands for each student plus a host of standards-aligned lessons and activities. Teachers can apply for the school program in the fall. Priority is given to third-, fourth- and fifth-grade classes, with some availability for students in sixth, seventh and eighth grade. Preference is also given to schools in which at least 60 percent of students are eligible for free or reduced-cost meals.
Once her classroom kit arrived, Kasey surprised her class with their Kid Power Bands after describing them during a discussion about inventions and technology. (It just so happens that Time Magazine named the UNICEF Kid Power Band one of the 'Best Inventions' of 2016). "When they realized I had a class set of them, kids were crying and giving me hugs and saying, 'Thank you so much!'"
The kids loved wearing their Kid Power Bands and immediately began making activity goals, knowing that every extra step or running race or game of tag could help a child on the other side of the world.
"Many of the kids here know American poverty, and live that poverty every day," says Kasey. "But poverty in America is very different than poverty in other countries. It was eye-opening when they saw the UNICEF videos of children who had very scarce resources and hard living conditions."
When I saw the Kid Power Bands I thought, wow, they promote healthy activity, nutrition and giving back — we've got to do this!
Kasey saw how the UNICEF Kid Power videos and activities really helped bring the issues home.
For instance, the students learned that RUTF is primarily used to help malnourished children who are under the age of 5."Most of my students have a little sibling or a little cousin…. We'd talk about earning enough RUTF packets to save a life, and think of the goal in terms of those little kids."  
The Kid Power program also made Kasey's students realize that there were kids living close to home who needed help.
Joseph Conger Elementary School has always put a strong emphasis on giving back to the community. In previous years, Kasey and her students worked with the Klamath Falls Subaru/Honda Dealership to fill one of its cars with supplies for an animal shelter. But once the students began learning about malnutrition's harmful effects on young brains and bodies through the Kid Power curriculum, class discussions turned towards how to help kids in their community, too.
They knew that many students had a hard time getting enough nutritious food during the summer when their schools' free breakfasts and lunches weren't available. So, they decided to fill up another Subaru, this time with food for kids suggested by their local food bank: peanut butter and jelly, macaroni and cheese, canned fruit….
Her students got neighbors and parents to donate items, and they went from classroom to classroom, giving speeches to get other students involved. "They were advocates," says Kasey. In the end, (with help from a class in nearby Ferguson Elementary School) they collected 4,200 pounds of food — enough to feed 800 kids.
Kasey's students felt inspired to help kids in their own community, too.
The students' Kid Power Bands registered all the steps they took helping their community plus those they collected having fun earning food packets. "The Power Band helped me find ways to get active," says Kasey's former student Jason, "like going outside and exploring." In fact, last year, Kasey's students unlocked more than 700 packets of RUTF in three months.
This year, Kasey purchased the Kid Power Bands for her class by crowdfunding through DonorsChoose.org. When another grant from a local organization also came through, she decided to use the money to incentivize her students to get their families active, too. Last fall, nearly 100 teachers posted projects on DonorsChoose.org to buy UNICEF Kid Power class kits and all of them were successfully funded.
She bought gift cards and got donations for things like frozen yogurt or sandwiches or swimming and bowling passes that her students could earn by getting their families moving with them. "If the kids got their families out and about for at least 30 minutes, five times, over spring break they earned a chance in a drawing for the gift cards."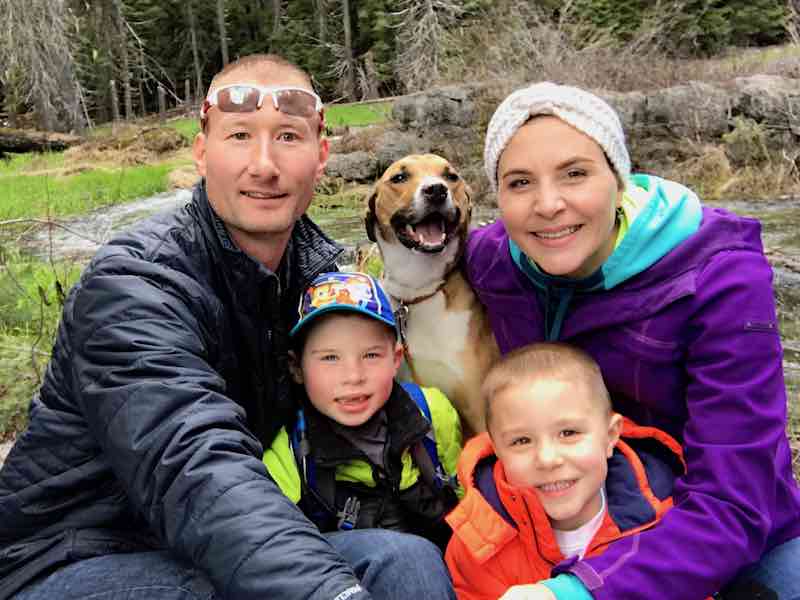 You see, Kasey's not just a teacher, she's also a mom. And she had seen the impact that Kid Power had on her own son, Parker (now 8). When he first learned about the program, says Kasey — about how being active could help other kids — "He was just all about it, and asked me if there was any way he could join my team." 
A year later, Parker still only takes off his Kid Power Band to shower, and has twice logged over 30,000 steps in a single day. "He jogs in place while he's brushing his teeth!" Kasey says. And that's helped inspire the whole family to be more active together: hiking to waterfalls, doing charitable relay events.
Kid Power provides my students with the opportunity to discover their individual strength and learn that, through their action, they can make a difference in the world.
Another development this year: Kasey's Kid Power team (her class, son, and 13 students from last year who asked to rejoin) — along with a Shasta Elementary class — are now hard at work filling two cars with healthy, kid-friendly food for the food bank.
At the same time, they're closely tracking every step and, in just over two months, they've already unlocked more than 1,100 RUTF packets. "I love seeing them get active," Kasey says. "Even better: Kid Power provides my students with the opportunity to discover their individual strength and learn that, through their action, they can make a difference in the world."
To help bring UNICEF Kid Power to a classroom like Kasey's, donate today!
If you are a teacher who is interested in participating in next year's UNICEF Kid Power Schools program, sign up here to be the first to hear about opportunities to bring UNICEF Kid Power to your classroom or group.
Top photo: © Kasey Bird