Inside an Underground Newborn Intensive Care Unit in War-Torn Ukraine
At the Regional Hospital in Lviv, Ukraine, fragile newborns have been moved to the basement for their protection as the bombardment of the city continues.
Zoryana, manager of the hospital's newborn intensive care unit, leads UNICEF's Emma Maspero on a tour of the underground facilities, complete with incubators, monitors and ventilators, outfitted in just two weeks with support from UNICEF.
All of the babies are being kept below ground to keep them as safe as possible.
"All of the babies are being kept below ground to keep them as safe as possible," says Maspero. "While we've been here, there has been an air raid siren. It's worrying to hear the siren and also the beeping of the machines. Seeing babies in this kind of shelter, it's very difficult to see, and I can imagine it must be very difficult to work here as well." 
Zoryana nods. "The main thing is to help all of them, and to make them safe." 
At a hospital in Lviv, critical supplies are helping keep newborns alive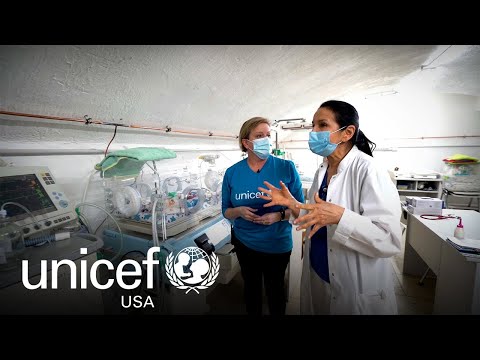 Since the start of the war on Feb. 24, 2022, UNICEF has ordered over $116 million in emergency supplies to support children and families caught up in the crisis.  Working with the Government of Ukraine, key municipalities and humanitarian NGOs, UNICEF has facilitated the delivery of lifesaving medicines and medical supplies for 596,000 people, distributed to 49 hospitals across Ukraine, including some of the most difficult to reach and worst affected regions.
Standing in a hallway piled high with UNICEF boxes containing Interagency Emergency Health Kits, Sterilization Kits and Early Childhood Development Kits, Maspero says, "These supplies have been delivered to the hospital, and we hope that they will help women to give birth safely and give the babies the best start in life." 
As needs continue to escalate, UNICEF is scaling up its humanitarian response to the war in Ukraine. Your contribution can make a difference. Please donate today.
© UNICEF/UN0619536/Haro