Brian Meyers is Chief of Staff to the President and CEO of the U.S. Fund for UNICEF.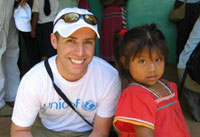 David, Panama
He is responsible for providing strategic support to the President and CEO and working with the Board of Directors and staff across the organization. Brian also serves as an Executive Officer to the Standing Group of UNICEF National Committees, the global governance group for the 36 National Committees that work to raise funds and advocate for UNICEF in 36 industrialized countries around the world.
Previously, Brian served as the Director of Development at the U.S. Fund where he helped re-shape and lead the organization's high wealth individual fundraising team. Brian has traveled extensively with UNICEF, leading donor field visits to Central and South America, the Caribbean, Asia and Africa. He joined the U.S. Fund in February 2008.
Brian has more than fifteen years' experience working in the for-profit and non-profit worlds. Most recently, he held professional positions at Columbia Law School, Thomson Healthcare and the YMCA. He also spent time earlier in his career as a teacher and soccer coach.
Brian has a B.A. degree from Hamilton College and an MPA in International Development & Finance from Columbia University's School of International & Public Affairs. He is also a graduate of the Social Sector Emerging Leadership Program at the Thunderbird School of Global Management.
July 2012