Welcome to UNICEF USA!
Stay informed on UNICEF's work saving and protecting children around the world
The 72nd United Nations General Assembly (UNGA) theme, "Focusing on People: Striving for Peace and a Decent Life for All on a Sustainable Planet," comes at a critical time as conflict and natural disasters increasingly displace children worldwide, forcing many children to abandon school in order to survive. Findings from the joint UNICEF-IOM publication, Harrowing Journeys: Children and youth on the move across the Mediterranean Sea, at risk of trafficking and exploitation, reaffirm that no matter where they are traveling from or to, children on the move are at risk of trafficking. However, education may be a promising tool for preventing child trafficking and exploitation, especially for those impacted by emergency.
123 million school-aged children are currently out of the classroom. Twenty percent of them have left school as a result of conflict. Additionally, exacerbated by climate change, the rise of natural disasters like hurricanes, droughts, and flooding has displaced countless other children worldwide. Barriers to education may have been prevalent in a child's country prior to the onset of emergency; however, once on the move, opportunities to continue schooling become limited or non-existent. Even upon reaching a destination point, roadblocks such as language differences, lack of access to resources, teacher shortages, psychological trauma, financial instability, and legal barriers may prevent a child migrant or refugee from getting her/his education back on track.
Education is an undoubtedly powerful vehicle for empowerment that every child has the right to access. Not only can education help break cycles of poverty, but the Harrowing Journeys report suggests that education is critical for reducing the trafficking and exploitation of child migrants and refugees.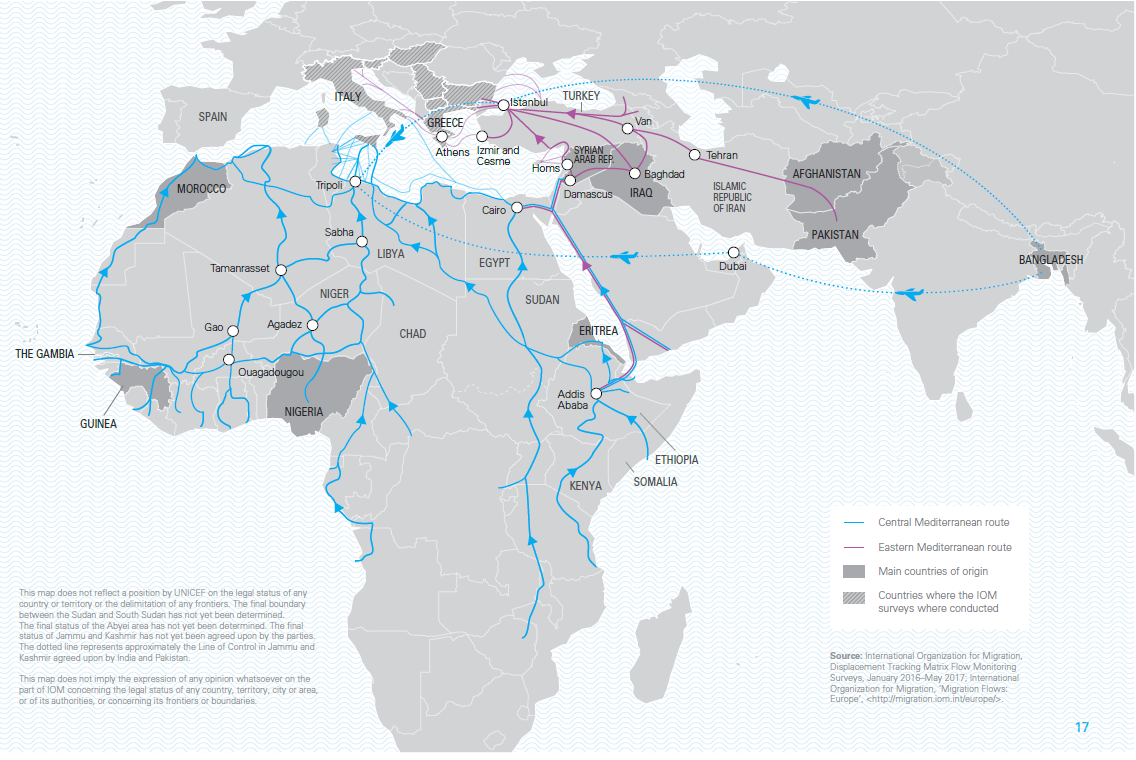 According to the report, 90% of uneducated youth traveling along the Central Mediterranean Route (marked in blue above) reported experiencing exploitation. In fact, young boys and men with no education were 28% more likely to experience exploitation than their counterparts with a secondary education or higher. These findings indicate that an investment in education helps protect children from traffickers if they find themselves on the move.   
Schooling not only protects children while they are in transit, but can prevent trafficking and exploitation once they have reached their destination. Many child migrants and refugees must financially support themselves and/or their families, but lack of education can greatly reduce job opportunities. According to Harrowing Journeys, this can leave child migrants susceptible to trafficking and forced labor:
"Legally prevented from working because of age or migration status, [children on the move] … may resort to work that is less visible – and tends to be more dangerous and potentially exploitative. High fees charged by smugglers may also force adolescents and youth to seek any work they can find, or may require them to work in lieu of payment, or to incur debts. If they have trouble paying these debts, smugglers may force them to work or hand them over to traffickers."
Finding ways to continue schooling can help to ensure that children are qualified for jobs in sectors that are subject to oversight and regulation. Additionally, building safe and legal migration channels can prevent children on the move from being forced to turn to smugglers or traffickers in order to reach their destinations. Doing so increases the chances that child migrants and refugees will have a chance to resume their studies and realize their academic and professional potentials.  
The UNGA's theme, "Focusing on People: Striving for Peace and a Decent Life for All on a Sustainable Planet," calls upon the global community to find human-centered solutions to peace and prosperity for everyone. Despite the fact that millions of children are currently fleeing or caught in the midst of emergencies, education offers a critical for tool for protecting children's futures before, during, and after crisis. Even though children on the move may be difficult to reach, it is nevertheless crucial that individuals, organizations, and governments take the steps necessary to ensure that all children—including the world's most vulnerable—receive the life-saving education they need and deserve.
Here are some crucial steps that can be taken to support education and prevent the trafficking of children on the move:
Individuals
Organizations and Governments
Create child-friendly spaces for children on the move in coordination with local community partners and youth voices.
Develop multi-lingual and multi-media messaging for child migrants on the dangers of trafficking. Cater these to varying degrees of literacy and language proficiency.
Train law enforcement, service providers, and teachers to recognize the signs of a child that has been trafficked.
Strengthen and expand services for child migrants and refugees at points of origin, transit, and destination, including access to education, financial, and psychosocial services.
Promote policies that protect children from trafficking and criminalize those that would seek to exploit them.