In 2014, President Obama proclaimed January as National Slavery and Human Trafficking Prevention Month, noting that "millions remain in bondage" because of trafficking.
Human trafficking is a crime that affects the most vulnerable, including children all around the world — and right here in the United States. There are an estimated 21 million victims of human trafficking and forced labor around the world today, and 5.5 million are children. Anyone can be a victim of trafficking, but child refugees, runaway and homeless youth, and marginalized groups are among those most at risk. 
This month, we'll be launching our annual series of blog posts to talk about how far we have come in terms of anti-trafficking work, how human trafficking impacts children on the move, and how gender impacts the anti-trafficking work that we do. We will share ways YOU can take action.
Your help is needed now more than ever. That's why we've put together four concrete ways you can join us to prevent and end child trafficking.
1) Sign our pledge:
We are calling on supporters like you take a pledge to stand with us to end trafficking, exploitation and violence. Click on the link here!
Join the chat on Wednesday, January 11 at 1:30pm ET. The chat will feature Ambassador-at-Large Susan Coppedge and four expert panelists from the healthcare, education and social services fields. Our goal is to educate our followers on the signs of child trafficking and equip them with the tools and resources they need to take action. Will you join the conversation to help end child trafficking?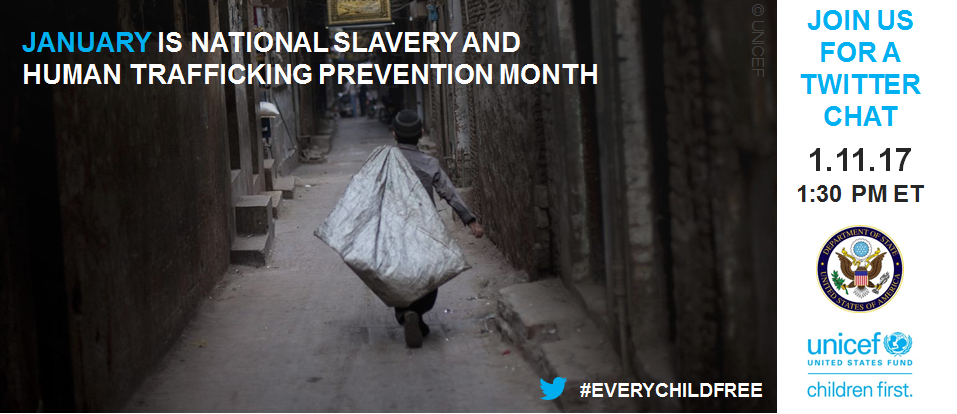 3) Follow us on social media
Keep up with all End Trafficking project related ideas and actions by following us on social media!
4) Catch our Facebook Live with a UNICEF Child Protection expert
Tune in for our Facebook Live Discussion with UNICEF Child Protection Advisor, Kerry Neal, later this month!
In the same way that it takes a village to raise a child, the necessity for cross-sector collaboration and communities coming together to end human trafficking is crucial. This all starts with raising awareness in your community and finding ways to take meaningful action.
Stay tuned for more activations and blog posts over the coming weeks! We look forward to working with you to continue raising awareness about child trafficking. 
The End Trafficking project is the U.S. Fund for UNICEF's initiative to raise awareness about child trafficking and mobilize communities to take meaningful action to help protect children. We do this by conducting workshops, facilitating film screenings, advocating for federal and state legislation and educating the American public on UNICEF's work to protect children globally.