COVID-19 Vaccines Empower Superhero Health Workers in DRC
When patients sick with COVID-19 started appearing at the Democratic Republic of Congo's Provincial Hospital in Goma, North Kivu, last year, nurse Jeanne Dusungu moved out of her family's home to continue caring for those in need without putting her children's health at risk. "The hospital is a very dangerous place for nursing staff," says her son Kasereka.
Dusungu's workplace is less dangerous since the 39-year-old nurse was vaccinated with one of the 1.7 million-plus doses of COVID-19 vaccines the DRC received through the COVAX facility in early March.
The same can't be said of the DRC. Last month, after weeks of surging cases and rising deaths, the Ministry of Health confirmed the nation is now battling its third wave of COVID-19 and the rise of the Delta variant, which was detected in 79 percent of sequenced samples.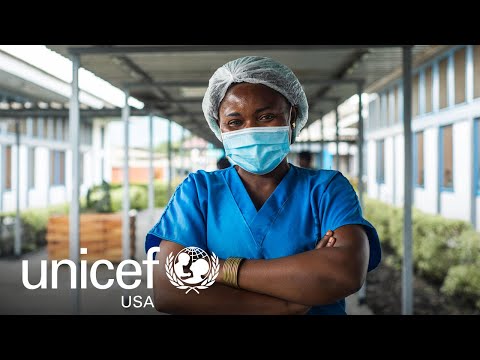 With the Delta variant the most contagious yet, frontline health workers like Dusungu are especially vulnerable.
"As a nurse, I come into contact with dozens of people," says Dusungu, who grew up next door to a hospital and wanted to be a health worker for as long as she can remember. "I was at a real risk of contracting the disease and passing it on to those around me [and] my husband and four children." 
But now that she and her fellow frontline health workers have received their vaccinations, she can do the job she loves without fearing for her health or the health of others. She can also have real impact.
"Since the start of the vaccination campaign supported by COVAX and UNICEF, I have been seconded to the hospital vaccination center," explains Dusungu. "I vaccinate dozens of people every day, each time with the certainty of contributing to the protection of my fellow citizens. Working in the medical world is demanding, tiring work, but I believe in the usefulness of what I do."
A big part of her job is combatting people's fears, which are partially to blame for the nation's low vaccination rates.   
"It is essential to speak and explain what you are doing," explains Dusungu, who tells each patient what to expect during the immunization session, describing how the vaccine works. "Candidates for immunization have often read or heard a lot of statements that have not been verified. So, inevitably, they are worried. But as soon as you talk to them a bit, it just works out."
Things have also worked out for Dusungu now that she is vaccinated and reunited with her family. No longer a risk to those she loves, she says she feels more serene — especially now that the information she shares with her patients helped convince her husband to get vaccinated, too.
"Everyone understands that being vaccinated against this disease is a duty to protect those we love as well as the whole community," Dusungu says. Her children, who range in age from a few months to 18 years old, get credit too, for doing their part by supporting their mother.  
"I'm very proud of my mother's work," Kasereka says, "because she is doing everything to help the whole world to fight the COVID-19 pandemic." His brother Achile chimes in: "She is like a superhero who saves lives."
UNICEF helped deliver 58,000 vaccine doses to North Kivu, one of four provinces hardest hit by the pandemic, as part of history's largest vaccine procurement and supply operation. UNICEF is committed to ensuring equitable distribution of COVID-19 vaccines worldwide because no one is safe until everyone is safe. 
Top photo: In early May, nurse Jeanne Dusungu from Goma, Democratic Republic of Congo, prepares to administer a dose of the COVID-19 vaccine at the provincial hospital of North Kivu. All photos by Arlette Bashizi for UNICEF. Video by Tong Su for UNICEF USA.