4 Ways UNICEF Is Helping Children in South Sudan
Large-scale drought and flooding, acute levels of food insecurity and COVID-19 have made life increasingly difficult for children in the world's youngest country. The longterm impacts of climate change and years of violent civil conflict have displaced millions. Nearly half the country — 7.5 million people, including 4.1 million children — are in urgent need of humanitarian aid. 
As South Sudan continues to build resilience and work towards a lasting peace, UNICEF is on the ground, making sure children get the immunizations, clean water, education and nutrition they need to survive and thrive.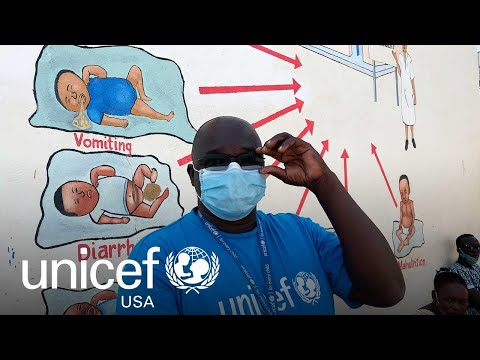 Immunization
Routine vaccinations have continued in South Sudan during the COVID-19 pandemic, where less than 50 percent of children are immunized, and many live far from health care facilities. "Vaccination is very important in protecting children against killer diseases like measles, polio and tetanus," says UNICEF Immunization Specialist Samuel Patti, above. "I feel I am serving children who are really in need, because immunization services are key to survival." 
Plans are underway to roll out a COVID-19 mass vaccination campaign. As head of procurement and supply for the Global COVAX Facility, an initiiative led by the World Health Organization, CEPI and Gavi, the Vaccine Alliance, UNICEF is in charge of distributing the COVID-19 vaccine to more than 180 countries. In South Sudan, where less than a third of the population is connected to the power grid, and where it's not uncommon for daytime temperatures to hit 100 degrees Fahrenheit, UNICEF has equipped over 700 health facilities with solar-powered fridges to properly store the vaccine.
Water
Only 40 percent of South Sudan's population can access safe water, leaving children vulnerable to disease. The UNICEF-supported Rubkona water treatment plant has 16 water points where parents like the women above can go to fill their buckets with safe drinking water. A community water committee keeps the site clean and locks it up at night. The committee also organizes the queue to avoid arguments over who's next in line.
"I have seven children, and as a mother I have been worried a lot because of dirty water," says Mary Nyalow Malual, a member of the community water committee. "Now, we see less illness and less diarrhea, not only among the children but also among the rest of us." In the coming year, UNICEF plans to reach 817,000 people with safe water for drinking, cooking and personal hygiene. © UNICEF/UNI311456/Ryeng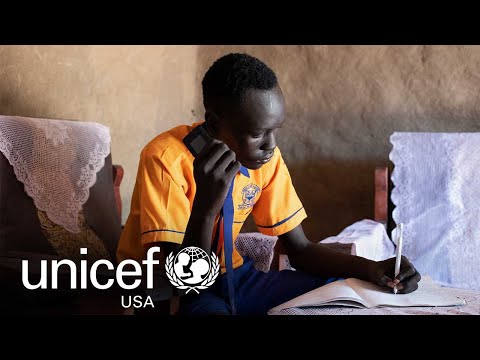 Education
South Sudan's government closed schools in March 2020 to prevent the spread of the novel coronavirus, disrupting the educations of 2 million students, on top of the 2.2 million children who were already out of school before COVID-19. To keep children learning, UNICEF worked with the Ministry of General Education and Instruction and other partners to launch a radio education program.
"My favorite subject is science, because I am understanding it very well," says 12-year-old Marline John. "I want to be a doctor, because I want to help my sisters and brothers in South Sudan." Home-based learning isn't the same, Marline says, because she can't ask teachers questions and she misses her friends. Thankfully, schools have begun to reopen now in South Sudan. The radio education program will continue to offer lessons to those still unable to attend in-person classes.
Nutrition
Many children in South Sudan rely on school meals for their only meal of the day. During school closures, parents have struggled to afford enough food to feed their families. Sixteen-year-old Josephine, above, is happy to be back in class at the recently reopened Dumat Primary School in Torit, South Sudan, where UNICEF partners with the World Food Program to provide school meals and classroom instruction. Josephine is in her final year and eager to prepare for her exams — and to have the daily portion of beans and sorghum the school provides for every student. "Without this food we can't survive," she says.  
UNICEF health workers screen children for malnutrition and provide Ready-to-Use Therapeutic Food to bring malnourished children back to health. In 2021, UNICEF will provide feeding information and support for 1.1 million caregivers of infants and young children. © UNICEFSouthSudan/Chol
Your generous donation will support UNICEF's work in South Sudan. 
Top photo: Queen, 5, collects water at a UNICEF-supported water point in Yambio, South Sudan. © UNICEF/UN0372916/Naftalin