What Is Ready-To-Use Therapeutic Food? It's the Malnutrition Miracle!
The specially formulated peanut paste known as RUTF is nothing short of a miracle for severely malnourished kids. UNICEF is the world's largest supplier of RUTF to children.
"I had reached a point where I thought my child was going to die," says Francess, a mother from Sierra Leone, who came to that conclusion as her two-month-old daughter Naomi grew weaker by the day.
They had survived the Ebola epidemic. But Francess, like many parents in the nation's most out-of-the-way places, now stared down another killer — only this time it had come for her daughter.
I thought my child was going to die.
The new threat was acute malnutrition. Even before Ebola hit Sierra Leone, nearly 13 percent of Sierra Leone's children under five were malnourished. After the outbreak decimated the nation's health system and sparked an economic downturn, those numbers grew even higher.
But thanks to a UNICEF program to reach vulnerable children, a community health worker came to Francess's village, diagnosed Naomi's acute malnutrition and transferred her to an area hospital just in time. There, she was treated with ready-to-use therapeutic food (RUTF) and, after only a few weeks, began to make a miraculous recovery.
I wondered what magic made her recover so soon.
"I was so surprised about the improvement in her look after she started eating those packets," recalls Francess. "I used to wonder what magic was in the treatment that made her recover so soon."
What is RUTF?
It's no wonder that RUTF is often referred to as a miracle food. A tasty, energy-packed paste made from peanuts, oil, sugar, milk powder and vitamin and mineral supplements, it is UNICEF's most effective tool for treating acute and severe acute malnutrition (SAM), which, every year, threatens millions of children worldwide.
RUTF is easy to ship and administer... and stays fresh for up to two years.
RUTF is easy to ship and administer. It doesn't require refrigeration and stays fresh for up to two years. Best of all, no mixing with potentially contaminated water is required. Each 100-gram single-serving packet comes ready-to-eat. All parents have to do is what comes naturally: Open the packet, feed their children and watch them grow healthy and strong.
UNICEF is the global leader in RUTF procurement, purchasing and distributing eighty percent of the world's supply. UNICEF works with manufacturers to increase supplies of the product and keep prices down. One carton of RUTF contains 150 packets, enough for one six- to eight-week course of treatment to restore the health of a severely malnourished child. 
RUTF lets children grow healthy and strong.
Ten-month-old Younas was brought to a UNICEF-supported clinic in South Punjab, Pakistan by his mother. The 10-month-old was weak and losing weight each day, and instead of learning to crawl and take his first steps, he mostly cried and slept. "I breastfeed him and give him buffalo milk, but he keeps getting diarrhea," his mother recalls telling the health workers.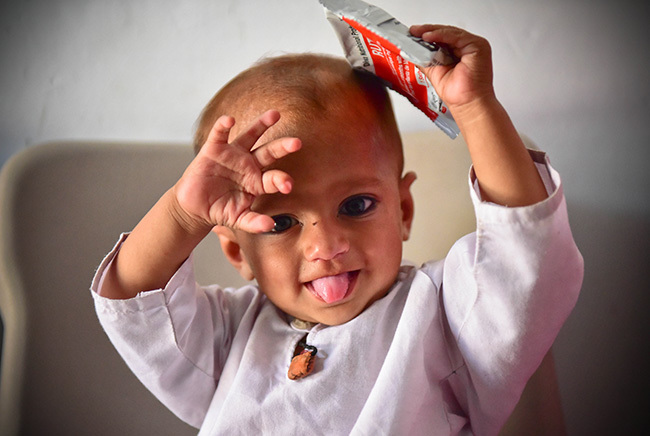 Their diagnosis was quick and effective. Younas was suffering from SAM, a major issue for both children and their mothers in rural Pakistan. But after just two weeks on a diet of therapeutic food, he began to recover. And thanks to the health and nutrition training his mother received at the clinic, she now knows what he needs to continue growing healthy and strong. 
These days, the global need for RUTF is greater than ever before.
Today, the global need for RUTF is greater than ever before as an unprecedented humanitarian emergency looms across 3 regions and 13 countries in Africa and the Middle East. The lives of 80 million people — more than half of them children — are threatened by alarming levels of food insecurity. 
War, displacement, climate change and drought have created unprecedented food emergencies that affect children in the following countries:
Lake Chad Basin: Cameroon, Chad, Niger and Nigeria
Eastern Africa: Democratic Republic of the Congo, Ethiopia, Kenya, Somalia, South Sudan, Sudan and Uganda
Middle East/Northern Africa: Djibouti and Yemen
The time for action is now. UNICEF is on the ground, providing life-saving treatment to children suffering from severe acute malnutrition, counseling to caregivers on how to feed infants and young children, emergency primary healthcare services and access to safe water. 
Six years ago, at least 100,000 children died of a famine in the Horn of Africa because the world did not act soon enough. As UNICEF Executive Director Anthony Lake explains, "We can still save many lives. The severe malnutrition and looming famine are largely man-made. Our common humanity demands faster action. We must not repeat the tragedy of the 2011 famine in the Horn of Africa." 
Support UNICEF's efforts to save children's lives with "the miracle food."