Welcome to UNICEF USA!
Stay informed on UNICEF's work saving and protecting children around the world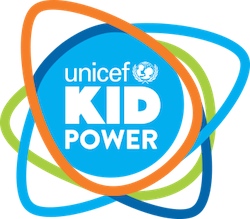 * The new UNICEF Kid Power Band is now available online and in Target Stores — in a special Star Wars: Force for Change green color to allow kids and Star Wars fans alike to get active and save lives.
* Unlock the FREE Star Wars: Force for Change Mission, launched through the UNICEF Kid Power App, to get excited about unlocking therapeutic food for kids in need.
UNICEF Kid Power is a program of the U.S. Fund for UNICEF, and is made possible through the generous support of Presenting Sponsors Star Wars: Force for Change and Target, as well as local supporters, parents and fans.
A Growing Movement
Fourth-grader Carly, at P.S. 254 in Queens, New York, wakes up and gets moving in the morning with a UNICEF Kid Power Band strapped to her wrist. She has other children on her mind — kids from faraway places who don't have enough to eat, whose lives are a struggle compared to her own. Carly is determined to do all the walking, skipping and jumping she can, so she can make a difference. "I'm going to help these children," she says, "and I don't want to stop trying."
As one of more than 136,000 children across the U.S. who have become part of the UNICEF Kid Power movement, Carly wears a specially designed activity band that measures her steps and other physical activity to earn points. The more she moves, the more points she earns. As the points accumulate, they unlock funding from partners, parents and fans, which UNICEF uses to deliver packets of ready-to-use therapeutic food (RUTF) to severely malnourished children around the globe.
Fans of UNICEF Kid Power say it's as energizing as it is empowering. At press time, participating kids have earned more than 8.5 million Kid Power points, unlocking more than 626,000 food packets — enough to treat thousands of children.
And momentum is building. Since its first city-wide rollout in Sacramento in October 2014, UNICEF Kid Power has spread across the U.S., to Atlanta, the Bay Area, Boston, Chicago, Dallas, Indianapolis, Los Angeles, New York, Phoenix, Portland, the Twin Cities and Washington, D.C., with more cities to follow. Kid Power has already been piloted in schools in the Netherlands and Scotland, in collaboration with other UNICEF national committees.
Kids Helping Kids
What makes the UNICEF Kid Power program so unique is the way it harnesses the power of interactive technology to encourage behavior that is rewarding in itself — getting active — while giving American kids the chance to make a positive social impact in the wider world.
"Kid Power is delivering a compelling experience by using purpose to motivate physical activity," says Steven Downs, Chief Technology Officer of the Robert Wood Johnson Foundation, a private philanthropy focused on health. "The platform and system architecture have been thoughtfully designed, and it's an exciting project."
By creating the opportunity for kids to help end global malnutrition, UNICEF Kid Power builds on a tradition that started with Trick-or-Treat for UNICEF more than 65 years ago and continues to resonate today. Every Halloween, more than a million American children still go door to door to collect change for UNICEF programs.
"My students are now asking if we can run laps between our reading and writing hours ..."— a Bay Area teacher
And while Trick-or-Treat for UNICEF has definitely entered the 21st century with the advent of social media and digital fundraising, what hasn't changed from its early days is kids' determination to help other kids. Kid Power taps into that drive and maximizes its impact by empowering kids to make a difference every day, because they know the more they move, the more points they earn, the more lives they save.
UNICEF Kid Power's emphasis on staying active is especially important considering the latest statistics. As many as two-thirds of U.S. children today do not get adequate exercise, according to Let's Move! Active Schools. And the Physical Activity Council reports that a full quarter of American kids qualify as sedentary. By offering a built-in incentive to get moving, Kid Power gives children a fun and meaningful way to turn things around not just for others, but for themselves, too.
It already seems to be doing just that, according to independent studies. One evaluation found that Sacramento students who participated in the Kid Power program were 55 percent more active than their peers. Another study reported a 30 percent increase in the number of days when students engaged in moderate to vigorous activity.
"My students are now asking if we can run laps between our reading and writing hour, which is unheard of," notes Mr. Moorman, a fifth-grade teacher at Scott Lane Elementary School in the Bay Area, whose students call themselves Team Scholar. "I see them jogging in place while standing in line." In Washington, D.C., one third-grader at HD Cooke Elementary School says that before he got his UNICEF Kid Power Band, he spent most of his free time on his couch. "Now I want to go run in the backyard just to get points so I can save lives."
An Important Mission
It's the saving lives part that speaks to the bigger issue at stake here — the humanitarian cause at the heart of UNICEF Kid Power. Malnutrition, in all of its forms, affects more than 200 million children globally. It is a contributing factor in 3 million child deaths annually, nearly half of all preventable child deaths worldwide. Severe acute malnutrition (SAM) claims the lives of around 1 million children every year.
Ending malnutrition has always been core to UNICEF's mission. The organization was founded in 1946 to provide emergency relief to European children facing famine and disease in the aftermath of World War II. Today, UNICEF continues to work nonstop with its partners to assist children and their families who face food insecurity in areas affected by drought and other natural disasters, and in conflict zones such as South Sudan and Yemen.
UNICEF's go-to treatment for a child suffering from SAM is therapeutic food, which provides quick nourishment that can mean the difference between life and death. The peanut-based paste is easy to ship, ready to eat and doesn't need refrigeration. And it only costs about a $1 a day.
"It makes me feel happy every time I earn a point, because I know I'm helping children."—Leila, a Kid Power student
UNICEF is the world's largest procurer of therapeutic food, purchasing about 80 percent of the global supply. Distribution is a challenge, however. In 2014, lack of funding was a significant reason UNICEF and partners were only able to reach 19 percent of the children suffering from SAM with lifesaving therapeutic food packets.
UNICEF Kid Power's primary objective is to help close that funding gap and increase UNICEF's reach so that, one day, every child who needs treatment can get it. The points kids earn while wearing their Kid Power Bands translate into contributions from corporate sponsors as well as private donors — support contingent on Kid Power participants reaching their own personal get-moving goals.
Meanwhile, the digital and interactive side of Kid Power helps keep kids engaged, by connecting their day-to-day efforts — time on the trampoline, say, or getting off the bus a few stops early — to the broader goals of the program: promoting fitness along with global citizenship. "The Kid Power Band makes me feel proud of myself," says Leila, a student at Desert Meadows Elementary School in Phoenix. "It makes me feel happy every time I earn a point, because I know I'm helping children." Adds her classmate Jada: "It's so cool to know I'm helping kids in Africa!"
Cool Tech With a Purpose
By the numbers: 136,742 kids have earned 8,507,502 points to unlock 626,185 food packets for severely malnourished children.
Kids love the UNICEF Kid Power Band itself. Dubbed the world's first Wearable-For-Good®, it was designed in collaboration with San Francisco-based studio Ammunition, named the world's most innovative company in design by Fast Company in 2015. The strap is durable and adjustable for a secure, comfortable fit. It uses a pedometer and accelerometer to measure steps and movement and registers those readings on an elegant organic light-emitting diode display. The rechargeable battery gets its juice through a standard USB connection. Kids like how it looks, and parents rest easy knowing the band doesn't track their children's location or access their personal information.
To convert activity into impact, a user must sync the band with the UNICEF Kid Power App. This app, a free download from the App Store or Google Play, works on both iOS and Android smartphones and tablets. It tracks progress over time (the band refreshes every 24 hours) and connects children with others on the Kid Power team.
The app, which resembles a passport, also expands kids' cultural connections. Children get active and earn points while going on downloadable interactive "missions" hosted by athletes, UNICEF staff in the field, celebrities and kids like themselves. Grooming the next generation of global citizens is one goal, as is teaching kids about UNICEF's activities around the world.
A Curriculum That Inspires
The UNICEF Kid Power Schools Program is implemented city by city, with support from local donors, city officials and school administrators. All students in a participating classroom receive a band. The teacher receives an Android tablet loaded with the app to monitor and celebrate the students' progress. The tablet also contains multimedia-enhanced lessons about malnutrition, its impact on nations around the world and various ways to combat it.
"The band really inspired me. It made me feel confident about my ability to help."—Daniel, a Kid Power student
Teachers have responded favorably to the curriculum, which includes case studies, work sheets, multicultural games and more. They say it does a good job enhancing students' understanding of a global problem and making it relatable. In a survey conducted in Sacramento, Boston, Dallas and New York, 95 percent of teachers who had led a UNICEF Kid Power classroom team said they would be willing to repeat the experience.
The educational material is making a big impression on students as well. Nine-year-old Gabriel, Carly's classmate from Queens and fellow Kid Power team member, says he was moved by watching a Kid Power video about Mauritania, where children face dire food shortages. "As soon as I got the Kid Power wristband, I thought of the people who are suffering," Gabriel says. "The band really inspired me. It made me feel confident about my ability to help."
The Kid Power curriculum, tailored to both elementary and middle school students (the target is kids aged 8–13), was developed according to national content standards and the Common Core State Standards Initiative. UNICEF Kid Power founding partner the George Harrison Fund for UNICEF financed the program overall while also supporting the development of the classroom experience. The nonprofit organization Calorie Cloud, another founding partner, provided the technology platform, which is easily adapted for use in a low-resource setting. Schools that are interested in enrolling in the UNICEF Kid Power Schools Program can apply online.
Partners and Champions
Kids helping kids is the Kid Power core, but it's fair to say they are getting more than a little help from an all-star supporting cast. As presenting sponsors, Target and Star Wars: Force for Change are playing leading roles, having made major contributions to the program and, along with local supporters, assuming program costs for high-need schools. To get individuals involved, Target sells the bands — including Limited Edition Star Wars bands — and sends a portion of proceeds back to UNICEF Kid Power.
"Everyone has something to give, even if they can't contribute money."—UNICEF USA CEO Caryl M. Stern
Starting in late May, UNICEF Kid Power Bands will be available for purchase in every Target store from coast to coast or online — making it even easier for families to get active and save lives. And Bullseye the dog, Target's mascot, will be appearing at special events. Star Wars: Force for Change has provided additional support and has brought excitement to kids, with help from Chewbacca, R2-D2 and BB-8, who have dropped in to special events to cheer kids on.
Also lending star power are P!nk, UNICEF Kid Power's National Spokesperson, and a roster of Kid Power Champions: UNICEF Ambassador and pro basketball player Tyson Chandler, Paralympic judo competitor Dartanyon Crockett, ice dancer and Olympic gold medalist Meryl Davis, pro soccer player and Olympic gold medalist Alex Morgan, WNBA star Maya Moore, baseball great David Ortiz and gymnast and Olympic gold medalist Aly Raisman generously appear in promotions and in the app's interactive content.
No wonder the program is building at such a clip. "The Kid Power program is a great way for our children to enhance their own health and learn how to advocate on behalf of others," says U.S. Fund President and CEO Caryl M. Stern. "Everyone has something to give, even if they can't contribute money. Awareness — and taking action — are important too."
P!nk Power!
UNICEF Ambassador and Kid Power National Spokesperson P!nk in Port-au-Prince, Haiti, where UNICEF provides treatment for malnutrition, clean water and education. "All children should be able to grow up strong and healthy," says the Grammy® Award winner.
What is RUTF?
Ready-to-use therapeutic food (RUTF) is a tasty, energy-packed paste made from peanuts, oil, sugar, milk powder and vitamin and mineral supplements. It is often referred to as a "miracle food" for its success in treating the severe acute malnutrition (SAM) that threatens an estimated 16 million children each year worldwide.
"All children should be able to grow up strong and healthy," says P!NK.
Some other benefits: RUTF is easy to distribute and administer. Simply open the packet, which contains a single serving (about 100 grams), and squeeze. It doesn't require medical supervision, so RUTF can be given to a child by family or community members. Nor does it require refrigeration; it has a shelf life of up to two years.
Today, UNICEF is the global leader in procurement of this miracle food and continues to work with manufacturers to increase supplies of the product while keeping prices down. However, UNICEF lacks sufficient capacity to deliver RUTF to every child who needs it. In 2014, lack of funding was a significant reason UNICEF and partners provided only 19 percent of children with SAM the RUTF they needed.
UNICEF Kid Power kids are helping to increase that coverage rate, particularly within target recipient countries in Sub-Saharan Africa and South Asia, where needs are greatest — and growing. The points earned with every step, leap or game of tag unlock funding support for more RUTF delivery. Time to get moving!