WATCH: Finding Love and Healing After the Ebola Epidemic
"I lost my husband. Some of them lost their parents. We all got affected one way or another."
With the spread of Ebola in West Africa largely contained, you might think the world could turn its attention elsewhere. This inspiring video suggests nothing could be further from the truth. The lives of millions of children will continue to be affected.
Watch the story of Liberian Ebola orphan Deedeh Sackie and Ebola widow Helena Baker.
Video from UNICEF Liberia.
UNICEF-supported NGO Playing to Live uses art, play and self-expression to help children in Liberia—those who were infected, orphaned, or otherwise traumatized by the disease—to find healing from their harrowing experiences during the epidemic.  More than 18,000 children in West Africa lost one or both parents, or their primary caregivers, to Ebola.
Playing for Life also provides children with psychosocial support and offers adult caregivers like Helena much-needed stipends for their important work.
"The play is helping the children.  It's really helping them .... it helps me, too." — Helena Baker, Liberian Ebola Survivor
As Helena affirms, "The play is helping the children.  It's really helping them."  She adds, "Playing with them; it helps me, too.  It brings changes in my life."
The necessity for positive change, post-Ebola, is still a big story in Guinea, Liberia, and Sierra Leone.  The World Health Organization (WHO) recorded 28,637 cases of Ebola and 11,315 deaths.  Together, Guinea, Liberia, and Sierra Leone account for the vast majority of these grim statistics. 
In these three countries combined, more than 6,000 children were infected.  Millions fell behind in their education after thousands of schools were closed.
"The countries affected by Ebola also have a long road to recovery," says Dr Anders Nordstrom, WHO's  Representative for Sierra Leone.  UNICEF adds: "Ebola has taken a dramatic toll ... killing thousands, affecting livelihoods, disrupting public services, putting education on hold and threatening the development progress achieved in recent years." 
In addition to the epidemic's economic consequences—which always hurt the most vulnerable in any community, particularly children—there are lingering problems for Ebola survivors in the form of post-Ebola syndrome, with a potential for ongoing symptoms for those affected.  The wild reservoir for the Ebola virus is also still present.  Both these medical realities mean that health care systems must be strengthened to prepare for another potential outbreak.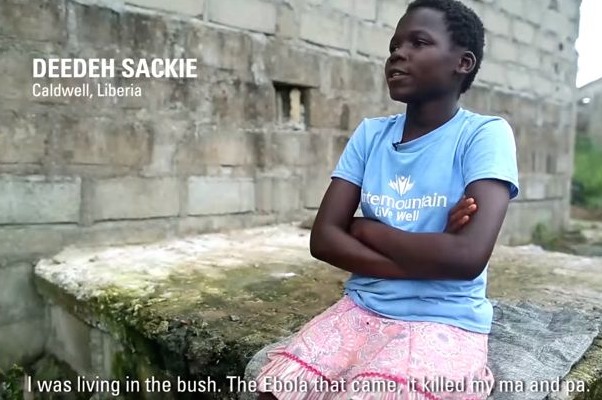 "I was living in the bush. The Ebola that came, it killed my ma and pa," Deedeh Sackie, an Ebola orphan, says in a still from the video.  ©UNICEF  
As WHO's Dr. Daniel Bausch explains of the epidemic's aftermath: "It is an emergency within an emergency.  We have to help people not just survive, but thrive."
The U.S. Fund for UNICEF asks you to help support Guinea, Liberia and Sierra Leone as they recover from the devastating Ebola epidemic. Support UNICEF's Ebola programs.