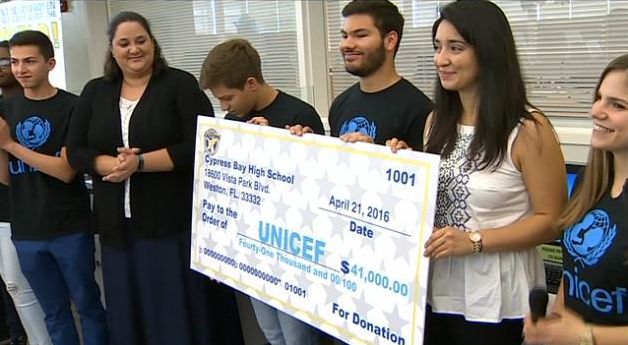 UNICEF High School clubs partner with the U.S. Fund for UNICEF to educate, advocate and fundraise on behalf of the world's children. With over 700 current members and expecting to grow to 1,000 members next school year, the UNICEF club at Cypress Bay High School in Weston, FL, is one of the largest on campus, not to mention in the country. 
On April 22, 2016, Cypress Bay's UNICEF High School Club hosted an event in honor of UNICEF, which was attended by Superintendent Robert Runcie, school board member Ms. Laurie Rich-Levinson of Broward County Schools, Laura Restrepo, Manager of Youth Engagement for the U.S. Fund for UNICEF, several hundred club members and others. During this celebration, the club presented an impressive $41,000 donation to the U.S. Fund for UNICEF! Since launching the club in 2012, the students have raised a grand total of $74,000.
Cypress Bay's UNICEF High School Club is driven by its student leaders and members with the help of their dedicated advisor, Ms. Rosalia Sachs. Throughout the year, students attend meetings and engage in various fundraising activities in order to reach their goals in support of UNICEF. Ms. Sachs speaks highly of her students, highlighting their passion for UNICEF's work and dedication to supporting the organization. Superintendent Runcie also commented, saying that this is "an extremely proud moment for them and the entire Broward county school system and our community."
The club's new executive board is looking forward to this next year and to what they can accomplish together in order to help improve the lives of children around the world through their local action.