Fighting Famine: UNICEF Heroes in Action
Above: Alakaii, 13 months old and suffering from malnutrition, gets weighed by Judy Jurua Michael, a UNICEF nutrition officer in South Sudan, where famine is threatening the lives of nearly 300,000 children.
An unprecedented humanitarian emergency is unfolding across much of Africa and the Middle East. Millions of childrens' lives are on the line. In response, UNICEF has deployed thousands of trained specialists in health, nutrition, education, water and hygiene to support critical assistance efforts. 
In testimony before the U.S. Senate Foreign Relations Committee on July 18, UNICEF Deputy Executive Director Justin Forsyth pointed out that "children are paying a disproportionate price" as famine looms across Somalia, South Sudan, northeast Nigeria and Yemen, with nearly 1.4 million children at imminent risk of death.
While the international response is making a difference — UNICEF and partners are reaching at least 10 million people a month in the four famine countries with lifesaving relief — "the threat of famine has not passed," Forsyth said.
Children are paying a disproportionate price as famine looms.
"We must redouble our efforts to deliver at scale, and to find ways to address the obstacles that so far are preventing us reaching some of the most vulnerable children and communities, avert new emergencies and help put millions of families on a path to sustainable recovery," he added. "And much more needs to be done to address the root causes of these crises." (Read Forsyth's full statement here.)
Meet a few of UNICEF's heroes who are hard at work helping children affected by famine:
Aishat Abdullahi, in Nigeria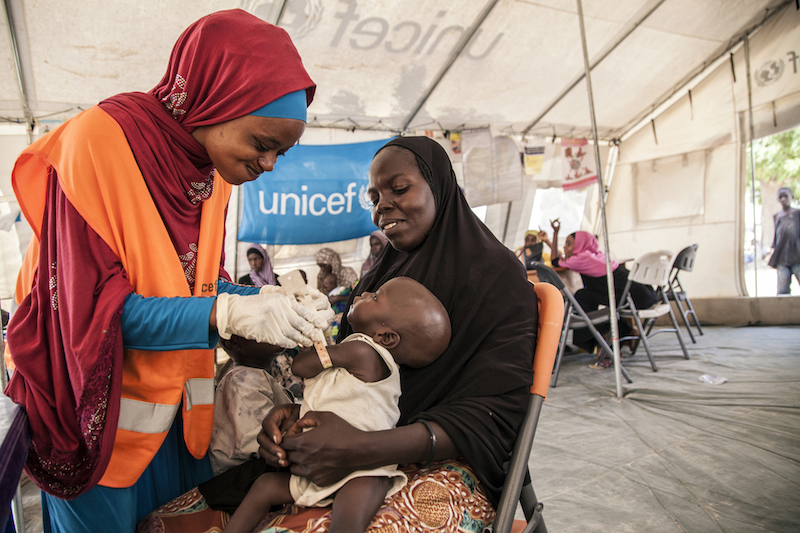 Aishat Abdullahi, a UNICEF nutrition officer, examines 7-month-old Umara at a camp for displaced families in Borno State, northeast Nigeria. Umara was severely malnourished, sad and listless when he first arrived, but after a few weeks of treatment with ready-to-use therapeutic food, his weight has increased — and he's laughing and playing once again.
Benjamin Lokoya, in South Sudan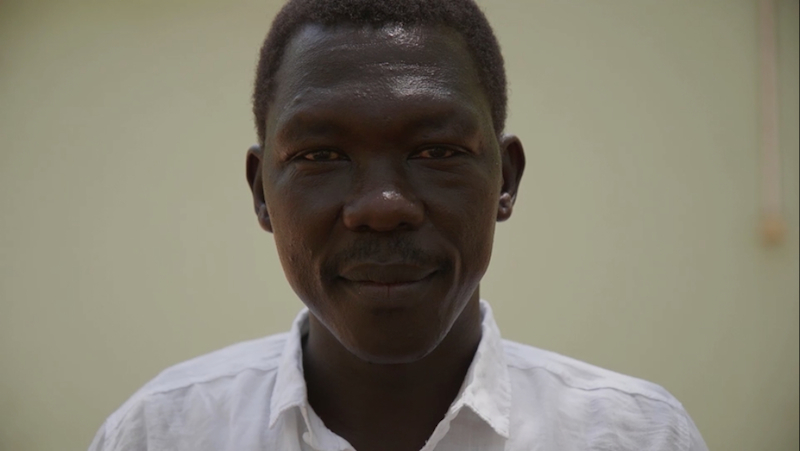 Benjamin Lokoya, a UNICEF education officer, has traveled far and wide as part of UNICEF's rapid response team. But nothing prepared him for what he saw when he returned to his hometown of Leer, South Sudan. "People were surviving on water lilies," he says. "I found human skulls lying on the ground." When UNICEF and partners arrived, they brought nutrition, immunization — and hope, he says. "I am happy to be part of it." 
Jayne Mbakaya, in Somalia
Jayne Mbakaya, a UNICEF program manager, gives a child a deworming tablet mixed with water at Beerta Muuri camp in Baidoa, Somalia, as part of an emergency vaccination campaign following a measles outbreak. Measles can be fatal for children already weakened by malnutrition, and in Somalia — a country ravaged by years of conflict and looming famine — hundreds of thousands of children are at risk.
Your support is critical. Help UNICEF accelerate its swift response and save more children from famine.
Follow UNICEF on Instagram, Facebook and Twitter in the weeks ahead to see more Famine Heroes in action.
Photo credits, from top: © UNICEF/UN056594/Knowles-Coursin,  © UNICEF/UN41140/Vittozzi,  © UNICEF,  © UNICEF/UN060757/Hersi