Cyclone Pam Devastates Vanuatu; 82,000 Children at Risk on 22 Islands
*** Cyclone Pam Update: Mar. 30, 5:10 p.m. EDT ***
Supplies reach remote Temotu Province; children set to return to school
As relief efforts in Vanuatu continue, UNICEF is appealing for $7.3 million over the next nine months to ensure that lifesaving assistance reaches children and their families — clean drinking water, sanitation and hygiene, crucial health and nutrition interventions and education and child protection.  
Despite the challenges, important progress is already being made. Distribution of hygiene kits and water and sanitation items is ongoing and currently covers 50-60% of the affected population; three hospitals in Tafea and Sanma Provinces and Efate Island now have the capacity to treat severely malnourished children; more than 8,700 children under five have been immunized against measles, polio and tetanus. UNICEF supplies of soap, chlorine tablets and water containers have reached Temotu Province, one of the worst-affected areas in the Solomon Islands.  
Happily for the children, schools are scheduled to reopen, and UNICEF is providing temporary safe learning spaces and education supplies, including backpacks and Early Childhood and Recreation kits, that will benefit an estimated 30,000 children.
Nellie gathers tree branches to help clean-up efforts on Ifira Island in the Vanuatu archipelago. She misses going to class and hopes her school will reopen soon. © UNICEF/2015/McGarry
*** Cyclone Pam Update: Mar. 23, 2:30 p.m. EDT ***
UNICEF aid reaching children on remote Pacific Islands affected by Cyclone Pam 
Despite logistical challenges posed by the impact of Tropical Cyclone Pam on small island countries in the Pacific, UNICEF is delivering essential supplies to children who need them most on Vanuatu and other islands, including Kiribati, Solomon Islands and Tuvalu.  
Each affected country is composed of numerous islands that take anywhere from a few hours to six days to reach by air or by sea. The Category 5 cyclone wrecked infrastructure and damaged roads, making transportation and communication between and within islands difficult. But thanks to government-led assessments, more information is now available on how children are being affected by the disaster, enabling UNICEF to deliver critical aid.  
UNICEF Pacific Representative Karen Allen says the agency's preparedness and expertise in emergencies made it possible to meet immediate needs swiftly and support humanitarian partners on logistics and coordination.  UNICEF's focus is on safe drinking water, sanitation, hygiene, maternal and child health, nutrition, education and protection. Emergency supplies for children on cyclone-affected islands include tents, health kits, oral rehydration salts and zinc, vitamin A and de-worming tablets, as well as water purification tablets.  
WIdespread destruction of schools has removed a major focus of children's lives, the place where they go to learn, play and be with friends. An estimated 80% of schools have been affected; the few classrooms that remain standing are currently being used as evacuation centers for people who lost their homes. To restore some semblance of normality to  children's lives, UNICEF is delivering tents to house temporary safe learning spaces, backpacks, and school-in-a-box and early childhood kits.
*** Cyclone Pam Update: Mar. 20, 1:30 p.m. EDT ***
Assistance to survivors on Tanna Island, water access still critical across Vanuatu 
Since Cyclone Pam hit Vanuatu on March 13, UNICEF has rapidly mobilized to meet the most urgent needs of the people affected.   It is now estimated that in the worst-hit areas, up to 90 percent of homes, schools, churches, health clinics and other buildings have been leveled.
With power outages crippling water systems and groundwater sources contaminated, drinking water access has emerged as the biggest need—particularly in outlying regions. In Shefa and Tafea, two badly affected provinces, around 60% of the population may have no access to safe drinking water. In other areas, food is in short supply, and UNICEF workers have found children scavenging for fruit fallen from trashed crops.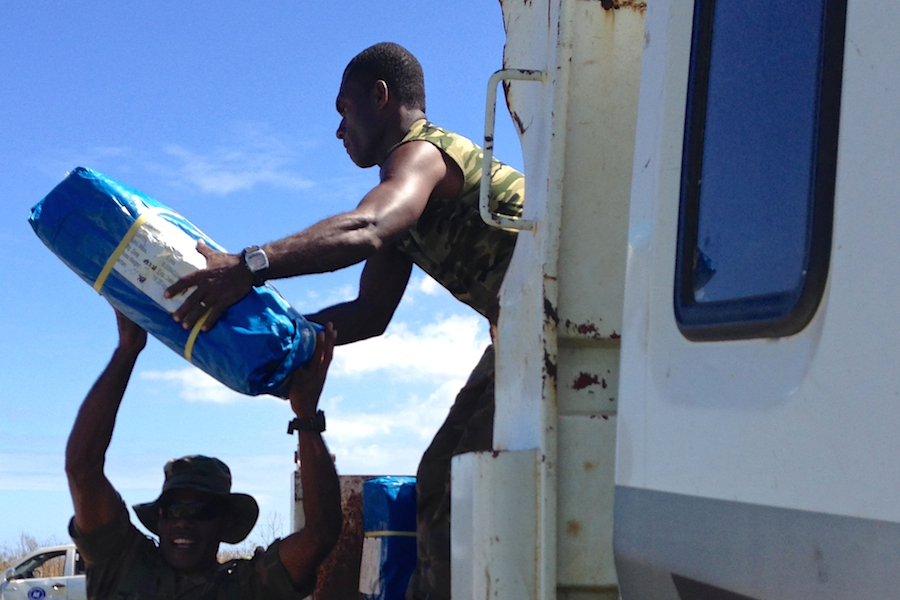 Soldiers unload UNICEF relief supplies for urgent distribution on Tanna Island, Vanuatu. © UNICEF/NYHQ2015/UNICEF Pacific
On Tanna Island, however, the desperation has begun to ease as relief efforts overcome logistical and supply challenges. UNICEF delivered water, sanitation and hygiene supplies for over 2,000 families, including water containers, temporary toilets and 20,000 water purification tablets.
"One packet of the purification tablets can make 50 liters of safe drinking water for people who desperately need it," said Alice Clements, UNICEF Communication Specialist on Tanna. "We're getting aid through and we're really able to make a difference to the people who need it most."
Additional UNICEF supplies have been readied for dispatch from Fiji and Copenhagen, and UNICEF continues to collaborate closely with the government and its humanitarian partners to deliver safe drinking water to children and their families.
*** Cyclone Pam Update: Mar. 23, 2:30 p.m. EDT ***
UNICEF ships emergency supplies to Vanuatu
Following the devastation caused by Cyclone Pam, UNICEF has dispatched lifesaving supplies to address urgent needs in health, education, water, sanitation, hygiene and child protection. UNICEF is distributing pre-positioned supplies and shipping more from its regional warehouse in Suva, Fiji.
Supplies include basic health kits, oral rehydration salts, zinc tablets, vitamin A capsules, de-worming tablets, school backpacks with stationery supplies, recreation kits, hygiene kits, water tanks, soap for handwashing, collapsible water containers and water purification tablets."
At least half the population of Vanuatu (132,000) is estimated to have been affected by the super storm, including at least 54,000 children. There are serious concerns about families' health and hygiene, as well as children's learning, psychological and emotional needs.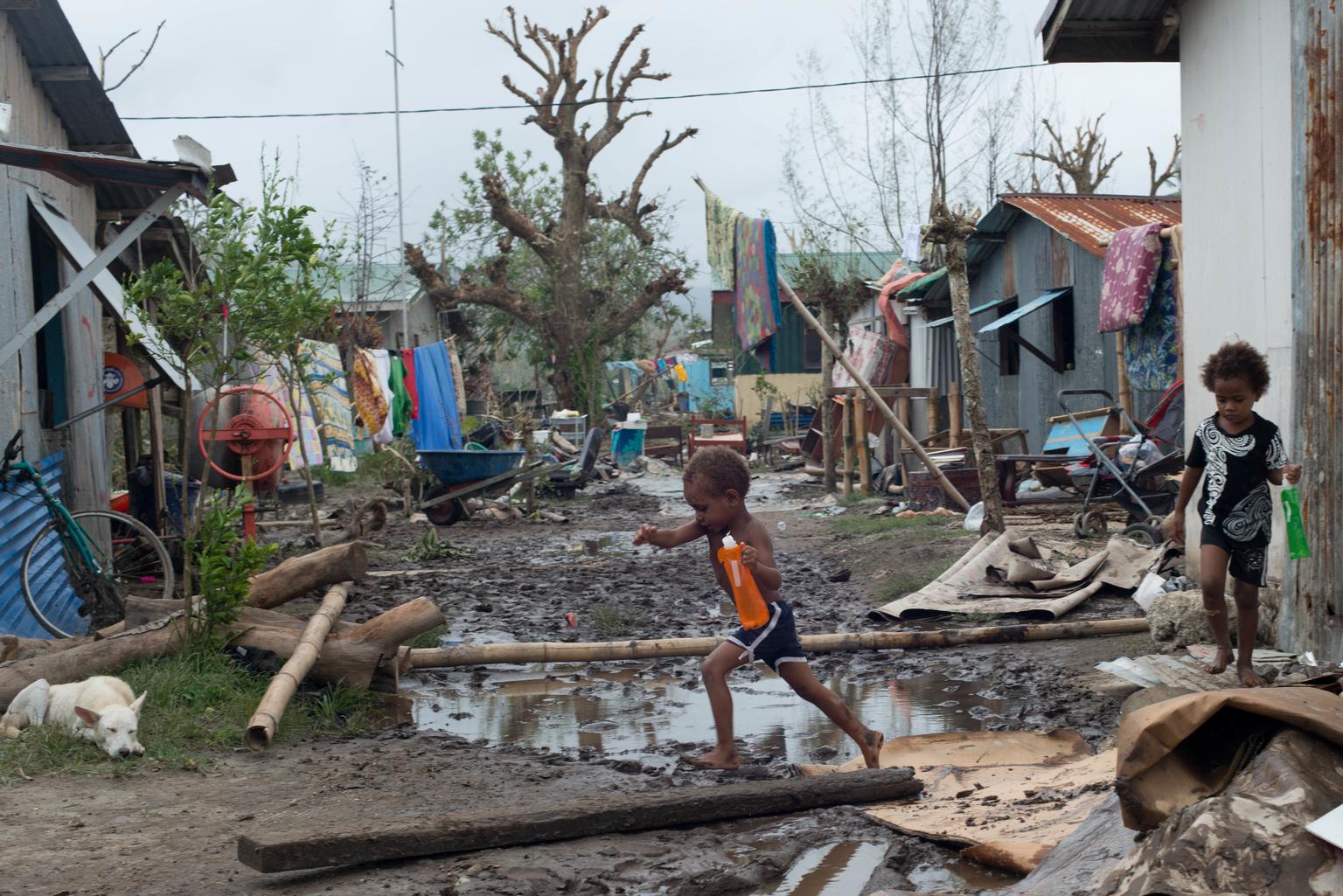 © UNICEF/NYHQ2014-0435/UNICEF Pacific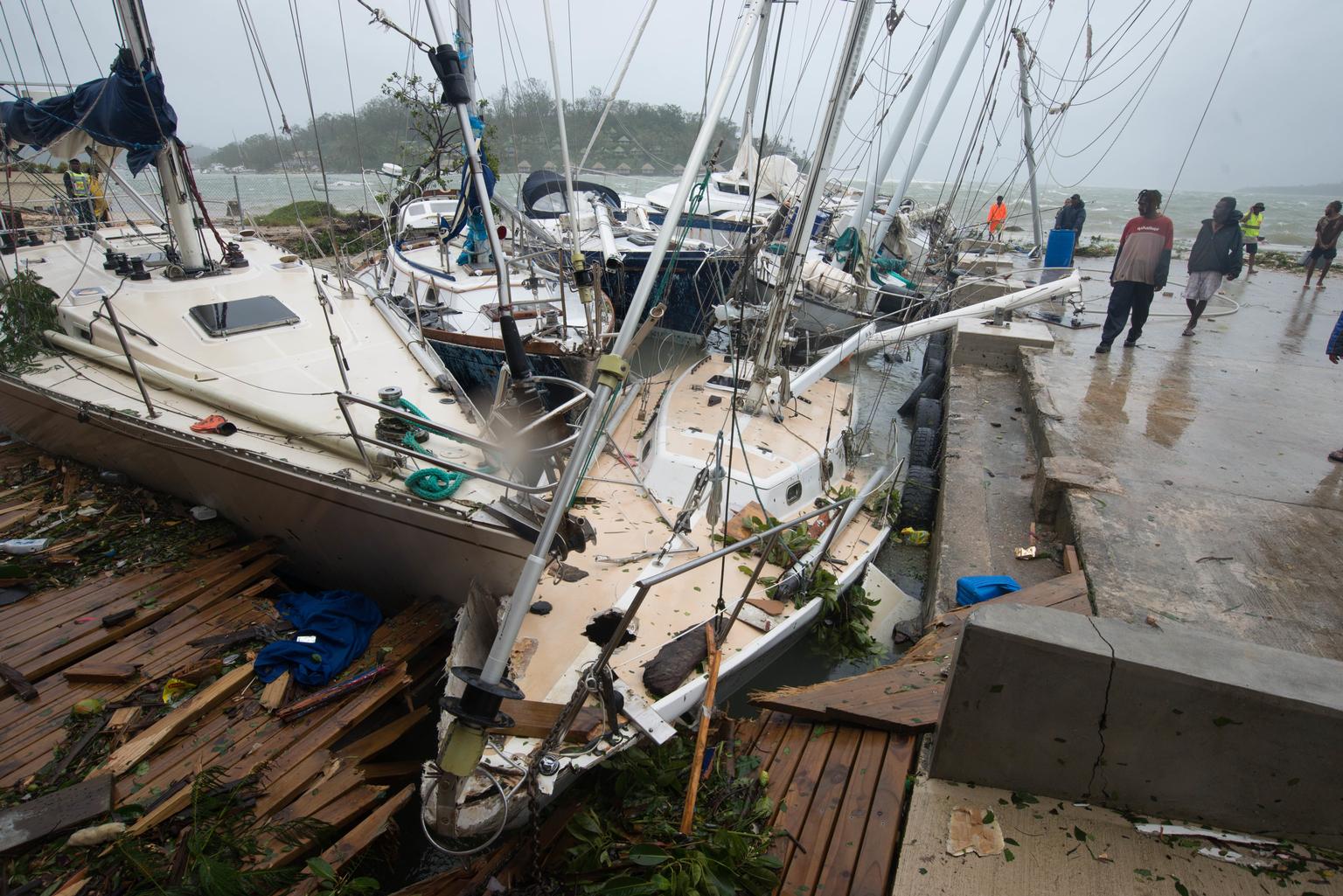 © UNICEF/NYHQ2015-0427/UNICEF Pacific
*** Cyclone Pam Update: Mar. 14, 6:30 p.m. EDT ***
Cyclone Pam has simply "devastated Vanuatu" and is already considered one of the worst disasters in the archipelago's history. Communications are limited outside of Vanuatu's capital, Port Vila, with most mobile towers destroyed.
In Port Vila, there are reports of thousands of homes destroyed, and up to 90% of the buildings have been damaged. Many homes in the poor island nation are built with fragile materials and are vulnerable to strong winds and floods. There is no power or running water in the capital. Schools, hospitals and emergency shelters have likely suffered tremendous damage.
At least half of the nation's 120,000 children may have been affected, and an estimated 54,000-60,000 children are in need of immediate assistance. UNICEF staff on the ground in Vanuatu are working to reach children and families with emergency aid.
UNICEF New Zealand spoke with Jayleen, 21, who sheltered a one-week-old baby through the storm, in the video below:
You can keep up with the latest developments in Vanuatu on UNICEF New Zealand's blog.
*** Cyclone Pam Update: Mar. 14, 12:45 a.m. EDT ***
Tropical Cyclone Pam has made landfall in Vanuatu, battering the tiny country with winds that reached more than 160 mph. UNICEF Australia has begun reporting on the impact of the disaster and issued an urgent appeal for support in aiding affected children and families:
Our neighbors in Vanuatu are in crisis today as Cyclone Pam tears a path of destruction through the island community. The category 5 tropical cyclone made landfall last night with winds of up to 265km/h and torrential rains, placing 260,000 people at risk. Flooding, landslides and storm surges are all very real dangers. Power is down and communications are patchy but initial reports from our colleagues on the ground describe buildings in ruins and debris everywhere.
As we write, UNICEF teams are assessing the damage and the needs of families, but they say the people of Vanuatu have never experienced a storm like this, and it really is a catastrophe. While we hope for the best, UNICEF has also prepared for the worst. Before the storm hit, we pre-positioned the water, sanitation and medical supplies that communities will desperately need in the coming hours and days.
Our biggest concerns right now are for children, who will be the worst affected, and for families in the remote communities of Vanuatu's 83 islands. We fear that homes with weaker structures can stand little chance against the fury of this cyclone.
The situation is changing with every minute but one thing is clear: the children of Vanuatu have endured a terrifying night as the cyclone howled through in darkness, and today many of them are grappling with the loss of their homes and, we fear, their loved ones. But UNICEF is there to help. As a supporter of UNICEF and vulnerable children, we appreciate your support on this troubling day. If you are able to lend a hand, your donation today will help UNICEF to protect children wherever the need is greatest.
You can keep up with the latest developments in Vanuatu on UNICEF New Zealand's blog.
© UNICEF/NYHQ2014-0433/UNICEF Pacific