American Airlines Volunteers Fly Tinkerbell-Style to Neverland-Themed
American Airlines flight attendant volunteers Marianna Scandole  and Kim Renno attended the Chicago UNICEF Masquerade Ball to represent more than 3,000 of their "Champions for Children" peers who volunteer for UNICEF's Change for Good program on American Airlines in honor of American's participation in Trick-or-Treat for UNICEF.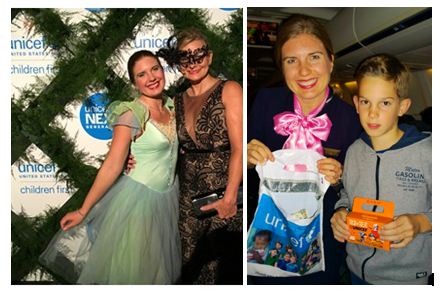 Hi, I'm Marianna Scandole. I've been working with American Airlines for over two years, flying across the globe and seeing the world. I started volunteering for UNICEF's Change for Good program a while back – a program in which flight attendants at American Airlines have been volunteering for more than twenty years to collect donations of foreign and domestic currency from American's customers on select international airlines, raising more than $11 million to help some of the world's most vulnerable children.
I was honored that I was given the opportunity to attend the UNICEF Masquerade Ball in Chicago this year with fellow flight attendant Kim Renno and over 500 attendees. We had a chance to physically see some of the vital items that donations go toward. For me, this really brought the abstract into a more tangible realm. The event was beautiful, the costumes were superb, and we brought our fundraising efforts further than I could have hoped for. 
American Airlines supported Trick-or-Treat for UNICEF, the original kids helping kids campaign, for a seventh year this year. Now through October 31st we're collecting donations to support Trick-or-Treat for UNICEF in the classic orange boxes on international flights. It feels amazing to be working with an international organization that has done so much good for so long. As I carry the UNICEF donation bag down the aisle of the aircraft, I remember the days of my childhood where I would collect donations with the UNICEF box.  
This Halloween season I am proud to Trick-or-Treat for UNICEF along with assistance from some of the young passengers on my flights. It's incredible how effortless it is, but how much we can raise just even during one flight.  I am happy that American Airlines partners with the U.S. Fund for UNICEF, and that I can serve as a Champion for good.
I encourage my peers (if you are an American Airlines flight attendant) to sign up for the program, and invite everyone to learn more on how you can get involved.  www.unicefusa.org/changeforgood