In Africa and Around the World, UNICEF Is Changing Children's Lives
War. Drought. Famine.
NUTRITION
 UNICEF delivers ready-to-use therapeutic food (RUTF) to millions of children at risk of starvation across Africa, including countries hit with unprecedented food emergencies such as Somalia, South Sudan and regions of Nigeria plagued by Boko Haram
In 2017, UNICEF reached 3.1 million children suffering from severe acute malnutrition around the world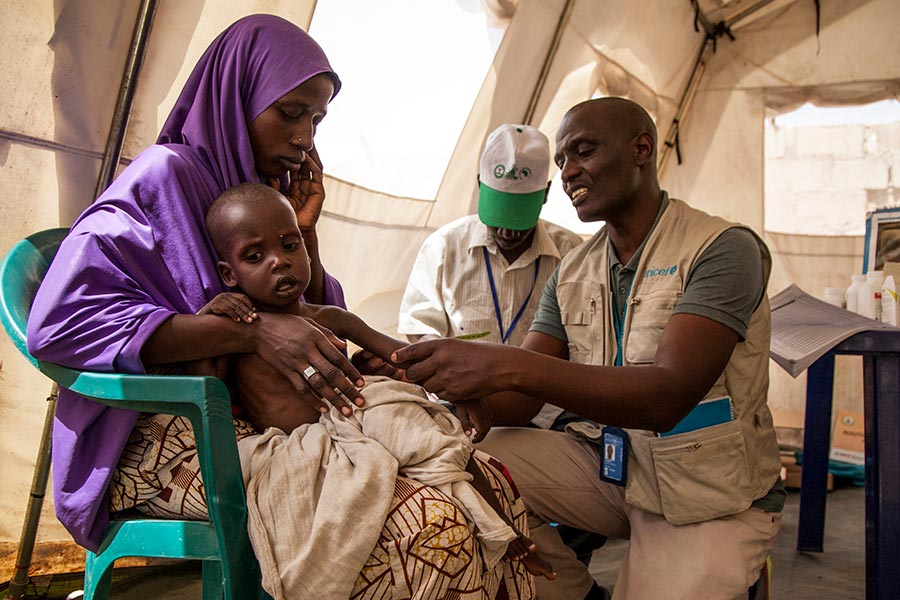 HEALTH
In Ethiopia (above), UNICEF worked with partners to eliminate maternal and neonatal tetanus, saving newborns from a painful, preventable death
 In Burundi, where nearly half the population has no access to safe water and is so vulnerable to disease that the life expectancy is 43, UNICEF USA and Beyoncé's BeyGood4Burundi teamed up to build new water pumps across the country
A staggering number of children across Africa have been missing out on one of their basic rights in life: an education. UNICEF's Education in Emergency initiative in South Sudan provides safe spaces and educational materials to help displaced and refugee children to get back to learning
In Nigeria (above), where almost 1,400 schools have been destroyed since the start of the Boko Haram insurgency in 2009, UNICEF opened 38 temporary learning spaces, distributed 92,000 packs of educational supplies. More than 525,000 students have been enrolled in school this year alone.
Changing lives. Saving lives. This is hope.
UNICEF takes proven, low-cost methods that save children's lives and makes them available regardless of income, ethnicity or location.
When you support UNICEF, you give mothers and children hope for the future. And your money goes to help the children who need help most.
89% of every dollar UNICEF USA spends goes directly to programs that help kids survive and thrive.
©UNICEF