Welcome to UNICEF USA!
Stay informed on UNICEF's work saving and protecting children around the world
It's almost Mother's Day and we have put together our top five picks for the perfect gift ideas. Show your mom how much you appreciate and love her by going that extra mile and giving her a gift that gives back.
5. Ceramic Dinner Plates (Pair), 'Margarita' -- Who could ever top your mothers cooking? These handmade ceramic plates from Guatemala would be the perfect way to serve her delicious meat loaf. 
4. Hand Carved Mother and Child Sculpture, 'Endless Love' – You'll always be your mother's baby. Why not give her a gift that shows one of life's strongest bonds with this hand-crafted mother and child sculpture from Bali, Indonesia.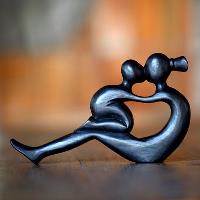 3. Thai Fair-Trade 5x7" Photo Frame of Mango Wood and Pewter, 'Framed in Clover' – What would be better than a picture of your beautiful family in this classic picture frame. This Hand-made mango wood photo frame from Thailand and a picture of you together would definitely make her smile. 
2. Silk Robe, 'Black Hibiscus Haven' – Mothers are some of the hardest, if not the hardest, working people in the world. Your mother deserves to be pampered. This silk robe from Bali would be perfect for a day of relaxation for your mom.
1. Citrine Y Necklace, 'India Delight' – Mothers are the light of our homes, and they deserve to shine like the sun. You can brighten up her day with this handcrafted sterling silver necklace from India. 
Click here to continue shopping. 
UNICEF Market is an online store for unusual, well-designed and beautifully crafted items. A share of the proceeds from sales goes to the artisans represented, many of whom live in rural areas and rely on e-commerce to bring their crafts to an international market. A portion of the proceeds is also designated for UNICEF programs.
That makes the market a unique opportunity for UNICEF supporters to buy beautiful, handcrafted gifts that help UNICEF save children's lives.