The facts:
Over 6 million Haitians live below the poverty line on less than US$2.41 per day. More than 2.5 million fall below the extreme poverty line of US$1.23 per day
Over 65,500 children under 5 are affected by acute malnutrition
Over 96 percent of Haitians remain highly vulnerable to such natural hazards as hurricanes, floods and earthquakes
More than 850,000 vulnerable people need help to access primary health care, including maternal and child health services
Over the past decade, the rate of child immunization stagnated at 41 percent and the numbers of children who die before their first birthdays rose from 57 to 59 percent 
30,000 Haitian children need child protection care
When it comes to natural disasters, Haiti is the fifth most vulnerable country in the world — and third least able to cope. Yet, since 2010, Haitians have been sorely tested. 
On January 12, 2010, a 7.0-magnitude earthquake struck, killing over 300,000 people and injuring 300,000 more. Nine months later, cholera broke out in Haiti for the first time in more than a century. The worst in recent history, the outbreak caused 820,300 suspected cases of the disease, claiming 9,762 lives over the next eight years.
Since then, Haiti has had little relief from disaster and deprivation. In 2016, Hurricane Matthew killed at least 1,000 people. The Category 4 storm, which caused considerable damage and polluted the water supply, was a harsh reminder of just how vulnerable Haiti's families and children remain. 
In 2019, the chronic food and fuel shortages sent thousands of protesters into the streets demanding action. The resistance and ongoing unrest culminated in country-wide shutdowns, first in February, then again in September and October. The turmoil disrupted children's educations and further endangered their health and well-being by blocking their access to hospitals and other essential social services. According to the UN Office for the Coordination of Humanitarian Affairs, high inflation and rising food prices in Haiti are expected to push the number of Haitians who lack sufficient food over the four-million mark in 2020. 
Due to these deteriorating conditions, Haiti now ranks last among the Caribbean and Latin American nations for guaranteeing children's rights. In 2020, 4.6 million people need humanitarian aid, including 1.9 million children.
Why support UNICEF? It's the smart way to make your money go further for children
In 2019, UNICEF met 90 percent of Haiti's therapeutic nutrition needs, helping to treat over 18,300 acutely malnourished children 
In February, when demonstrations shut down many of Haiti's basic services, UNICEF helped truck in water to 856 people and provided fuel to keep the water flowing to 950,000 people 
​In 2019, UNICEF helped vaccinate 1.3 million children
UNICEF worked with Haiti's Ministry of Education to enroll more than 4,000 children in the first year of primary education; over 30,000 children received school supplies 
In 2019, more than 39,000 people in rural areas gained access to an improved water source, and 664,000 people were reached with Cholera prevention messaging
Nearly 150,000 people gained access to safe drinking water in 2019
UNICEF child protection teams in the Dominican Republic and Haiti work to protect Haitian children who cross the border with a parent or alone, seeking a better life
UNICEF and partners provided counseling, emotional support, health care and help enrolling in school to 1,400 children who were engaged in or threatened by child labor
In Haiti, dire poverty forces many parents to give up their children because they cannot afford to support them. In 2019 UNICEF gave over 1000 vulnerable parents cash transfers so they could afford to keep their families together
Meet the Children of Haiti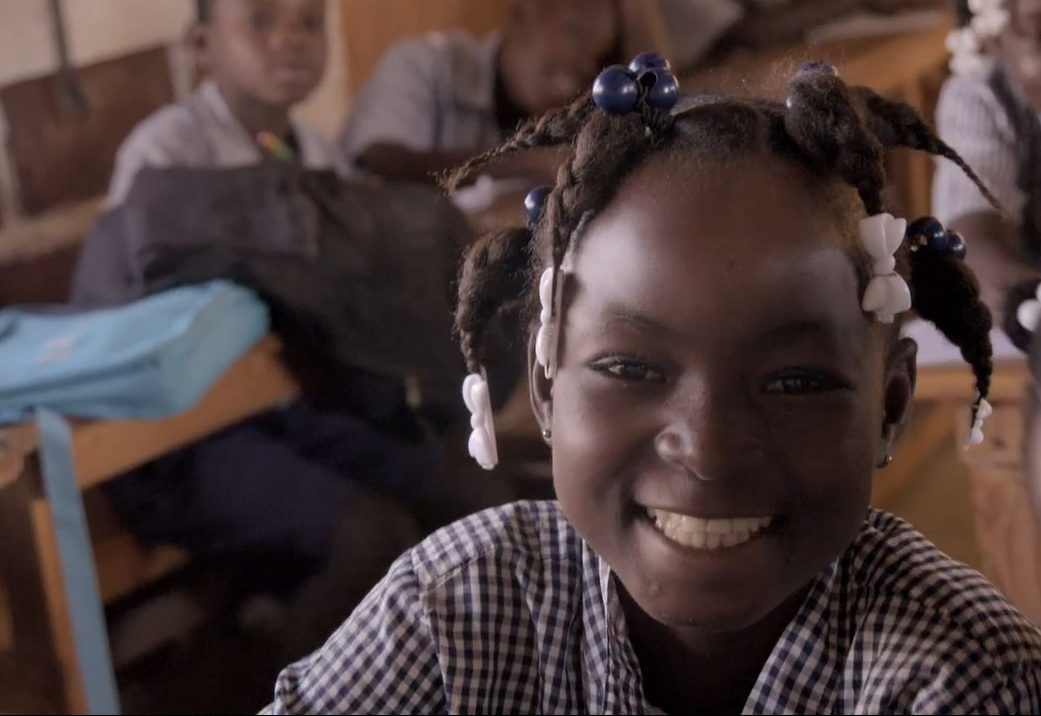 12-year-old Rosemaine Jean knows far more about cholera than any child should, since her 13-year-old brother, Alexis, came down with the waterborne disease. "He washed his hands with dirty water, and then ate," she explains. During a weeklong stay in a medical clinic, Alexis nearly died. After watching him suffer, Rosemaine took it upon herself to learn how to treat her family's well water with UNICEF-provided purification tablets so she could wash their water jugs, food and clothes. Keeping herself and her 10 siblings disease-free is a chore Rosemaine relishes. It's also helped shape her future plans: "I'd like to become a nurse after I finish school."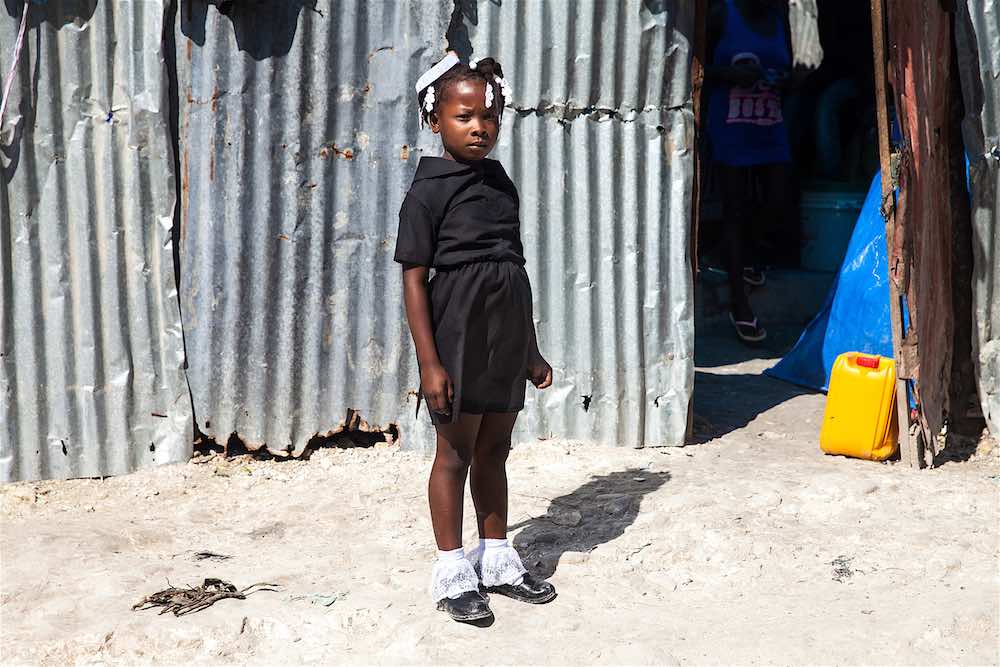 When Hurricane Matthew passed over Haiti in early October 2016, it devastated entire neighborhoods and destroyed livelihoods. Eight-year-old Loudina was orphaned by the hurricane. "I miss my mom. She took good care of us," she says. "The wind came and a house fell on top of her." After the hurricane, UNICEF set up Child-Friendly Spaces so Loudina, her siblings and children like them would have a place where they could receive support from caring adults who are trained to help children recover from trauma. UNICEF Child-Friendly Spaces provide children with a safe environment to receive counseling, learn, play and heal after disasters.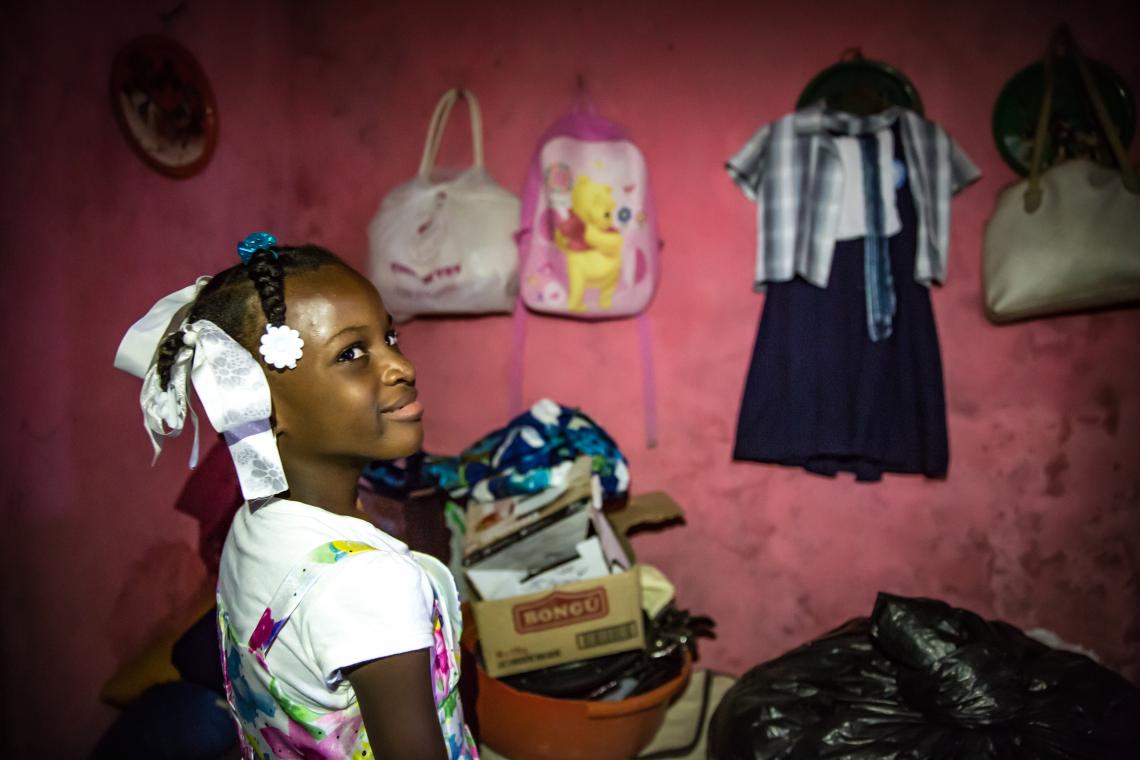 When Sabrina was just a toddler, her biological mother abandoned her, sick and malnourished, at a hospital. A UNICEF partner placed her with a foster family, so she didn't have to be institutionalized. Tragically, most of the Haitian children living in orphanages today are there because their parents cannot provide for them. UNICEF supports the foster family network, so more kids can grow up in a loving home. Now 7, Sabrina has been living with her family for five years, happily attends school, and studies hard because she has big plans for her future: "I want to become a professor one day."
UNICEF and partners are working tirelessly all over the world to save and protect children. With a presence in 190 countries and territories, UNICEF has helped save more children's lives than any other humanitarian organization in the world.