Support UNICEF's Nutrition Programs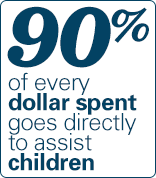 UNICEF supplies desperately-needed vitamins and nutrients to the world's most severely malnourished children.
Use this form to make a secure, tax-deductible donation to the U.S. Fund for UNICEF, supporting UNICEF's programs to reduce childhood malnutrition: $50, $100, $250, $500 or any amount you can give will help save kids' lives.
Other ways to donate
Donate by Phone

Call 1.800.FOR.KIDS

(1.800.367.5437 to donate by phone)

Donate by Mail

To make a donation by mail, please print out this form and follow instructions on printed document.