Support UNICEF's Education Programs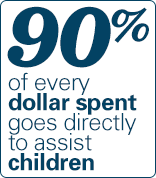 Every child has the right to an education. It transforms lives and breaks the cycle of poverty that traps so many.
But around the world, an estimated 264 million primary and secondary school-age children are not in a classroom. In the Middle East and North Africa alone, 13 million children are being deprived of an education because of conflict and war.
UNICEF works tirelessly to ensure that every child—regardless of gender, ethnicity or circumstances—has access to a quality education.
Use this form to make a secure, tax-deductible donation to UNICEF, supporting UNICEF's education programs worldwide: $50, $100, $250, $500 or any amount you can give will help UNICEF make education available to all children.
Other ways to donate
Donate by Phone

Call 1.800.FOR.KIDS

(1.800.367.5437 to donate by phone)

Donate by Mail

To make a donation by mail, please print out this form and follow instructions on printed document.