Protect Children in Conflict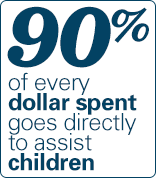 Violence has erupted across Yemen—and children are in danger. UNICEF staff are on the ground helping children caught in conflict around the world, but we urgently need your help to do more. Your support will help deliver the clean water, food, and medical supplies that are desperately needed to save lives and the education needed to build futures.
Make your lifesaving gift to help children today.
Give with confidence
UNICEF USA meets the BBB's Wise Giving Alliance's Standards for Charity Accountability.
Charity Navigator awarded the UNICEF USA the highest financial standards for charities.
Out of every dollar spent, 90.2 cents goes toward helping children.
Other ways to donate
Donate by Phone

Call 1.800.FOR.KIDS

(1.800.367.5437 to donate by phone)

Donate by Mail

To make a donation by mail, please print out this form and follow instructions on printed document.