Help Children Affected by Violence in Iraq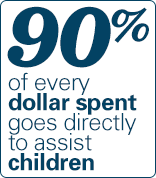 Children in northern and central Iraq are under siege.
An estimated 3 million people—half of them children—have fled their homes in Iraq since January 2014. Armed groups have targeted and killed families and children. Schools have been closed, and hospitals supplies are dwindling.
UNICEF is providing Iraqi children with safe spaces and lifesaving aid, including water and sanitation, food rations, medical kits and vaccinations, and special care for pregnant women and lactating mothers. UNICEF staff will also help children reunite with family members, receive psychosocial support and gain access to education.
Your gift will help children survive and recover from the brutality they have endured. Please donate today.
Other ways to donate
Donate by Phone

Call 1.800.FOR.KIDS

(1.800.367.5437 to donate by phone)

Donate by Mail

To make a donation by mail, please print out this form and follow instructions on printed document.