Water — The Key to Life as It Flows Back Into Eastern Mosul
Iraq Report: As fighting continues to escalate, UNICEF emergency water is essential for families and children in already liberated sections of war-torn Mosul.
Sam Kimball, former staff writer for UNICEF USA, is a freelance journalist reporting from Iraq. 
While fighting continues to escalate to the west, cars are already beginning to choke the main streets of Shaqqat El Khadhraa, a neighborhood in eastern Mosul only a few months after its liberation from the Islamic State. While life is returning, there's a lot to do: shop fronts are smashed, hit by artillery in the fighting to reclaim the neighborhood; holes in the street reveal water pipes severed by artillery strikes; and massive piles of trash are being scooped from the street by UNICEF and partner organizations.
This year, UNICEF Iraq has already provided more than 500,000 people with emergency access to safe, clean water.
In a dusty parking lot in Shaqqat El Khadhraa, a crowd of elderly residents, boys and girls gather around a huge plastic UNICEF water tank. With eastern Mosul badly damaged and only just recovering after the brutal fight to retake it, and fighting intensifying across the Tigris river in western Mosul, the tank is the only source of clean, safe water for most residents in the neighborhood.
"Each day the tanker comes and brings clean water. It's benefitted the people tremendously," said Ammar Abduljabbar, 38, speaking of the UNICEF tanker truck that comes each day to refill the community tanks. Abduljabbar lives in a humble home next to the tank and has been hired by UNICEF partner Human Relief Fund to look after the critical water source.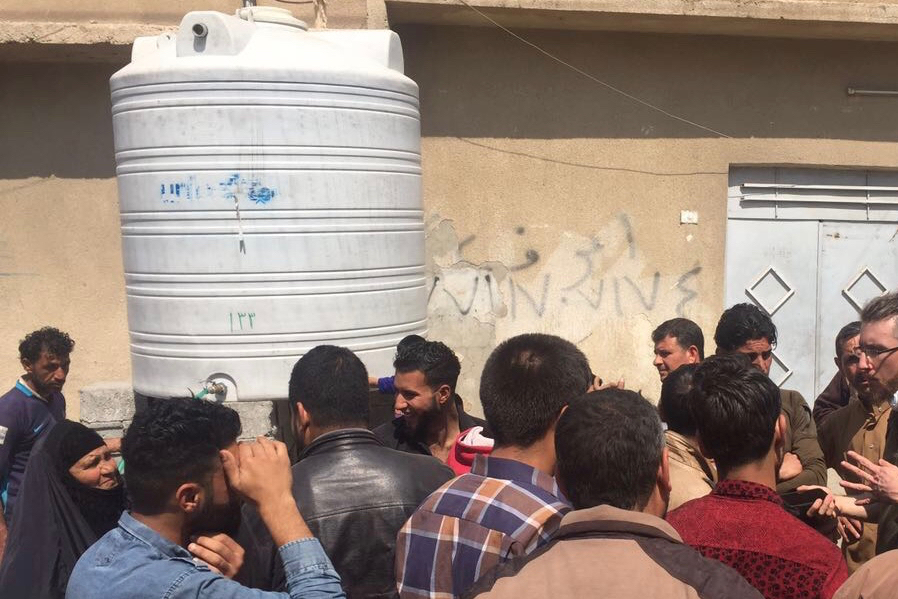 "At the beginning of the crisis, we were sometimes getting trucks with unclean water, but now the tankers are bringing water that's clean and sterile. We use it for cooking, drinking and cleaning," he added. "The people in this neighborhood don't have wells. We depend on this tank." Abduljabbar said that having water in the neighborhood provided a sense of stability. Even those families that had fled the neighborhood during the fighting began to return when the UNICEF water tank was installed.
Arwa, 11, is a young girl from Shaqqat El Khadhraa. She benefits from UNICEF's water provision in the area. "Life was hard without water," she said in a tiny voice barely audible over the generators roaring to supply electricity to the neighborhood. But now that the tank has been brought in, Arwa and her family can take their lives off hold. "I come by myself once each day to get water for my family," she said. "We use the water for cooking and cleaning."
"I come by myself once each day to get water for my family." — Arwa, 11

For Mohammed, 15, the tank has also been a boon. His neighborhood of al-Karama — made up of narrow streets cutting between apartment buildings off of a main highway — is scarred by heaps of rubble where buildings have collapsed during fighting. Women, children and young men crowd around the tank, with clear plastic water jugs piled up around it. Before UNICEF installed the tanks in al-Karama, he used to drink water from one of the shallow surface wells dug by desperate Mosulis to reach groundwater, which is often badly contaminated.

"There were two months that were really difficult. The only water we had was from the well," Mohammed said. "I got liver problems, allergies, diarrhea."

And though the UNICEF community tank has helped greatly, Mohammed worries. Each day he brings nine jerry cans full of water from the UNICEF tank to his family. But summer is coming, and they'll soon need a lot more water. "Sometimes I bring water [to my family] ten times, and still it's not enough. We need water more than we need electricity," he added somberly.
"All of the water services in Mosul, none of them have worked without the assistance of UNICEF." — Ammar Fakhri, Human Relief Fund
Laila Ali, a UNICEF spokesperson, said providing water to the people of Mosul, Iraq's second-largest city, has not been easy. "The offensive [to retake Mosul from the Islamic State] began and a month into it the water network was hit by mortars and approximately 600,000 people in eastern Mosul, half of them children, were left without water. Shortly after, local authorities with UNICEF started trucking in 2.4 million liters [of water] per day."
To get the water to truck in to eastern Mosul, UNICEF drilled nine holes from which water can be pumped. Seven of those are in Bazwaya, a tiny village just outside Mosul's eastern edge. UNICEF also needed to get water treatment plants running to make sure the water delivered was clean and safe.
"We are in collaboration with the government [of Iraq] to rehabilitate plants, like the Al Sahroon plant in eastern Mosul," said Ali. The plant was damaged by fighting in February, rendering it dysfunctional. It was the only operating water treatment facility in eastern Mosul and provided piped water to 70,000 residents and tankered water to 12 neighborhoods.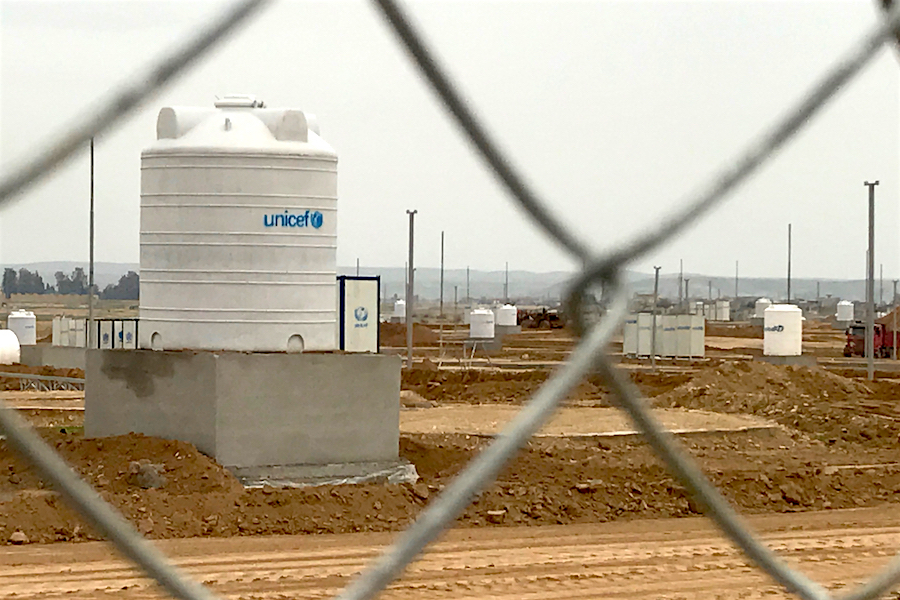 While trucking in all that water to parched communities has helped many thousands to avoid catastrophe, others who could not get enough water, like Mohammed, the boy in al-Karama, have turned to shallow surface wells. These wells are often contaminated with refuse and spread disease easily. Those who had the means bought water, but they were few. In desperate times where water supply is low, and kids and families look for water from unsafe sources, UNICEF has worked to get the word out on safe water practices.
"The wells are not safe. They are contaminated with refuse. So we've been ... telling people where to access safe water." — Laila Ali, UNICEF Iraq
"The wells are not safe. They are contaminated with refuse. So we've been doing [text message] outreach telling people where to access safe water," Ali said. For the children of Mosul, the consequences of drinking dirty water have been grave. Ali noted that children in eastern Mosul have been found with severe diarrhea, which means that kids can't retain nutrients. If untreated, this can lead to malnourishment. Cholera is also a risk.
"We're monitoring people coming out of eastern Mosul. Those going to camps are given high energy biscuits, and we're monitoring growth development of children to catch malnutrition," she added. The health situation for children is even more severe in the west of Mosul. "In the Old City of the west, there are 400 to 500,000 people trapped, half of them children. Water access is extremely limited. Food is minimal."
Ammar Fakhri, from UNICEF's partner organization Human Relief Fund, helps manage water pumping stations and coordinates between Mosul's local water administration and UNICEF and its partners. As the sun set over a pumping station outside a displaced peoples' camp in Bazwaya, he spoke about the critical role water— and UNICEF — are playing in getting east Mosul back on its feet.
"The circumstances we've lived with ... under the Islamic State have been terribly difficult. But water services are one of the main ways to bring life back." — Ammar Fakhri, Human Relief Fund
"All of the water services in Mosul, none of them have worked without the assistance of UNICEF. It's all UNICEF. Schools, food supplies and distribution of humanitarian assistance, too," Fakhri said in a rapid-fire assessment of services in eastern Mosul. As for children, he said, "Most of the diseases children suffer from come through water. Children are more sensitive, more vulnerable."
Fakhri added, "And the circumstances we've lived with for these last two and a half years under the Islamic State have been terribly difficult. But water services are one of the main ways to bring life back. Government, administration — all that comes after water and health."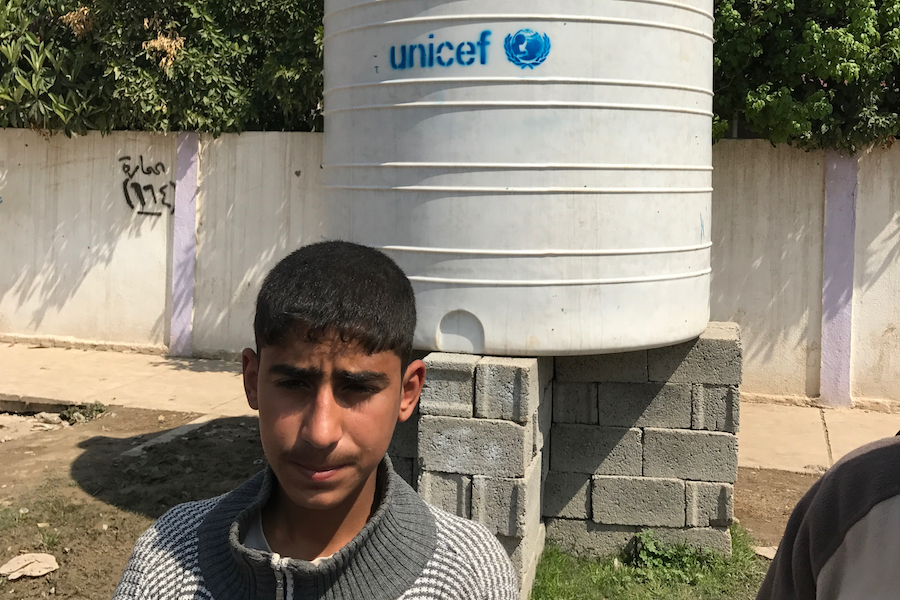 Sa'eed, 12, in al-Karama neighborhood, summed it up clearly. While challenges remain in eastern Mosul's water system, Sa-eed said that before UNICEF brought the neighborhood water tanks, things were much harder for kids like him. "The situation was even worse. There was no clean water at all. We were drinking from wells. Kids had rashes; they had diarrhea ... all kinds of diseases. The important thing is that we get water. Without water, what can we do?"
Please support UNICEF's lifesaving work to aid children and families in Mosul and throughout Iraq.
All photos courtesy of Sam Kimball for UNICEF USA.