UNICEF Providing Nutrition Support for Children in Sri Lanka
As Sri Lanka's unprecedented economic and political crisis continues, families are becoming increasingly desperate. Supermarket shelves are emptying out and prices are skyrocketing. Unable to afford three meals a day, many families have been forced to cut back to two. 
In the village of Devapuram in the Sri Lankan district of Batticaloa, Selvathy — below with her younger son, 3-year-old Tulakshika, who is underweight — says the escalating crisis is pushing families like hers to the edge. 
"My main concern is about the health and nutrient level of my children, " she says. " Groceries are expensive and it is difficult for us to feed our children three nutritious meals a day. Our income is getting worse day by day and grocery prices are also increasing. It's so hard for us to live like this."
"Our life is filled with hardship," says Krishanthini, a mother of 18-month-old twins in Batticaloa. "Our family has suffered a lot lately. Due to this economic crisis, the condition of poor people is getting worse." Without adequate food supplies, her twins, Premi and Premidan, have become malnourished.
UNICEF Sri Lanka is screening children for malnutrition and providing nutrition support with micronutrients and therapeutic food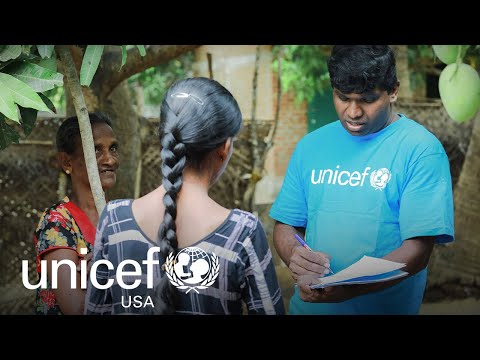 "This is one of the poorest districts in Sri Lanka, and the current crisis is weakening the existing situation further and making children more vulnerable," says Refinceyaa Patterson, Chief of Field Office, Batticaloa, UNICEF Sri Lanka.
As food prices skyrocket, a severe fuel shortage is preventing parents from earning a living. "This community mainly depends on farming and fishing, and they are unable to do without fuel," says Patterson.
Working with the government, UNICEF Sri Lanka is closely monitoring the situation in the field and working to provide nutrition support for children by supporting preschool feeding programs, distributing nutrition supplements, screening children for malnutrition and providing Ready-to-Use Therapeutic Food to those who are severely malnourished.
"Children in Sri Lanka need urgent assistance," says Patterson. "Please support UNICEF any way you can."
The crisis in Sri Lanka is stretching vital social support systems to their limits — with a risk of collapse if urgent action is not taken. Your contribution can make a difference for families in need. Please donate.
© UNICEF/UN0670379/Weerasinghe. Video edited by Tong Su for UNICEF USA.