South Sudan Faces Severe Food Crisis
50,000 children are at risk of dying from malnutrition.
Five months of conflict have significantly disrupted the food supply for millions of people in South Sudan. Fighting between rival ethnic groups has caused mass displacement across the country, and more than 3.7 million South Sudanese are now facing food insecurity.
"No one in the conflict areas is doing what they are supposed to be doing right now," Sue Lautze of the United Nations said in a recent media interview. "Preparing the land, moving the livestock and catching fish."
In a country where the food supply depends on subsistence farming, the conflict has cut off lifelines. The fighting has been so disruptive that some 10 million livestock have been scattered, some of them wandering into other countries, according to the New York Times. No longer able to plant their crops, fish or tend to livestock, many people have been forced to survive on grass, bulbs and leaves.
"If the conflict continues, half of South Sudan's 12 million people will either be displaced internally, refugees abroad, starving or dead by the year's end," Secretary General Ban Ki-moon warned at a Security Council briefing last month.
Many people have been forced to survive on grass, bulbs and leaves.
Half of those affected by the conflict are children, in what is increasingly becoming a children's emergency. UNICEF estimates that 740,000 children under five are threatened by food insecurity. These children are at highest risk of dying from malnutrition and contracting life-threatening diseases like cholera and measles.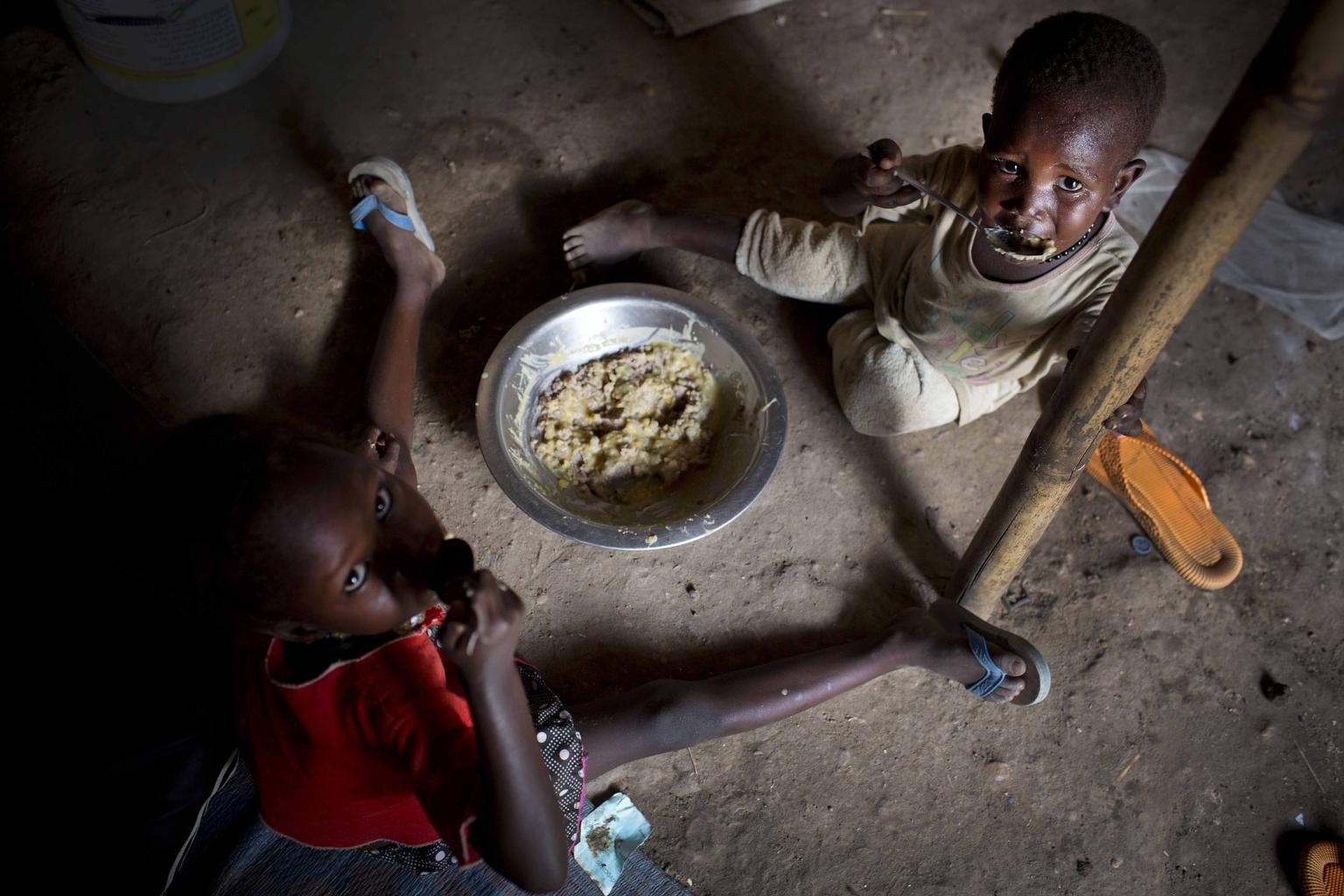 Children displaced by recent fighting eat their daily meal at a displacement site in Juba.
How UNICEF is Responding
UNICEF has been on the ground in South Sudan since the conflict began providing an integrated emergency response.
Since January, UNICEF has helped screen more than 360,000 children for severe acute malnutrition and has treated 20,000 children with ready-to-use therapeutic food, therapeutic milk and essential medicines. UNICEF has also vaccinated more than 260,000 children against measles.
In response to the recent cholera outbreak, UNICEF has helped establish a treatment center in the capital, Juba, and is providing clean drinking water, diarrheal kits and chlorine. UNICEF is also identifying children who have been separated from their families, operating temporary learning spaces, and providing child protection services, including psychological support.
© UNICEF/NYHQ2014-0426/Kate Holt