Nepal: The Fight to Rebuild After the Earthquakes
Sam Kimball
From the first day of two earthquakes that violently shook Nepal in April, 2015, UNICEF was ready to assist the 1.1 million children affected. Even before relief began to flow into the country, UNICEF released emergency supplies from four pre-stocked warehouses. UNICEF suspended operations in the unaffected districts of Nepal and moved staff into the earthquake zones.
Soon after, UNICEF augmented its Nepal country staff with emergency professionals from around the world to help launch programs in critically important activities for children: nutrition; water, sanitation and hygiene (WASH); education; child protection; and emotional support.
For nearly 1 million children, education was abruptly interrupted by the quakes. UNICEF and partners built close to 2,000 temporary schools, getting more than 179,000 kids back to learning, and giving them the stability and social interaction that helps to heal children in times of crisis.

But even after a year, there is still more work to do. The prolonged shortage of fuel after a closure of borders with India constrained the movement of supplies and logistic support. The monsoon rains from July to August, as well as the harsh winter
 and snowfall in the mountainous region affected the transportation of relief and recovery supplies in numerous places. Of the 188,900 people who had been temporarily displaced right after the quakes, an estimated 26,272 people are still living in temporary housing.

But in the coming months, UNICEF will help build 74 earthquake resistant health facilities, provide safe water, build 800 semi-permanent schools, create a new education sector plan with school safety components and organize a second round of an emergency cash transfer program.

Here is a glimpse of some of the work UNICEF has been doing to help Nepal rebuild.
In Nuwakot District, villagers suffered a post-earthquake landslide that buried their homes. UNICEF was there to distribute emergency relief items, including hygiene kits, medical kits, tarpaulins, tents and water purification tablets. ©UNICEF/Page

On August 20, 2015, Auxiliary Nurse Midwife Mithu Bhujel offered measles and rubella vaccines to children at the UNICEF-supported Jaisithok health post in Kavrepalanchok district. At times of crisis, kids are especially vulnerable to disease. ©UNICEF/Karki

Makeshift health posts provided by UNICEF in the village of Thuladurlung in Lalitpur District, gave respite to young families. They replaced a health and birthing center that was destroyed during the massive earthquakes. ©UNICEF/Newar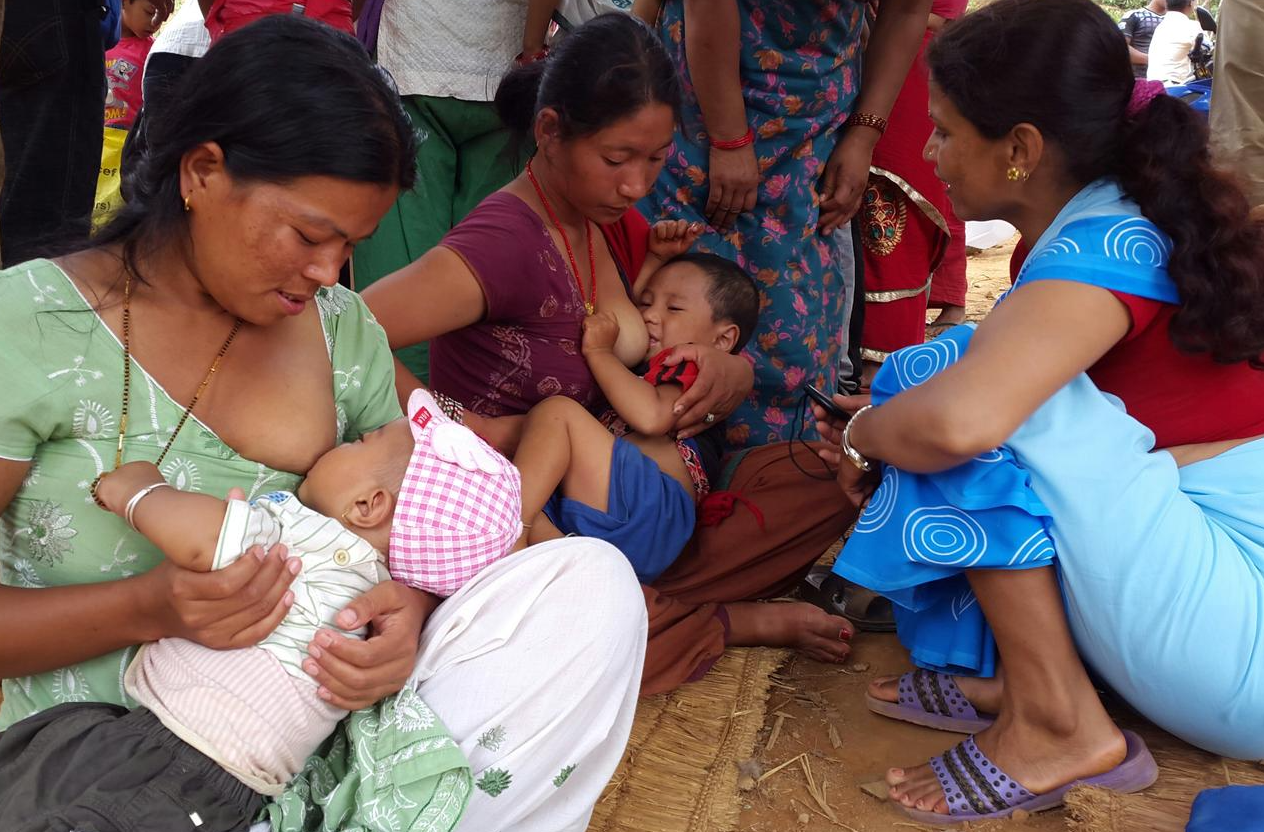 UNICEF-trained health community volunteer Parbati (at right in blue sari) continued to provide free primary health care, including breast-feeding, nutrition and hygiene advice to members of her community — even though, like others, her home was severely damaged in the earthquakes. ©UNICEF/Page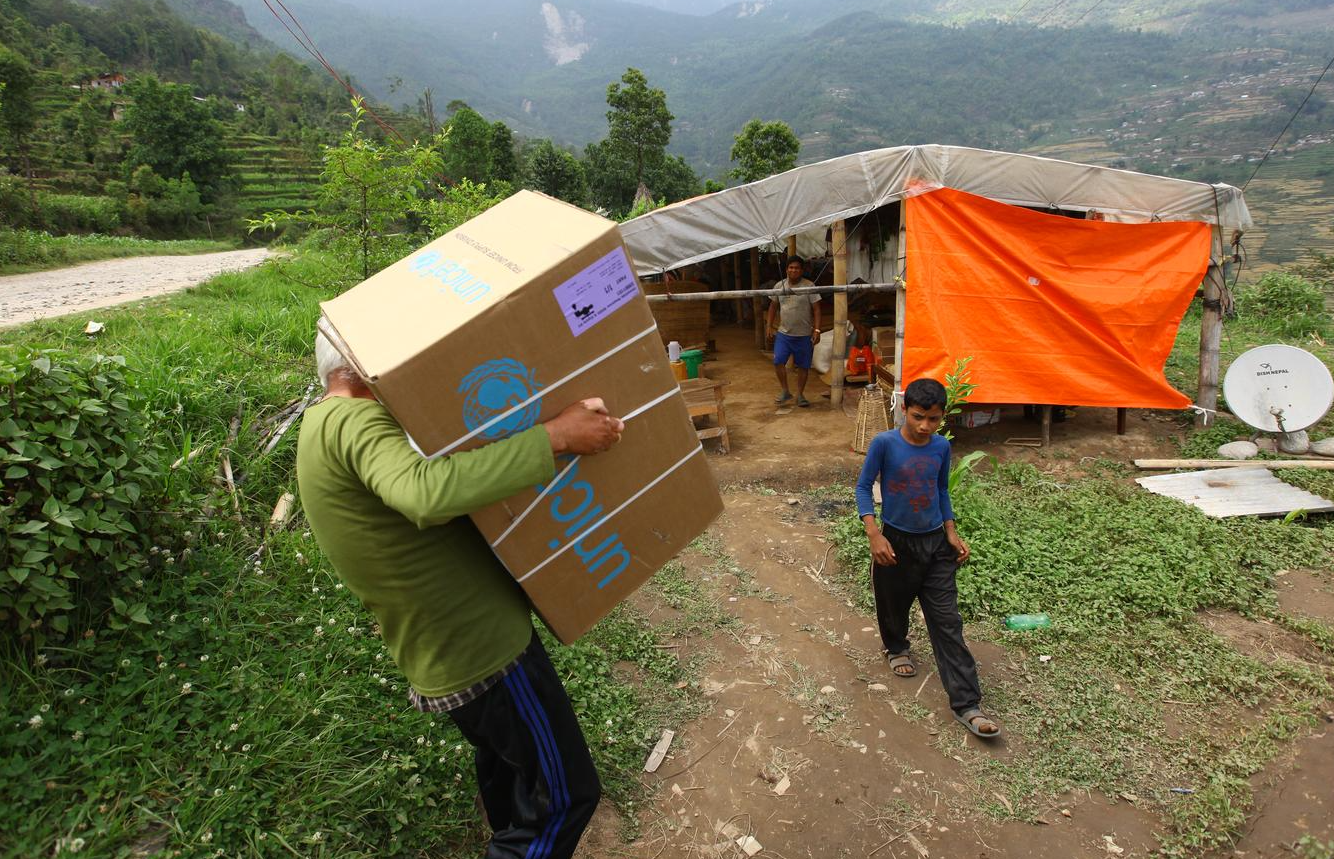 On May 16, 2015, UNICEF relief items arrived in Chamawati village in Dolakha, epicenter of the 7.3 magnitude earthquake that struck Nepal on May 12, 2015. ©UNICEF/Panday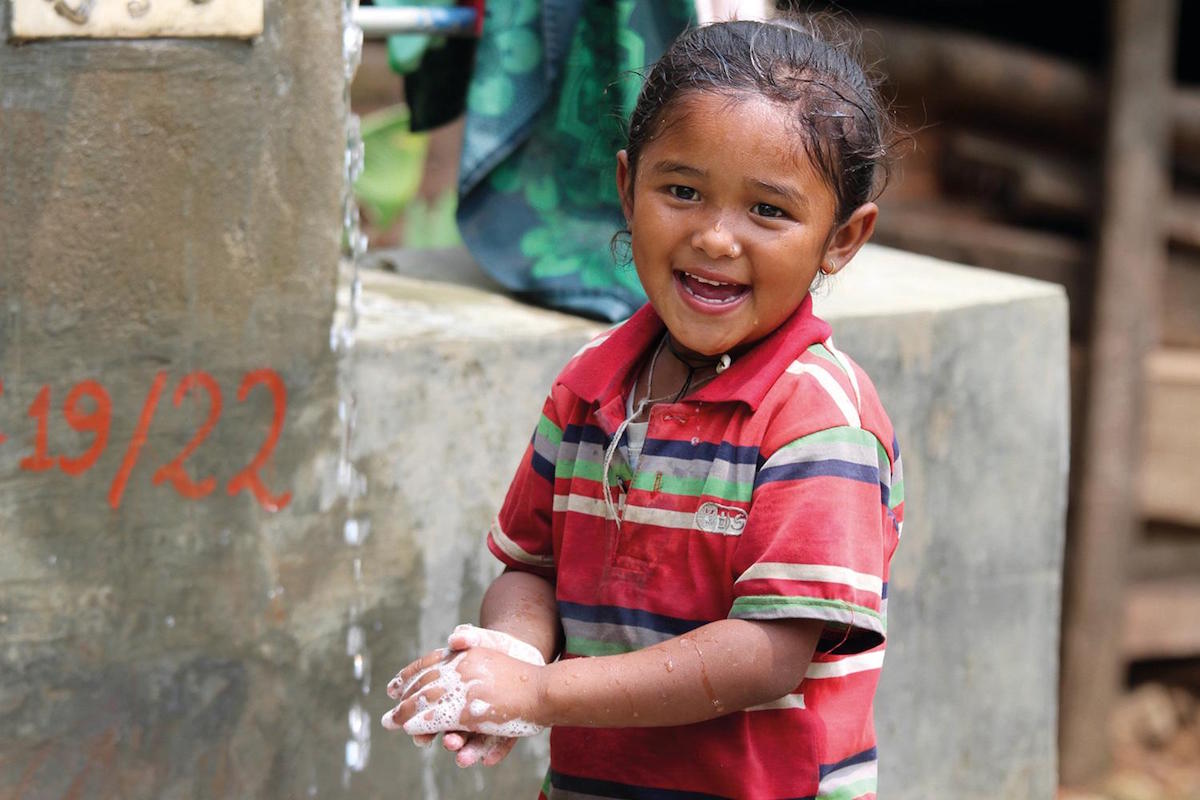 On May 8, 2015, a young girl in Baluwa village, Gorkha district, washed her hands with soap that was included in her UNICEF hygiene kit. ©UNICEF/Newar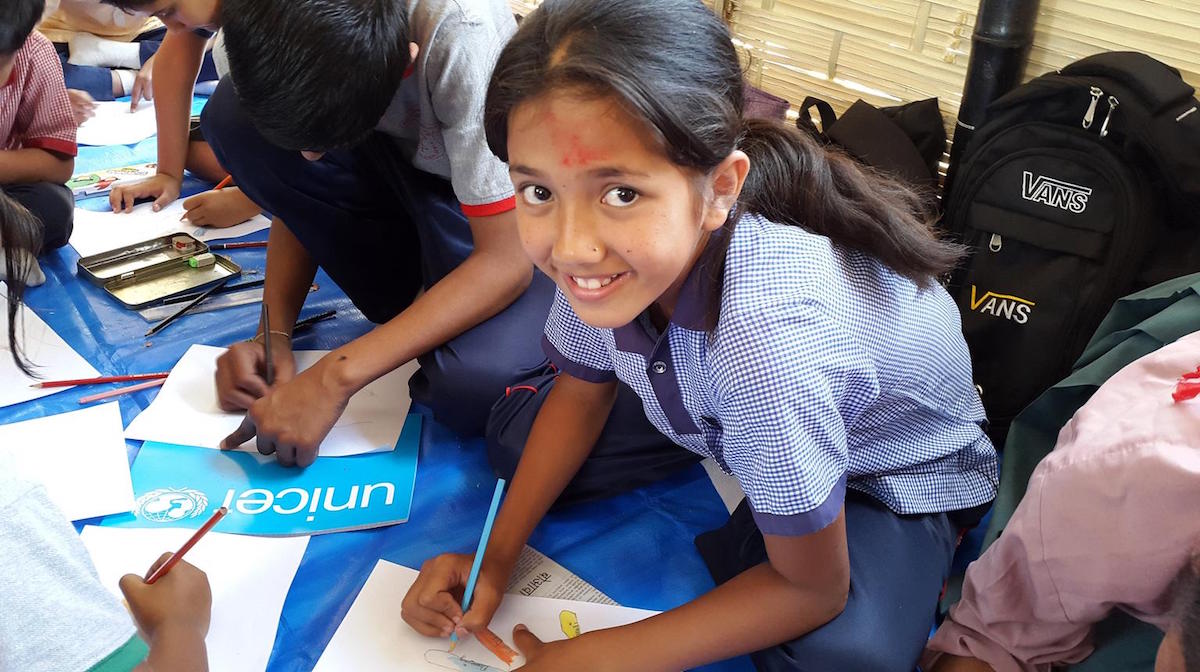 Like all of her classmates from the Kuleshwor School in Kathmandu, this girl was happy to get back to learning for the first time since the earthquakes hit. Class was held in temporary learning spaces built with UNICEF support. ©UNICEF/Page