Looking Back at a Wartime Childhood in Syria
Saja was only 7 when the Syrian civil war began. Only 11 when she was hit by a bomb blast during an attack on Bab Al-Nairab, her neighborhood in Eastern Aleppo. Saja lost her left leg that day. Four of her friends — Fatima, Zahr'a, Cedra and Wala'a— were killed. 
Her brother died in another bombing raid, and violence forced her family to relocate several times over the next few years. But Saja's resilience — and her love of sports — never left her. She kept playing soccer with friends, taking off her prosthetic leg and using her crutches to perform her signature bicycle kick. She practiced gymnastics in her family's tiny apartment, dreaming of competing in the Paralympics. "My school is far away and I get very tired walking there," she said in a video made when she was 12. "It's a struggle, but what else can you do?" 
Then and now: Saja's story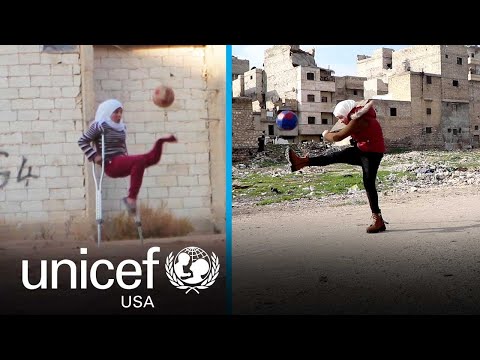 Now 18, Saja has a new dream: to study literature and become a physical education teacher. "I learned that life does not stop at one point," she says in the video above. "If I were attacked, or I lost part of my body, life does not stop there. We must continue and follow our passion. We have to work hard on ourselves to get out of the situation we are in."
Syria's decade-long war has had a devastating impact on children and childhood. Before the war began in 2011, Syria was a middle-income country with almost no humanitarian needs. Today, inside Syria, 6.1 million children require humanitarian assistance. Eighty percent of the country's children live below the poverty line. Families displaced by violence have taken refuge in neighboring countries. In Jordan, Lebanon, Turkey, Iraq and Egypt, 2.5 million Syrian children are registered as refugees.
Ongoing violence, economic crisis and the COVID-19 pandemic have made a bad situation worse. In the past year alone, the reported number of children in Syria showing clinical signs of psychological distress has doubled.
In a video made when she was 12, Saja fondly recalled distant memories of a more peaceful past. "My wish for Syria's future is that it goes back to the way it was," she said. "No more war. I hope that we can go out and know that we will come back safely, not go out and never return home. To live like we used to."
Responding to the crisis in Syria over the past decade is one of the largest humanitarian operations in UNICEF's history. Last year alone, UNICEF worked with partners to reach over 3.7 million children with formal and informal education; 900,000 children with vaccinations against measles or other routine immunizations; and 400,000 children with psychosocial support in Syria and neighboring countries. More than 55 million people have been reached with health safety information.
How to help Syria's children
Syria's children "are enormously resilient," said Ted Chaiban, UNICEF Regional Director for the Middle East and North Africa. "The resources are critical." To continue providing assistance to children and families in Syria and neighboring countries in 2021, UNICEF is appealing for $1.4 billion from donors and supporters. 
Your generous contribution will help UNICEF reach vulnerable children with the humanitarian assistance they urgently need. Please donate.
Top photo: Saja of Syria, in a photo taken in 2017 when she was 13. "I love playing football," she says. "When I play football, I don't feel like I've lost anything at all." © UNICEF/UN055882/Al-Issa