Ebola in Sierra Leone —The Joy of Survivors
At center of a terrifying outbreak, 7-year-old Vandy survived Ebola.
Jo Dunlop is a UNICEF consultant based in Sierra Leone.
When you arrive in Kenema, one of the worst-affected areas of Sierra Leone, there's a feeling that Ebola has settled in with no plans to move on any time soon.
Chlorine buckets sit outside most restaurants for people to wash their hands. Ebola information posters are plastered on buildings. Crackly radios are loudly broadcasting conversations about Ebola. People are talking about  "dis Ebola bisnis" relentlessly on the street. Handshaking has been replaced by a brush of elbows.
"I am so happy for this day. I thank God that he has helped me survive."
In all of West Africa, including Guinea and Liberia, Sierra Leone is now recording the highest number of new Ebola cases each week. Spending a few days around those most affected was an unforgettably sad experience. I was heartened, however, by meeting some of the lucky people who are surviving the disease. 
Their numbers are increasing – growing gradually to a current total of 143 people across Sierra Leone out of the almost 500 people who have contracted the virus.
And in places like the Ebola treatment center on the grounds of Kenema Hospital, now packed to capacity with 45 patients, their stories are emerging regularly.
Each day at around 3 p.m., survivors are released from the center. In a place where so much tragedy exists, it's a moment of unlikely joy and relief. Those who make it through, like Vandy Jawad, 7, are symbols of hope and survival.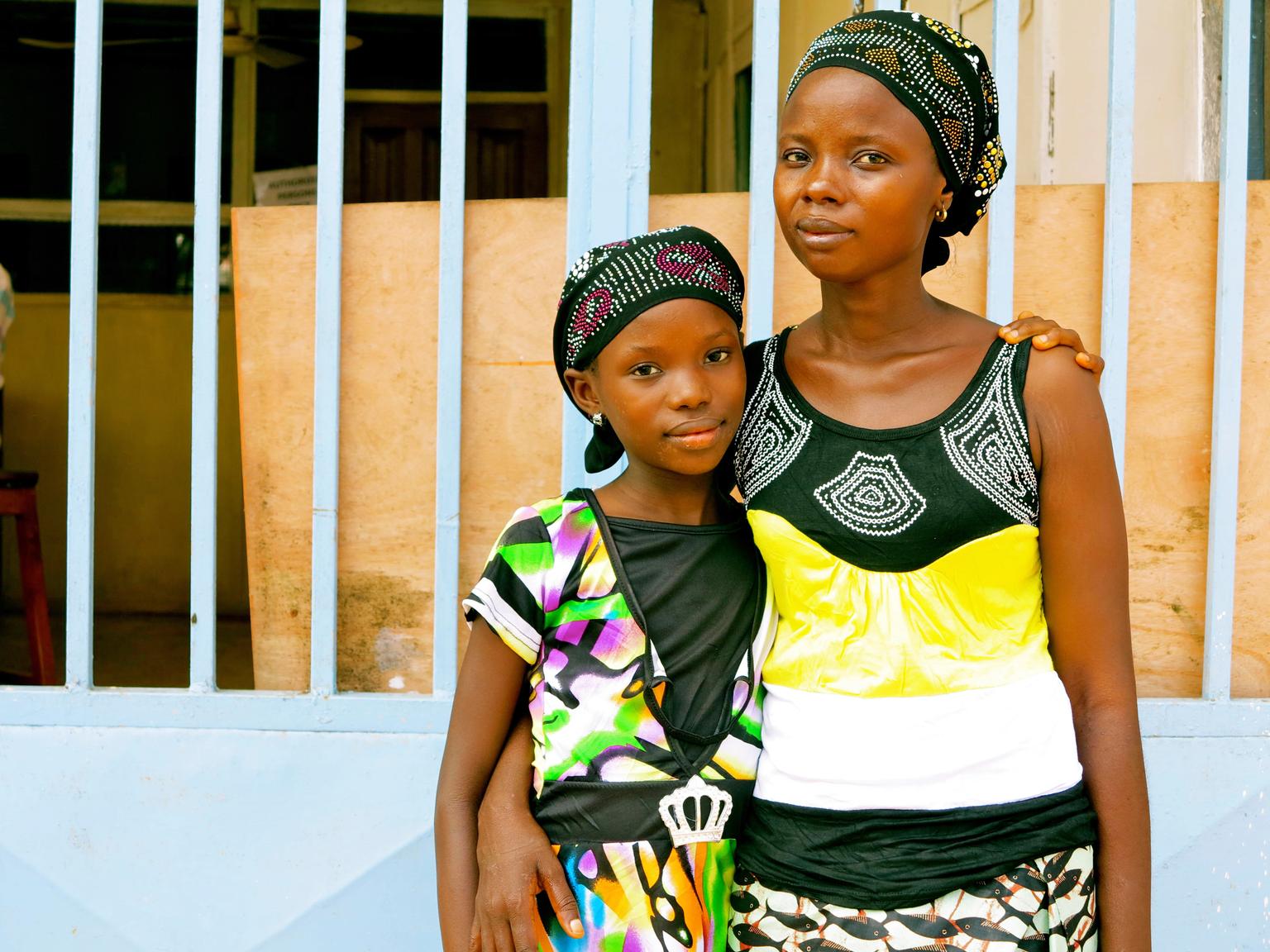 Fatmata Sesay stands with her 11-year-old daughter, Tata, both survivors of Ebola in the city of Kenema, Sierra Leone. Fatmata contracted the disease while working as a nurse in Kenema Government Hospital's Ebola treatment center.  ©UNICEF/NYHQ2014-1059/Dunlop
Vandy contracted the virus in Daru village, about 40 km. from Kenema and one of the country's hardest-hit communities. According to nurses, he displayed very serious symptoms when first admitted to the treatment center.
"That small boy was very, very sick. We did not think he would survive, as so many haven't," says Sister Nancy Yoko, the nurse in charge of the center.
UNICEF/NYHQ2014-1063/Dunlop