"I have no idea where I got Ebola," she said as she chewed on a packet of ready-to-use therapeutic food—as part of her post-Ebola treatment. Ready-to-use therapeutic food is normally provided by UNICEF as lifesaving emergency nutrition to the thousands of children here who suffer from severe acute malnutrition. Ebola victims lose a lot of nutrients and fluids as a result of vomiting and diarrhea, and the ready-to-use therapeutic food helps them regain their strength.
"I am a medical student, and in my work, I encounter many sick people."
"When my Aunt would clean up ... I insisted that she wash her hands with bleach."
Kadiatou's initial symptoms were typical of many illnesses—a sudden onset, pounding headache and high fever, followed by vomiting and diarrhea. Her knowledge as a medical student probably prevented Kadiatou from spreading Ebola to those caring for her. "When my Aunt would clean up my vomit, I insisted that she wash her hands with bleach." 
As part of our response to the Ebola outbreak, UNICEF has distributed many of the materials families are using to protect their family members, including over 350,000 bottles of chlorine, almost 1 million bars of soap and materials for disinfecting hospital rooms and victims' homes. 
A few days after Kadiatou tested positive for Ebola she was sent directly to the isolation ward in Donka hospital. The isolation center was busy. Families brought food to their sick relatives. And, "there were many journalists."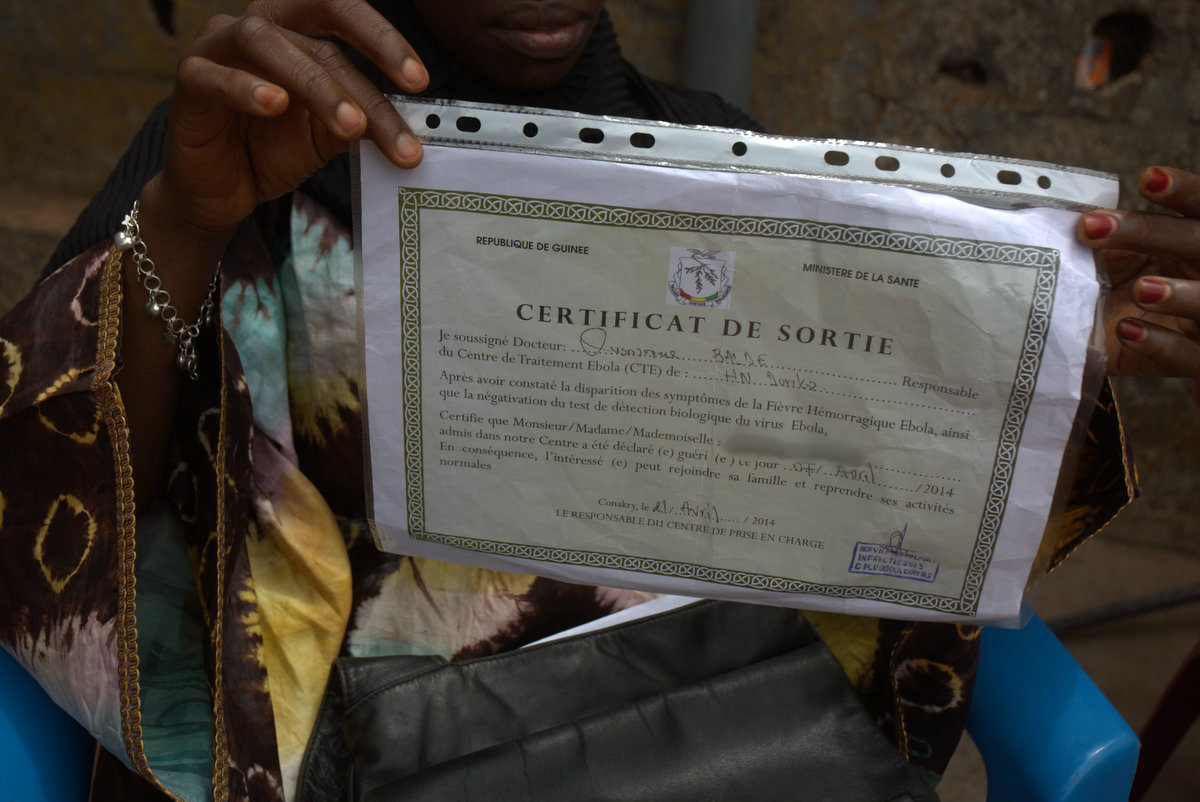 Kadiatou holds up the certificate declaring her healthy status. "Others call me, 'Kadiatou the newborn' — because I was given a second chance," she says.  ©UNICEF Guinea/2014/Timothy La Rose
"In the beginning we were all in the same room. But as patients improved, they were separated from those who weren't as fortunate. I first knew I was going to survive when I saw a patient recovering. I thought, 'maybe it is possible for me too.' For the first few days, I was desperate. I drank a lot of mineral water and had infusions … maybe it helped me to survive."
"People don't believe that I had Ebola because they can't believe I survived."
After what must have seemed like an eternity for her, but in real time was a matter of weeks, Kadiatou was given new clothes and a certificate declaring her healthy and was sent home.
We asked her about the widely reported stigma that affected survivors. "When I went back to school, some of my friends avoided me, but it's getting better. People don't believe that I had Ebola because they can't believe I survived."
Of course, Kadiatou is aware that Ebola is real. But UNICEF remains vigilant in keeping the public informed. We have been in the markets, mosques, churches and schools and on the radio and the television providing information on Ebola so health workers and regular people are armed with the knowledge to protect themselves and their children. To date, UNICEF and our partners in Guinea have reached over 3.2 million people. 
*name changed