UNICEF USA Fast Fund
This innovative funding mechanism helped UNICEF procure lifesaving supplies for frontline health workers during the early days of the global COVID-19 pandemic. Learn more about how it works, and how to get involved.
A catalytic fund that enabled UNICEF to speed lifesaving PPE to the front lines of the COVID-19 pandemic
The Fast Fund is a Guaranty Facility created by UNICEF USA and managed by UNICEF USA's Impact Fund for Children. The money that is put into the Fast Fund — contributions from individual donors, foundations, corporations and other supporters — is used to guarantee prepayment for orders placed by UNICEF with suppliers who require at least a portion of the total cost of the goods upfront.
UNICEF USA was featured in Fast Company's Most Innovative Companies List of 2021 for its work through the Fast Fund.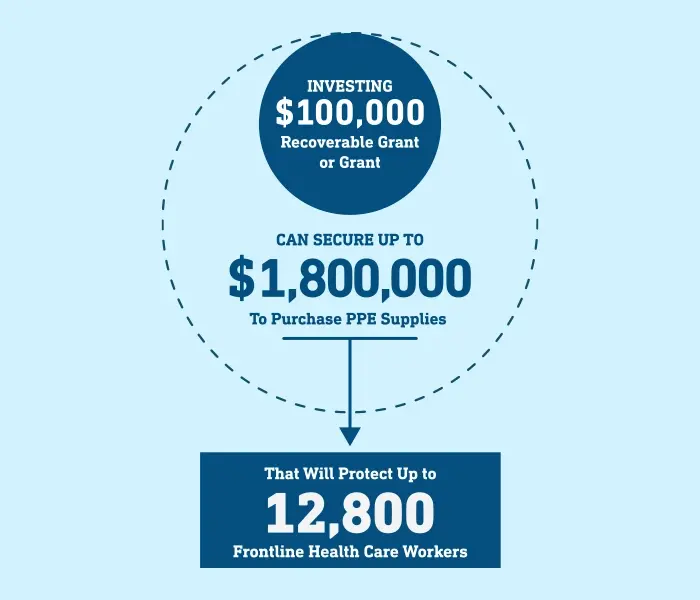 With the upfront payments secured, production delays are avoided; UNICEF is able to buy lifesaving supplies at scale and expedite their delivery to countries in need, shortening wait times for these critical items. At the onset of the COVID-19 pandemic, the Fast Fund's focus was to secure orders for personal protective equipment (PPE) for frontline health workers. 
How does the Fast Fund work?
Once goods are delivered, the funding guarantee provided by the Fast Fund is returned and can then be reapplied to another order. Every $1 invested potentially yields up to $18 worth of supplies for those who need them them most. 
UNICEF supporters — individuals and organizations — can contribute to the Fast Fund in one of two ways. The first is to make a charitable donation directly in support of the fund, money to be used for future emergencies if and when the fund is no longer needed to fight COVID-19. The second way is to provide a recoverable grant, which is a type of interest-free loan that is repaid only if certain conditions are met. If a supplier does not make good on a Fast Fund-secured order, it's the Fast Fund — rather than UNICEF — that takes the loss.
The Fast Fund is similar to the UNICEF USA Bridge Fund, created to help UNICEF cover the cost of procuring emergency supplies until donor funding comes through, at which point the fund is repaid. Its low-risk, high-impact profile is attractive to a range of social impact investors seeking to make a difference in the survival and development of children.
Learn more about the Fast Fund, Bridge Fund and UNICEF USA's Impact Fund for Children.