A violent insurgency, a prolonged humanitarian crisis
Boko Haram, a violent Islamist insurgency, has terrorized communities around West Africa's Lake Chad Basin for years — creating new hardships and compounding existing ones for millions of people in northeast Nigeria, Cameroon, Chad and Niger, many of them still displaced and struggling to survive. 
Children have been abducted, killed and used as suicide bombers. Villages have been attacked, and — if not burned to the ground — left stripped of all resources. Safe water, adequate health care and other basics are difficult to come by. Malnutrition rates among children have soared. 
Severe acute malnutrition is life-threatening without treatment
Delivering humanitarian aid to areas affected by conflict is extremely challenging. Displacement camps tend to be overcrowded and host communities have little to offer to newcomers. UNICEF continues to work with partners across the region to identify and respond to urgent needs, connecting children and families with health care, nutrition, sources of safe water and protection services.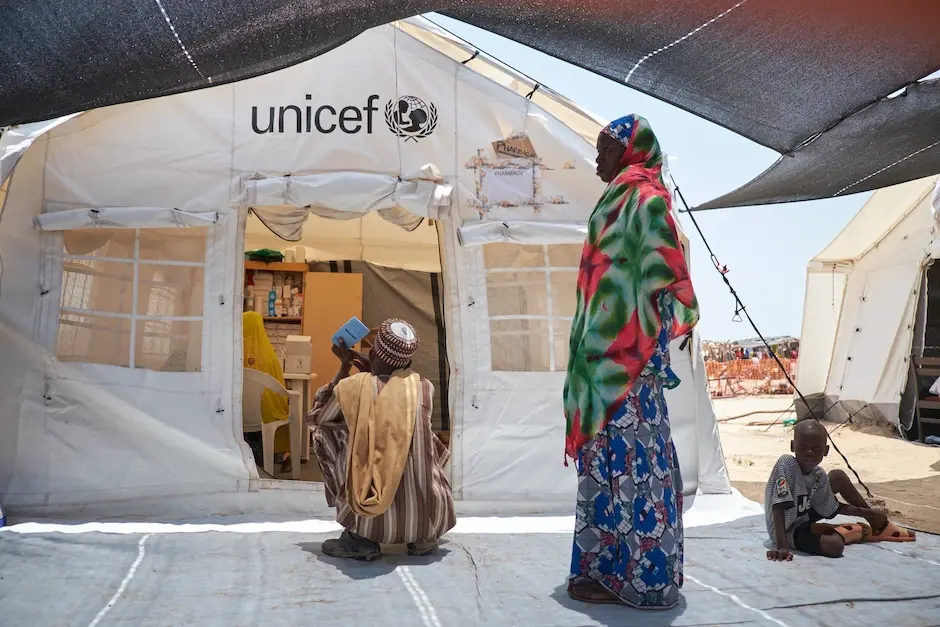 Help UNICEF save and protect vulnerable children around the world. Your contribution can make a difference.
UNICEF/UN029266/Phelps
TOP PHOTO: THE BOKO HARAM INSURGENCY HAS CREATED A HUMANITARIAN CRISIS ACROSS THE LAKE CHAD BASIN REGION. PART OF UNICEF'S RESPONSE HAS BEEN TO WORK WITH PARTNERS TO IMPROVE ACCESS TO SAFE WATER THROUGH NEW CONSTRUCTION OR REHABILITATION OF WATER POINTS, AMONG OTHER MEASURES, AND TO STRENGTHEN LOCAL MANAGEMENT OF THESE WATER SYSTEMS BY ESTABLISHING COMMITTEES AND PROVIDING MAINTENANCE TRAINING. ABOVE, TWO GIRLS PUMP WATER FROM A NEW BOREHOLE INSTALLED AT A CAMP FOR DISPLACED FAMILIES IN GARIN WAZAM, EAST OF Diffa, Niger. © UNICEF/UN029266/Phelps