Vaccinators Won't Stop Until They Eradicate Polio in Afghanistan
After the wild poliovirus was officially eliminated in Africa in August, Afghanistan and Pakistan became the only countries in the world where polio remains endemic. A highly infectious, paralyzing and sometimes fatal disease that mainly affects children under the age of 5, polio is entirely vaccine-preventable, but ongoing conflict and political instability in Afghanistan and Pakistan make if difficult to reach every child. Migration along the porous and rugged border between the two countries further complicates vaccination efforts, leaving children on both sides of the border vulnerable to contracting the debilitating disease. COVID-19 has challenged immunization efforts around the world, but UNICEF and partners are determined to see that all children are protected with lifesaving vaccines.
In Kandahar, a southern province of Afghanistan, dedicated frontline workers travel to remote areas on foot or on motorbikes, knocking on doors to make sure every child receives two drops of oral polio vaccine. After the drops have been administered, each child's thumb or finger is marked with ink to indicate that they have been vaccinated.
In the video below, Koko, a grandmother, explains why she makes sure all her grandchildren are vaccinated. "I want all my grandchildren to study and better serve their country," she says. "I give them the two drops. The virus has spread a lot; I don't want my grandchildren to get infected."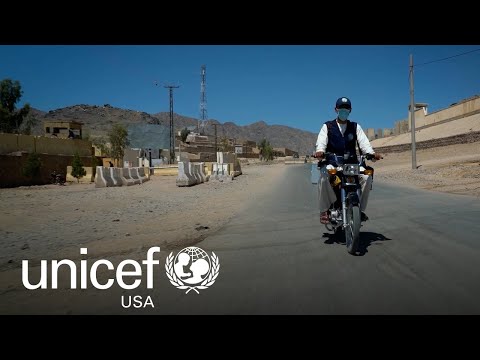 UNICEF is the only humanitarian agency that has had a continuous presence in Afghanistan for the past 70 years. UNICEF offices have remained open, despite the pandemic. During the country's COVID-19 lockdown, many staff members based in Kandahar did not see their families for more than six months as they continued to provide essential services to children and families in need.  
A UNICEF-supported polio vaccination campaign in September 2020 targeted more than 6 million children under the age of 5, including the 1-year-old above, in the Spin Boldak district of Kandahar Province. 
The UNICEF-supported Adam Darmal Clinic in Kandahar, (above) has WASH, nutrition, education and health programs, including polio vaccination. 
Since UNICEF and Rotary International began their partnership in 1988, both organizations, as members of the Global Polio Eradication Initiative, have played a fundamental role in dramatically decreasing the number of wild polio cases in the world. Just 176 polio cases were confirmed worldwide in 2019, a reduction of more than 99.9 percent since the 1980s, when the world saw about 1,000 cases per day. 
UNICEF is committed to vaccinating every child and eradicating polio for good. Your generous contribution will support UNICEF's lifesaving work around the world. Please donate. 
Top photo: In Kandahar, Afghanistan, a UNICEF-supported polio vaccinator marks a girl's finger with ink to indicate she has received the vaccine. All photos: © UNICEF/Frank Dejongh