How UNICEF Is Helping Children in India During the Pandemic
"Diwali used to be celebrated with the burning of firecrackers, a lot of rockets. The night sky would light up and become a spectacle," says 13-year-old Shrishti (below), who lives in Jalna, in the Indian state of Maharashtra. "It's a lot of fun celebrating Diwali. But because of coronavirus, I doubt if Diwali can be celebrated this time around."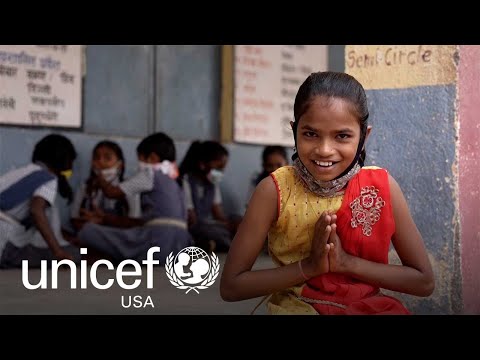 Families will still come together this year to celebrate India's cherished festival of lights, but gatherings will have to stay small to prevent the spread of COVID-19. India is second only to the United States in number of confirmed cases — 8,728,795 as of November 13, with 128,688 deaths, according to the Johns Hopkins University of Medicine Coronavirus Resource Center. "Every country in the world has been profoundly impacted by COVID-19," says UNICEF India Representative Yasmin Haque. "Imagine how much harder it has been for the most vulnerable in India."
Every country in the world has been profoundly impacted by COVID-19," says UNICEF India Representative Yasmin Haque. "Imagine how much harder it has been for the most vulnerable in India.
Since the pandemic began, UNICEF has shared information on how to stay safe from the coronavirus with more than 650 million children and their families in India, and reached more than 3.1 million people across the country with critical water, sanitation and hygiene (WASH) supplies and services. Elbow-operated taps have been installed in schools so children can wash their hands safely with soap and water, then go home to teach their families about the importance of frequent handwashing. "Children are agents of change," says Nicolas Osbert, head of the WASH section for UNICEF India. 
UNICEF and partners have reached more than 3.1 million people across India with critical WASH supplies and services since the pandemic began
To meet the needs of some of the 300 million students affected by school closures in India, UNICEF and partners launched education initiatives across 16 states that have helped 41 million children continue to learn. More than 284,000 children and their caregivers have received psychosocial support to help them cope with the strain caused by the pandemic. 
COVID-19 is causing a spike in child marriages 
Increasing rates of girls' education has been key in the fight to reduce child marriage in India. Proactive government investments in adolescent girls and strong public messaging campaigns stressing the illegality of child marriage and the harm it causes have helped to reduce the number of child marriages by half in the past decade — a significant milestone in a country where 1.5 million underage girls get married each year. But the number of child brides has increased during the pandemic, as parents who cannot afford to feed their children turn to early marriage in the hope that it will increase their daughter's chance of survival.
"In rural villages there is a tradition of girls getting married when they are 16 or 17," says Shobha (above), a teenager in Jalna. "Some girls say they don't want to marry until their education is completed." Trained as a peer educator by UNICEF and partners, Shobha works to promote the rights of girls in her community. "Our child committee met with the parents," she says. "We explained to them that girls have rights. After that, they accepted her decision. Her marriage was cancelled. Now she is in college." 
One in three children in India — 155 million — live below the poverty line. To make ends meet, many poor families turn to child labor or leave their children in the care of others while they migrate in search of work. In India, institutional care is the most frequently used form of alternative care for children who have become separated from their families, but UNICEF child protection workers estimate that at least 50 percent of children in Indian institutions are not, in fact, orphans. Institutions often have poor mechanisms for monitoring and maintaining child care standards, leaving children vulnerable to challenges such as a lack of nurturing care, violence or abuse, health threats or a lack of education.
UNICEF's Project Lion ensures that India's forgotten children grow up in loving, stable, nurturing and protective environments
UNICEF India's child protection staff work with partners across the country to reunite children with their families and to encourage kinship care. To help the 1.5 million children growing up without a family in India, Project Lion, a UNICEF USA-supported program, aims to set standards of care in residential facilities and other forms of alternative care to ensure that children have access to education, nutrition, health care and protection.
Launched in 2017, the project also offers training to social workers, caregivers and other child protection workers and support services for vulnerable families. Initially focused on eight states — Gujarat, Odisha, Maharashtra, Jharkhand, Karnataka, Jammu and Kashmir, Uttar Pradesh and Chhattisgarh — Project Lion is scaling up alternative care programs to 350 districts in 12 states, benefitting more than 440,000 children.
Your generous gift will help UNICEF reach India's most vulnerable children. Please donate. 
Top photo: Mekak, 11, sits with her grandmother near a community toilet in Mumbai, India. UNICEF and partners are working to sustain urban sanitation and hygiene preparedness in schools during the COVID-19 public health crisis. All photos © Dhiraj Singh for UNICEF