How UNICEF Is Fighting Malnutrition in Yemen
Since the conflict in Yemen escalated in March 2015, economic decline has pushed food prices out of reach for more and more families. This year alone, nearly 2.3 million children under the age of 5 in Yemen are likely to suffer from acute malnutrition. Of these, 400,000 are expected to suffer from severe acute malnutrition and could die if they do not receive urgent treatment.
At Hajjah City's Abs Hospital in northwest Yemen, Dr. Waddah Al-Farah treats severely malnourished children under the age of 5. In the video below, he shows how he and his team care for some of the littlest victims of Yemen's protracted crisis.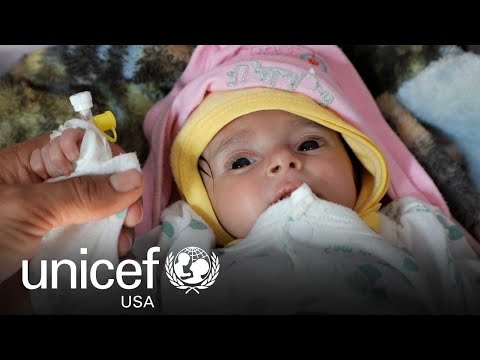 Malnutrition damages a child's physical and cognitive development, especially during the first two years of a child's life. It is largely irreversible, perpetuating illness, poverty and inequality. Last year, 9-month-old Nour — pictured below with her mother, Souad — was treated for severe acute malnutrition at a UNICEF-supported health center in Sana'a, Yemen. The treatment saved her life.
"I feel happy that my baby regained her health and started moving, toddling and playing. She used to feel tired all the time because of her poor health," said Souad. "It's an indescribable feeling as you watch your child recover from an illness that ravaged her body."
"The increasing number of children going hungry in Yemen should shock us all into action," said UNICEF Executive Director Henrietta Fore. "More children will die with every day that passes without action. Humanitarian organizations need urgent predictable resources and unhindered access to communities on the ground to be able to save lives."
As conflict drags on and malnutrition rises, UNICEF continues to take every measure possible to protect the health and rights and safety of millions of Yemeni children. But UNICEF can't do it alone. There is an urgent need for individuals, organizations and governments to come together and take action. Every child in Yemen deserves a safe and happy childhood. Please give generously. 
Top photo: Nine-month-old Nour was treated for acute malnutrition at a UNICEF-supported health center in Sana'a, Yemen. The treatment saved her life. © UNICEF/UNI366578/Abaidi