After Beirut's Deadly Explosion, Youth Work to Rebuild Their City
"I was taking a shower when the explosion happened," says 10-year-old Mira (below). "A shelf fell on my head and I was injured. After that, the door exploded and I started screaming loudly for my mother. Then my mother came and pressed on my wound, but the blood kept coming out."
Mira was one of more than 6,500 people injured on the evening of August 4, 2020 when 2,750 metric tons of ammonium nitrate ignited in a warehouse in the city's port district. The devastating blast killed more than 178 people and destroyed thousands of buildings and houses, leaving an estimated 300,000 people — including 100,000 children — suddenly homeless and an entire city in shock. 
In the days since the catastrophic explosion, young people from across Beirut have come together to help rebuild their community and care for those in need. "I couldn't stand still and watch my beloved city in ruins," one volunteer says simply. "If I stay at home, I will keep mourning," explains another. They are sweeping up debris, performing household repairs and delivering food and cloth masks to people whose lives were torn apart by the blast. 
UNICEF staff are on the ground, working alongside more than 1,170 young volunteers. In the immediate aftermath of the explosion, UNICEF provided water to first responders and successfully salvaged 1,748,660 doses of vaccines and medications stored near the site of the explosion. Thus far, UNICEF workers have reconnected more than 60 buildings to the public water system, distributed urgently needed supplies — including 1,600 hygiene kits and 400 baby kits to families in need — and coordinated with child protection colleagues to reunite children with their families and provide counseling to children traumatized by this latest catastrophe. UNICEF has also procured additional COVID-19 supplies worth $3.5 million to respond to increased needs. 
The explosion could not have come at a worse time for children and families. Since October 2019, Lebanon has faced dramatic deteriorating economic and socio-political challenges, amidst the country's worst economic crisis since the 1975-1991 civil war, and against the economic impact of the ongoing Syrian conflict. Even before the COVID-19 pandemic, families were struggling in the face of devaluing currency, job losses and rapid inflation, along with daily power cuts, a lack of safe drinking water and limited public health care.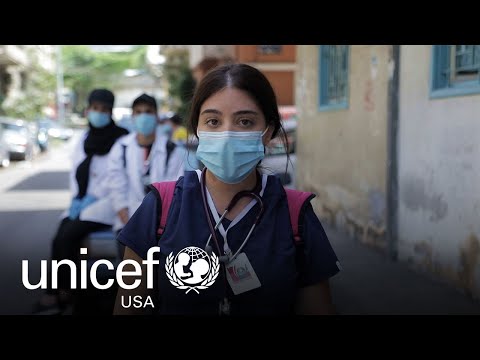 The blast has traumatized the city, but Lebanon's young people are committed to building back better.  "Let's help each other. This is the only way to get through this," one young woman says, with determination in her eyes. "We are working in peace and we are showing solidarity." 
"Our parents and grandparents lost hope," a teenager adds. "We will not lose hope. We are staying here on the ground."
Your generous donation will help UNICEF continue to provide children and families in Lebanon with the supplies and services they urgently need to survive the current crisis. 
Top photo: Young people in Lebanon have stepped up to help rebuild Beirut after a deadly explosion rocked the city on August 4, 2020. © UNICEF Lebanon. Photo of Mira: © UNICEF/UNI360451/El Hage