Support UNICEF's Immunization Programs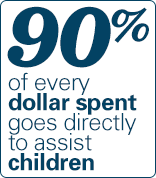 Thousands of children die needlessly every day from diseases like measles, tetanus and tuberculosis. Thousands more have been crippled by polio.
UNICEF is committed to vaccinating every single child against preventable childhood diseases.
Use this form to make a secure, tax-deductible donation to the U.S. Fund for UNICEF, supporting UNICEF's child immunization programs: $50, $100, $250, $500 or any amount you can give will help save kids' lives.
Give with confidence
The U.S. Fund for UNICEF meets the BBB's Wise Giving Alliance's Standards for Charity Accountability.
Charity Navigator awarded the U.S. Fund for UNICEF the highest financial standards for charities.
Out of every dollar spent, 90 cents goes toward helping children.
Other ways to donate
Donate by Phone

Call 1.800.FOR.KIDS

(1.800.367.5437 to donate by phone)

Donate by Mail

To make a donation by mail, please print out this form and follow instructions on printed document.