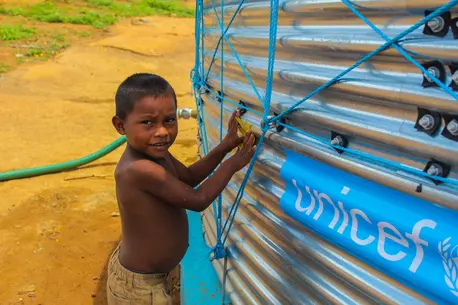 UNICEF in Venezuela
UNICEF works with partners to meet the varied needs of vulnerable children in both rural and urban areas of the country.
Supporting children's rights to health, education and protection in Venezuela
Despite recent improvements to the country's economy Venezuela remains a challenging place to be a child due to chronic inflation, sociopolitical tensions and natural hazards made worse by climate change. 
UNICEF is focused on helping to strengthen critical systems and services — water, health, education — that children need to survive and thrive.
UNICEF is on the ground in Venezuela
With partners, UNICEF is working to improve children's lives in both rural and urban areas of the country, taking an integrated approach.
Critical efforts include rehabilitating water systems and improving sanitation; enhancing early detection and treatment of malnutrition; and ensuring access to essential health care services — includingimmunizations to prevent outbreaks of vaccine-preventable diseases.
Child protection services are also a priority, including gender-based violence prevention and response.
In education, UNICEF focuses on getting out-of-school kids back into a classroom, improving attendance rates and supporting schools to help ensure quality learning. Schools are also where UNICEF can effectively reach children in need with other critical services such as a nutritious meal and psychosocial support.
Working with national and local partners, UNICEF also works to enhance disaster preparedness and emergency response capacities.
Children on the move from Venezuela
More than 7 million Venezuelans have emigrated — though some are starting to return to the country as the economy improves. Some families relocate inside the country to escape violence or for economic reasons.
UNICEF prioritizes the protection of children and adolescents on the move— especially girls and separated or unaccompanied children, who face even higher safety risks, including trafficking and sexual exploitation and abuse.
Help UNICEF continue to meet the humanitarian needs of Venezuelan children in an increasingly challenging environment. Donate today.
© UNICEF/UNI356135/Tineo