Q: Can you describe the conditions of the refugee camp?
A: Imagine you are in Greece. You drive twenty minutes from the nearest city and walk into an abandoned air force field overgrown with trees and shrubs. Military tents rise into focus, lined up one after the other. To the right of you is a massive abandoned building (which will later become a warehouse for food and clothing distribution). There are no bathrooms, only three showerheads dripping with cold water, tucked away in another rundown structure. Now, insert 900 refugees, of which 300 are children, into this environment. This was daily life for those living in the Ritsona refugee camp.
All around me I sensed the looming danger of malnutrition, disease, and complete poverty. Thankfully, with the hard work of non-governmental organizations and the government of Greece, the camp was turned into a long-term sustainable development project. The land was razed, toilet facilities were brought in, and a school tent was constructed. Child and women-friendly spaces, supported by UNICEF, were partitioned, while the Red Cross and Médecins Sans Frontières set up a healthcare corridor that transported residents to and from hospitals. The air force provided food assistance, while donations from small organizations supplied a camp-kitchen with fresh fruits and vegetables. Electricity was implemented, and the camp was enclosed by a fence for safety. Activities like fitness, art, and carpentry occupied residents' time and gave them important new skills.  All of these changes aimed to remove the stigma of "refugees" and to allow those in the camp to become a community. Tents were gradually replaced by prefabricated housing units, known as ISO boxes, and a loosely woven culture began to emerge.
Q: How was UNICEF present during your work in Greece?
A: I worked with several different non-governmental organizations for donations to build the camp. UNICEF provides a lot of services in camps all over Greece. Specifically within our own camp, they specialized in child and women-friendly spaces and offered psychosocial support and legal counseling. At times, I saw UNICEF take a hand in case management and referrals for families. Their strong presence made a big difference in the development of the camp and in the lives of the refugees. With warm smiles and open arms, UNICEF brought a sense of comfort to the people in the camp and were truly beloved by those they served.
Q: UNICEF USA's key moment in August is "Back to School." As American children go back to school, we wanted to know what education looked like in the Ritsona refugee camp.
A: With large donations from aid organizations, school tents at Ritsona were bought. Desks, chairs, white boards, backpacks, notebooks, pens, and pencils were all given to the children and adults attending school. Lumber was donated to build fencing around the school area, and white gravel stones were scattered on the ground as flooring and pathways. It was as proper of a setting that a school in a refugee camp can be. Women community members, who were former teachers in Syria, took charge in teaching and developing a curriculum that included mathematics, Arabic, and art. Some refugees who studied English literature at Syrian universities taught English language courses. Volunteers also taught German, Spanish, and Greek courses. It was heartwarming to see children in their oversized backpacks line up hours before their first lesson, excited to go to school. It was the highlight of their days to attend school, and the adults started to take interest in learning a second language. Without realizing, the school became the focal point for all the camp members. It offered employment to the teachers, activities to the children, and attracted knowledge of a second language to the adults. The school became the beating heart of the camp that brought the community together.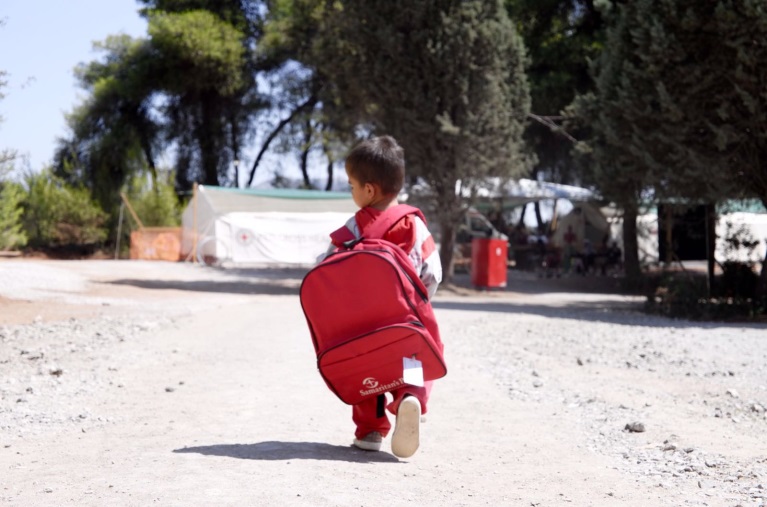 Q: Can you give a key moment that stood out to you during your time at the camp?
A: Since Greece became the gateway country to Europe for record numbers of refugees and migrants, many organizations were stationed on the islands aiding emergency response. Starting in Moria Camp on the island of Lesvos, I was allocating housing for the refugees who arrived to the island. They were picked up from the beaches by a UNHCR (United Nations High Commissioner for Refugees) bus, taken to Moria Camp for registration, and were offered clean and dry clothing, a meal, medical attention, and a refugee housing unit (RHU) for the night. These moments are where the images of crying children with purple lips and frozen fingers shivering uncontrollably come from. Seeing infants on the brink of death and wounded adults both enraged and saddened me because the cruelty they endured was simply in repercussion to politics and war.
Q: What was one of the hardest parts of working at the refugee camp for you?
A: Mental health was a major concern in all of Greece's refugee camps. Post-traumatic stress disorder from the death, violent conflict, etc. all took a heavy toll on the camp's inhabitants. As one Ritsona community member recounted, "A bomb fell on my house, and when I arrived, I could only identify pieces of meat. I didn't know who was my mother, father, or sister. Now, I am alone." This is just one story out of hundreds sharing similar traumas. Teenagers blamed their parents for placing them in the situation, while older residents began to lose the hope of a brighter future. This was most difficult for me to watch, because I knew that their strength and will to survive allowed them to escape violent conflict, defeat smugglers, and survive the treacherous journey across the Aegean Sea. I did not want them to feel as though they fled insecurity, only to be returned to insecurity. The camp would have become a center of depression had group activities not been implemented. 
Q: What was most beautiful or inspiring thing you saw during your time managing a refugee camp?
A: Within all the devastation, there was beauty in complete strangers helping each other for the good of the human race. Volunteers from all over the world flew to Greece offering aid to refugees with whom, at times, did not share a common language, faith, gender, race, or history. The bravery and compassion that I saw in their acts of kindness were astonishing. The notion that people so far removed from the crisis and war can care so deeply warmed my heart. For me, coming from a background of academia, entering the world of humanitarian aid was a first-hand experience case study of human kindness. It exceeded all expectations, as I saw a large ratio of Western society put life on hold to help people they did not know.
Q: What do you wish Americans understood about the refugee crisis?
A: The outside world forgets that these are families escaping war and terrorism. These people shared stories of their journey with me that put the situation into a different perspective:
"We left Syria so I can give my children a future. In Syria there is nothing…only death," said a Ritsona community member.
What many do not understand is that the refugees and migrants do not want to stay in the country of asylum. However, because they do not want to be labeled as a refugee or be treated differently, they try to assimilate into another country's culture. They are dying to go back to their own country where they share a common language, religion, and cultural identity. Refugees are longing for the day peace will prevail and they can resettle back into their country to build a new life. Once the war is over, they want to live their lives in peace and proudly call their land home again. I wish this for them.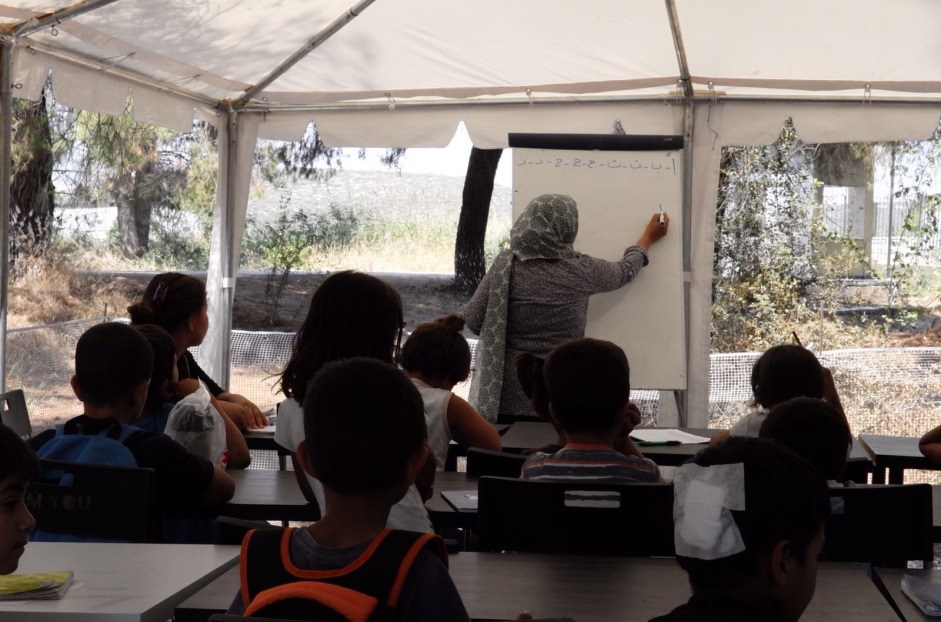 Q: How do you plan to continue with this work now that you're back in the Midwest?
A: Even though I am physically removed from the crisis at this moment, I am still very emotionally invested. I became involved with UNICEF USA because I wanted to remain connected to the humanitarian efforts that are so vital to women and children like those in Ritsona. After seeing the work of UNICEF in the field, it is a pleasure to continue being involved via UNICEF USA in Chicago and the UNICEF Blue Dots in Greece.
Elizabeth Paturzo is a dedicated humanitarian with experience working in Greece for the refugee crisis. Elizabeth worked with the Danish Refugee Council, UNHCR, and I AM YOU-Humanitarian Aid with the positions of site management and operations manager. She has worked on projects such as; allocating refugees into housing units, emergency response on the island of Lesvos, and ground development projects in camps on the Greek mainland.  Possessing a strong connection to the refugee crisis, she is avid in bringing awareness to refugee and migrant rights. Before moving to Greece,  Elizabeth lived in Barcelona, Spain where she conducted academic research on, "How Social Media Influences the Catalan Independence Movement".  She obtained a Master's degree in Sociology and a Bachelor's degree in communications from DePaul University in Chicago, IL. After seeing the work of UNICEF in the field, she is pleased to continue being involved with UNICEF USA to remain connected to humanitarian efforts.