UNITER Pallavi Nair writes about her experience advocating in support of the bill to end child marriage.
Why join this cause?
Upon joining the UNICEF UNITE: Boston team in May 2019, I was introduced to the bill to end child marriage in Massachusetts that UNICEF USA is championing along with the Massachusetts (MA) Coalition to End Child Marriage. I have always viewed the USA as being on the forefront of human rights protection, so it came as a huge shock to me to learn about some of the laws currently in place that do not protect some of the country's most vulnerable citizens. According to Unchained at Last, there currently is an exception in the Massachusetts marriage law that resulted in 1,231 children, some as young as 14, getting married in MA between 2000 and 2016.
The minimum age to get married in Massachusetts is 18. However, there is a dangerous loophole to this law that allows children under the age of 18 to legally marry when there is parental consent and judicial approval. In the majority of cases parental consent is parental coercion, or forced marriage, and there are little to no criteria for judges to approve such marriages. Since the child does not have the legal rights of adulthood, they are left extremely vulnerable without the opportunity to defend themselves under the law or receive aid and shelter.
I come from India, a country that has battled against child marriages and has seen a significant decline in this practice according to UNICEF. This can be attributed to the increased literacy of mothers, better access to education for girls and strong legislation. 
With this knowledge about my home country, I was inspired to join UNICEF UNITE and the Coalition to End Child Marriage on June 11, 2019 to persuade MA State Representatives and State Senators to pass bills H1478/S24, "An Act to End Child Marriage in Massachusetts." Passing these bills would set the minimum age for marriage as 18 with no exceptions, to protect the children of Massachusetts and hopefully set precedence for the other 46 states in the USA that currently allow child marriage.  
Preparation for Advocacy at the MA State House day
As an individual new to advocacy, I benefited from the training and the meeting script template that the UNICEF USA staff provided on how to communicate with elected officials. Before heading to the Massachusetts State House for my meetings with state legislative offices, I familiarized myself with the talking points provided and the relevant statistics that I gathered from UNICEF resources. After the training, I also did my own research on peoples' personal accounts of child marriages worldwide and spoke with people from my community on their thoughts and experience with child marriage.  
Advocacy Tip from a UNITER: Find which districts the Representatives and Senators who you are meeting with represent, and offer statistics or case studies from these districts. If possible, it's great to join forces with local community clubs or associations in these districts, so that Representatives and Senators can hear directly from their constituents about their concerns.

 
Account of the day
As an MA constituent and UNICEF UNITER, I joined Giovana Ortiz-Barrera (UNICEF USA, New England Region), Nesha Abiraj (Human Rights Watch) and Fraidy Reiss (Unchained at Last) to advocate for this important cause in the Massachusetts State House. Our team met with the offices of over 7 State Representatives and Senators to express our concerns about why it is of the utmost importance to pass bills H1478/S24 soon. It was very reassuring to hear many call this a "no-brainer" bill since it is vital that the government place laws to protect its children. Some had concerns that were assuaged using the research and statistics provided by Unchained At Last. Children under the age of 18 who get pregnant and are forced to marry for social and financial protection have statistically been shown to face a higher risk of damaging mental and physical effects such as psychiatric disorders, risk of heart attack and stroke. Additionally, studies have shown that 70-80% of such marriages have led to divorce. Upon hearing these reports, many government officials with whom we met confirmed their support of the bills. 
Watching Fraidy, Nesha, and Giovana advocate throughout the day while we were in and out of multiple offices within the State House was so inspiring, and I look up to these three incredible women for their passion and efforts towards making a change.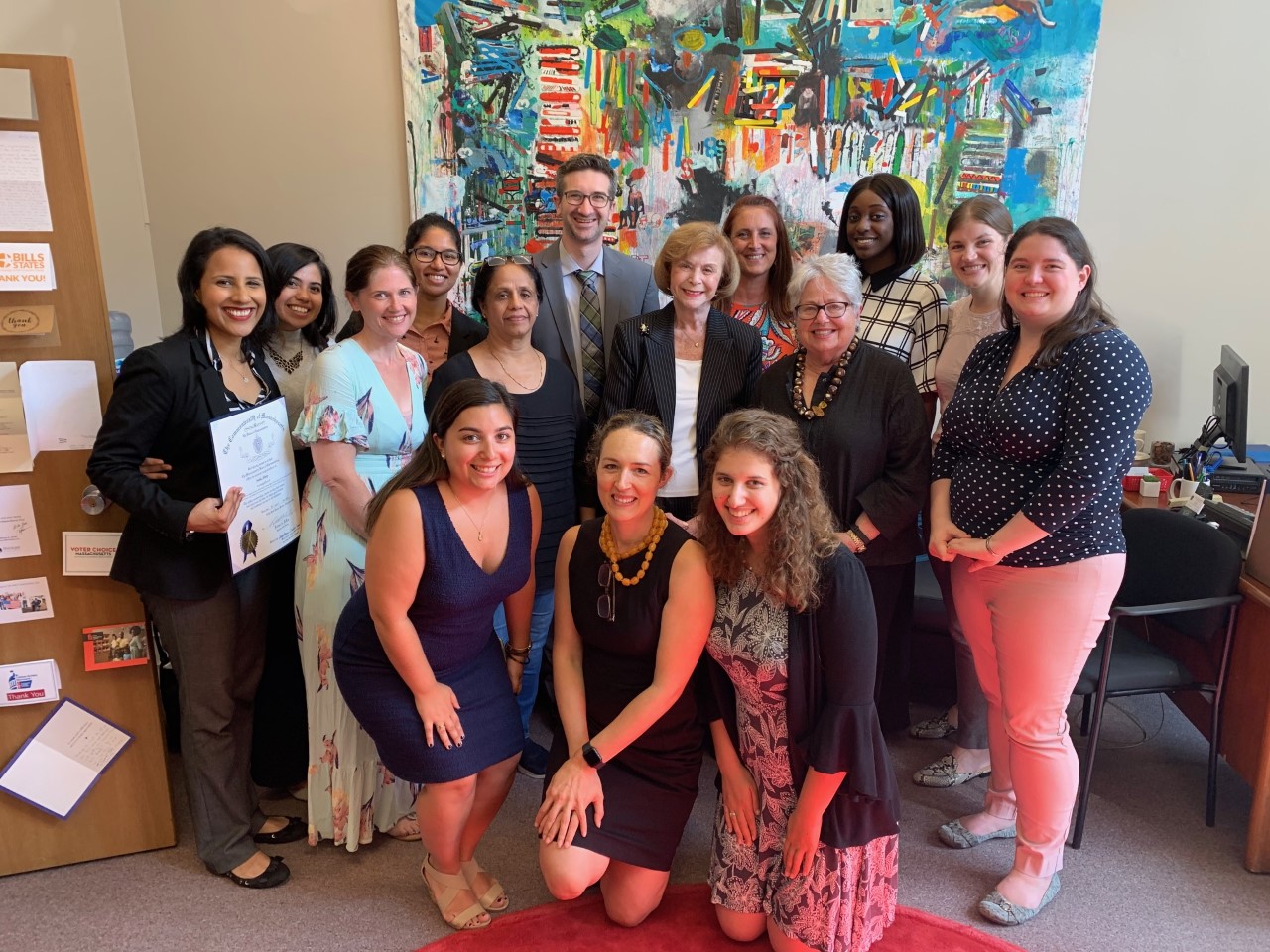 Final thoughts:
Although I wasn't as experienced in advocacy as Fraidy, Nesha, and Giovanna, I felt empowered by the impact I was able to make at these meetings. I realized that government officials are committed to addressing their constituents' concerns and are passionate about driving change that their constituency wants to see. As a MA constituent, just showing up made a huge difference because it lets legislators know that this is a concern of their constituency and it prompts them to follow through. Contacting your elected officials and encouraging people to join you on this cause has the potential to make a tremendous impact on the success of these bills. 
I came out of that day feeling motivated and driven to continue contributing to this cause. Advocacy is not a one-day event. It's a cycle and happens in repetition until we have successfully set a ban on child marriages not only in MA but throughout the US and the world. 
"When the whole world is silent, even one voice becomes powerful." - Malala Yousafzai 
What you can do to advocate today (US Residents)
Follow this link to urge the Massachusetts General Court to pass legislation to end child marriage by sending an email to your elected officials with just one click! 

Text MARRIAGE to 52886. This will send an automated message to your elected officials.

Call the offices of your State-level Representative and Senator and express your interest to end child marriage with zero exceptions. 

Go to stopchildmarriages.org to spread the word! There are still many people out there who are not aware of this loophole that has affected 1,231 children in MA and many more all over the USA.   
Written by UNITER Pallavi Nair
Getty Images