Jacksonville Leads the Way on World Children's Day
On November 20, 2017, the city of Jacksonville, FL joined UNICEF supporters in 140 countries to celebrate UNICEF's inaugural World Children's Day. To commemorate the day, the community and student leaders and the Mayor's office, led by The Partnership for Child Health, showcased how Jacksonville brings to life the ideals behind World Children's Day every day.
World Children's Day celebrates the birthday of the Convention of the Rights of the Child (CRC) – the most comprehensive human rights treaty on children's rights and notably the most widely ratified treaty since its introduction 28 years ago today. While the United States is the only country in the world that has not ratified the CRC; that does not mean we cannot benefit its implementation on a local level. 
For over twenty years, Dr. Jeffrey Goldhagen, Professor and Chief of the Division of Community and Societal Pediatrics with the University of Florida College of Medicine, has been working with local partners to diligently make Jacksonville an exemplary model of what a community can do to put Children First.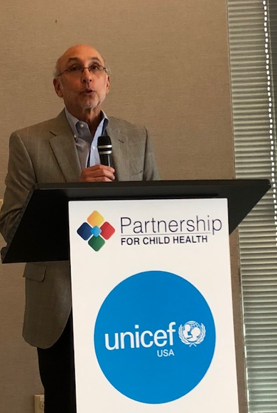 Guided by UNICEF's Child Friendly Cities Initiative (CFCI), they have sought to implement the rights and principles of CRC at the local level. To our knowledge, Jacksonville is the only city in the country fully committed to using a child rights based approach as the organizing framework for advancing the health and well-being of children and families.
The day of celebration began with a breakfast hosted by Dr. Goldhagen at the Community Forum, convening child serving organizations and partners who have been supporting elements of Jacksonville's CFCI efforts for years.
Danielle Goldberg, UNICEF USA's Director of Advocacy and Engagement opened with a Key Note, recognizing Jacksonville's pioneering work to develop itself as a Child Friendly City, leading the way nationally on this global UNICEF platform. Welcoming UNICEF USA's valued partnership, Dr. Goldhagen marked November 20 as a day for everyone to come together every year to celebrate and evaluate their collective efforts.
In honor of UNICEF's global efforts to organize #KidsTakeovers, we made our way to Baldwin to participate in a program led by student leaders at Baldwin Middle-High School.
The students at Baldwin led a group discussion on the benefits of having a children-friendly school, following UNICEF's right respecting schools model. Students asserted that child friendly schools provide a sense of community and overall well-being for students. These young students shared a strong sense of individual and interpersonal empowerment and a newfound sense of academic and social responsibility, which are the cornerstones for national and international cooperation.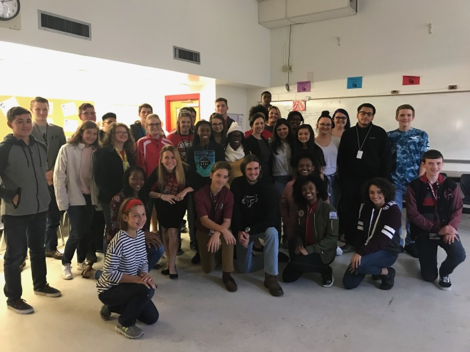 As the day continued, we were graciously invited to meet with students about the EVAC Movement Leadership Class program at Lee High School. Based on Plato's allegory of the cave, EVAC, (alluding to Plato's allegory of the CAVE, spelled backwards), is a Harvard University award-winning club that focuses on rebuilding trust and social justice in local community through relationship building and advocacy. These students generously shared some of their experiences as young men of color living in the South. Despite the psychological and emotional trials and tribulations, this model of a club was an example of how student-led initiatives can provide a foundation for building powerful trust based relationships between students, teachers, and community leaders.
Jacksonville's Children's Ombudsperson, Garry Bevel, played an implemental role in supporting EVAC. His job is to increase youth voice and participation all around Jacksonville about matters concerning them. He also makes sure that city leaders and officials consider the best interests of children in all decision making. Incredibly, Garry is the only rights respecting children's ombudsman guided by the CRC in the country.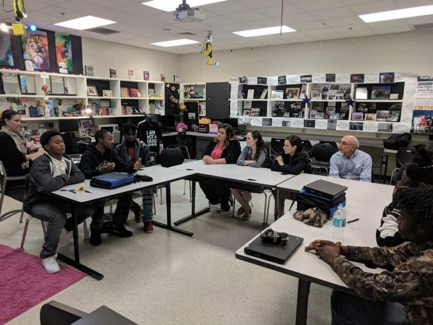 To culminate the day, following remarks by Baldwin students, a representative from Mayor Lenny Curry's office in Jacksonville honored the day by making a formal proclamation of World Children's day in City Hall. With a new investment of over one million dollars by the current mayor, the Mayor's office is working to ensure that it responds to the needs of children by working to make Jacksonville a city that provides a safe and healthy environment for all children to both survive and thrive.
World Children's Day is just the beginning of UNICEF USA's partnership with our friends in Jacksonville. We look forward to exploring opportunities for collaboration in putting Children First locally and globally for years to come.