Hurricane Matthew: Three Ways You Can Help Children in Haiti
One month after the storm, more than 600,000 children are still in urgent need of aid.
Haiti's worst storm in a decade has left the country severely battered. More than 4 million children have been affected, with almost 600,000 living in the most devastated areas. More than 175,000 people are homeless. The threat of waterborne diseases is severe.
UNICEF is working to aid the most vulnerable. 
Since the storm, UNICEF Haiti has been working with its partners under challenging conditions to provide the following critical relief to children and their families:
• clean, safe water for 100,000 people a day
• cholera vaccinations for up to 900,000 people
• restoration of the vaccination cold chain for other disease immunizations
• prevention and treatment of malnutrition among young children and the provision of critical nutrition for pregnant women and breastfeeding mothers
• distribution of emergency medical supplies to health centers
• repair of damaged schools and distribution of school-in-a-box kits so that children can resume learning as quickly as possible
• establishment of mobile child friendly spaces with trained volunteers, where kids can receive emotional and psychological support.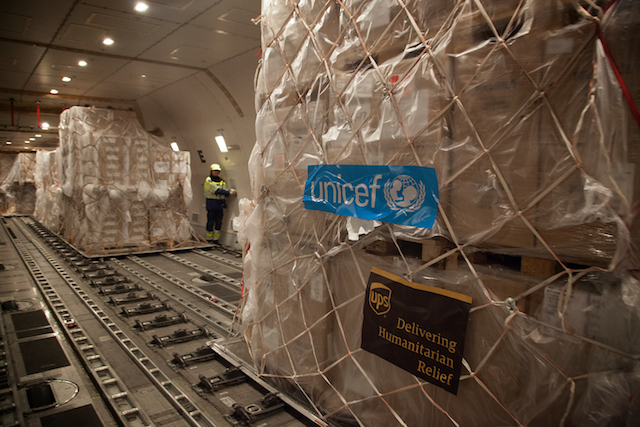 But more help is needed. Here are three things you can do:
1. Donate to help UNICEF care for Haiti's children
In times like these, children are the most vulnerable — and UNICEF is ready to help children in need at a moment's notice. Donate to help UNICEF get relief to families affected by the Hurricane Matthew.
This holiday season, please support UNICEF's emergency relief efforts in Haiti and stand for hope.
2. Host a fundraiser for children put at risk by Hurricane Matthew
Get together friends or family and create your own UNICEF fundraiser to benefit kids in Haiti. Or motivate your community to help through Crowdrise.
#Humanitarianaidand assistance is reaching children. Roads are being cleared, schools reopening and water delivered #HurricaneMatthewpic.twitter.com/BZUUv8dzqw

— UNICEF Haiti (@UNICEFHaiti) October 28, 2016
3. Keep up to date on UNICEF relief efforts and spread the word
Keep in touch with us via UNICEF USA social media and stay involved! Find us on Twitter and Facebook — and follow our stories online at unicefusa.org.
"I hope the schools are fixed, trees are planted & my house is fixed." - Louisniva, 7, from Jeremie, #Haiti; #HurricaneMatthewpic.twitter.com/tqmmDCdPhJ

— UNICEF USA (@unicefusa) October 10, 2016
DISASTER RELIEF
Founded in 1946 to help children suffering in the aftermath of World War II, UNICEF provides children and families with disaster relief whenever emergencies strike. A disaster's severity often depends on a community's vulnerability. UNICEF works to reduce risks and increase resiliency by helping shape the choices children and their families make about about where they grow their food, how solidly they construct their houses, and even what they teach in school. This helps prepare for the worst, while hoping for the best.
UNICEF has been working in Haiti to provide a brighter future to the country's children since 1949. 
This holiday season, please support UNICEF's emergency relief efforts in Haiti and stand for hope.
Photo above: 
On 13 October 2016 in Jérémie, Haiti, children play at the Église Chrétienne Nan Lindy. Some 300 people have sought temporary shelter at the church. Countless homes were destroyed by Hurricane Matthew. More than one week after Hurricane Matthew, as schools re-open across the country, more than 100,000 children will be missing out on learning after their schools were either damaged or converted into shelters. © UNICEF/UN035877/LeMoyne