Growing Up in a Digital Age
The internet and social media are empowering young people to speak up and take action. UNICEF's new State of the World's Children report offers insights on how kids are faring worldwide in 2017.
Announcing UNICEF's new report: The State of the World's Children 2017: Children in a Digital World 
One in three internet users worldwide is a child.
Digital technologies like cell phones, computers, tablets and games have become ubiquitous — changing the very experience of childhood.
Children and young people today are digital natives, increasingly using online platforms to do their homework, connect with their peers, express their opinions, entertain themselves, access information and find solutions to the issues that affect their lives and futures. Through the Internet and social media, children are speaking out and taking action to create positive change in their communities and in the world.
Here's what Gary (19) thinks.
UNICEF is studying the impact of digital tech on kids.
The State of the World's Children 2017: Children in a Digital World examines the impact of digital technology on children's lives and looks at what the future can hold. The report includes the testimonials and perspectives of young people from around the world and offers practical recommendations to help policymakers and the private sector put children first in an increasingly connected world. With equitable access to safe online content and regulated screen time, children have tremendous opportunities to improve their lives and shape their futures.
Here's what Emmanuella (15) thinks.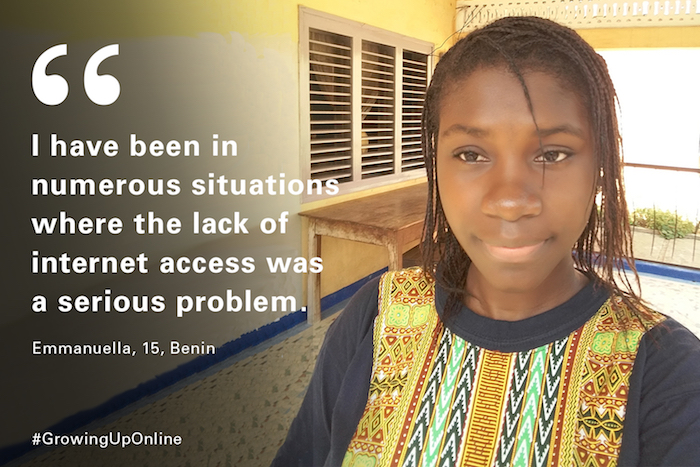 Emmanuella from Benin talks about the digital divide in her country – and the impact on young people.
Most children view being online as a positive experience.
But for the most disadvantaged and marginalized children, it can be a real lifeline, connecting them to the wider world and giving them hope for a brighter future. Digital access provides children in conflict zones and the hardest-to-reach areas with learning tools and educational content. Connectivity can be transformative for children with disabilities, empowering them to express themselves and interact with their peers in ways that would not be possible offline.
Here's what Ivan (18) thinks.
Ivan has ideas for how digital technology can transform the lives of children and youth with disabilities.
Migrants rely on mobile technology.
The 50 million refugee and migrant children around the world today increasingly rely on mobile technology throughout their journeys to access information and stay in contact with families and friends. We've also seen an increase in the use of digital technologies in humanitarian emergencies — from digital cash transfers and biometric identification programs to the use of big data from mobile phones to analyze trends and provide vital information during disease outbreaks.
Here's what Jen (16) thinks.
Mobile tech can provide a lifeline for marginalized youth.  
Innovative tools like U-Report are empowering young people to participate and engage in their communities, providing new platforms where they can share their perspectives on the topics that affect their lives — and call out for help when needed. The information provided by the global network of nearly 4 million users can be analyzed in real time, yielding valuable insights.
Digital technology has transformed our society and holds great potential for the world's most vulnerable and marginalized children, particularly in the areas of learning, participation and social inclusion. By ensuring the internet is a safe space for children and by leveling the digital playing field to leave no child behind, we can help every child learn, grow and reach their full potential.
Recently, UNICEF USA organized a children's rights and technology conference.
In a related development, on November 14, 2017, UNICEF USA and UNICEF invited movers and shakers in technology, the media, children's products and services, telecommunications, and experts on children's rights to an important, all-day conference, entitled "Empowering Children in a Digital Age." The venue? Microsoft's Policy and Innovation Center in Washington, D.C. The goal? To dig deep into issues of privacy, digital literacy and freedom of expression and the right to be heard as they affect children around the word.  Learn more here.
Read the UNICEF report here or below: The State of the World's Children 2017: Children in a Digital World.